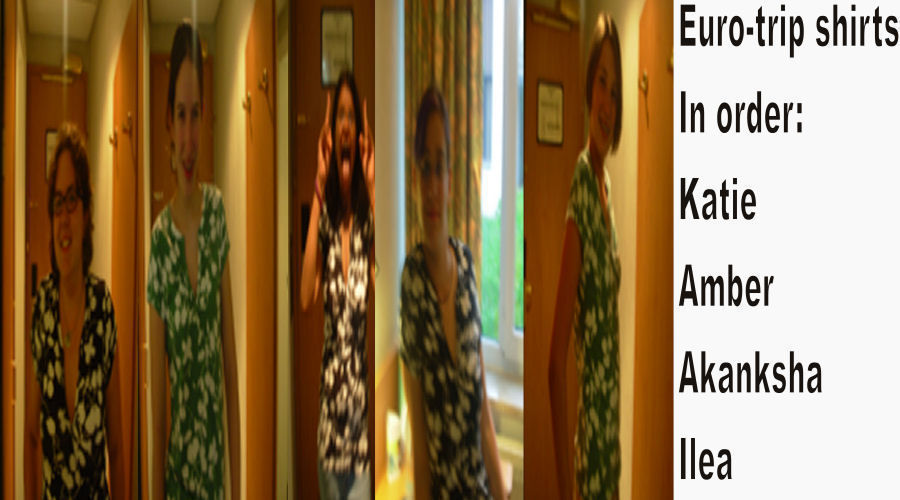 It all started with a taco in an Italian restaurant in the middle of Germany (Heidelberg, to be exact). Who knew that by ordering something out of the ordinary, I would spark the best friendships I have ever had in my life? To tell this story properly, I must start at the beginning. In 2007, the People-to-People Program invited me to join in on a trip to Europe. Since we were a group of young adults, responsible enough to behave in a foreign city; the group leaders gave us ten Euros each and told us to find lunch. To ensure the "educational benefits" of the day, a scavenger hunt was also given out for us to complete as we roamed.
That day, I was happy to be with the four girls I liked the most, Bri (the only one of us who could even remotely speak German), Akanksha, Amber, and Katie. Together, we were satisfied to simply wander the city. Thankfully the sun was bright but the day was not hot. The Hauptstrasse

River gave off a breeze keeping the atmosphere comfortable as we explored. After an hour of wandering, our bellies began grumbling; we set out to find the closest and cheapest food available. After looking for a bit, we realized we had no clue what any menu we saw were offering, let alone the prices. Thankfully, Bri, spotted the one thing we all knew; "Pizza"!
As we sat, our waiter began to speak to us in English. He chatted for a bit, then handed us our menus. The other girls ordered pizza, I decided I wasn't hungry for pizza, instead I went with a taco. Once our order was taken, we began discussing the scavenger hunt; it wouldn't do to return to the group with nothing to show for our wandering. We began trying to decipher the map we had been given of the area. As we were puzzling away, our food arrived. It was possibly the strangest taco in existence; a mixture of cabbage, tortilla chips, and maybe some sauce. The girls had no trouble teasing me as they all enjoyed their slices of pizza. Trying to ignore the oddness of my lunch, I resumed trying to interpret the map. We were able to make out two labels; the "new city" and the "old city". As our server passed by, Amber asked on which side of town we were. He was so quiet that, for a second, I wondered if she had insulted him. After a moment, he pointed at my plate and asked "taco?" We then realized he had not understood what she had asked! We felt silly and thanked him anyway; he left looking very agitated.
As we returned to our conversation, he returned with his manager. They walked up to our table and handed us two very pretty shirts. They insisted we keep them, that they were a gift. It turns out our server had thought he had offended us! Imagine our delight, later that day in our hotel, when we realized that the shirts fit us each perfectly.
The experience we had that day was going to be remembered forever. It was the first time the five of us looked at each other and saw a group of girls that would continue to be friends long after our trip became a distant memory.  Over the years, the girls and I have kept in contact and the shirts are exchanged regularly; we are truly the best of friends. Travel is wonderful; but the people you meet along the way are the most important parts.
www.peopletopeople.com/OurPrograms/SAP/Pages/default.aspx
Dear Reader: This page may contain affiliate links which may earn a commission if you click through and make a purchase. Our independent journalism is not influenced by any advertiser or commercial initiative unless it is clearly marked as sponsored content. As travel products change, please be sure to reconfirm all details and stay up to date with current events to ensure a safe and successful trip.
---