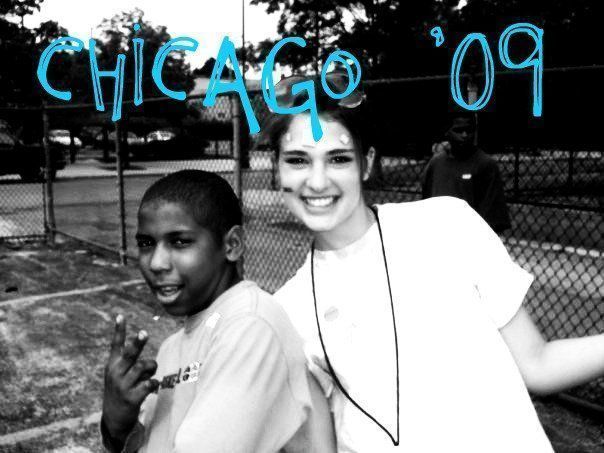 In the summer of 2009, 87 of my peers and I journeyed to Chicago, IL, for a mission trip. We knew that we would teach a Vacation Bible School for children ranging in age in the Garfield Park district. We did not know what or who we would encounter. We did not know the harshness of the conditions in which the people of Garfield Park live. We did not know how attached to the children we would become.  We did not know how extreme a change they would spur within each of us.
                 When traveling to Chicago, I was more than slightly nervous.  Every time I'd gone somewhere with Brentwood Baptist, we'd gone somewhere safe. It was as if we simply moved our Brentwood Bubble wherever we went. Even during a service project in which we helped people in lacking neighborhoods improve their homes, I felt relatively safe due to the fact that we worked at a kind elderly man's house. Chicago was an entirely different experience. I'd been to Chicago before but I had never gone anywhere near the Garfield Park district, one of the poorest and most dangerous areas in the city.  I didn't know how to deal walking by homeless men and discarded needles.  Upon arriving at the hostel we were still, to an extent, in our Brentwood Bubble—a force field protecting us from the dirty, frightening reality surrounding us. What did I have to fear?
                As we entered the foreign territory of Garfield Park, we passed numerous homeless men, saw bars on every window of every building, and stepped over broken glass and needles. Fear began to settle into our stomachs. Boys began walking in front of and around the girls. Male leaders moved to the outside of the group. Students walked hand in hand—a small act of encouragement. However, the farther we walked, the less afraid we felt. We knew we had been sent to Chicago for a purpose and we intended to fulfill our obligation. As one girl said, "If I get shot, that's fine. At least I'll get shot trying to spread God's Word".  By the time we reached the church and saw the children so eager to be played with, any amount of fear quickly dissolved.
                Over the next four days, the team had one goal: love the kids. Although we taught Bible studies each day, our most important task was to play with the children and show them that someone loves them. Many of the children who came to our sites came from single parent homes and had been basically raised by, or were raising, their siblings. Many of the young boys aspired to become part of a gang because that represented a type of "family" to them. Throughout the week, I got to know one little boy in particular named Daniel. Daniel was the most incredible eleven-year-old I had ever met.  He loved telling me about a comic book he was writing, but would never show it to me so that I would be surprised when it was published and sold thousands of copies.  He killed me at HORSE and four-square no matter how many extra points he allotted me at the beginning of the game. He gave me hope. If a child can live in an area like Garfield Park and still be so full of life and aspirations, the world has the chance to spring back from its corruption.  My trip to Chicago taught me that no matter how broken a city seems, the spirits of the people within it provide an opportunity for repair. 
Dear Reader: This page may contain affiliate links which may earn a commission if you click through and make a purchase. Our independent journalism is not influenced by any advertiser or commercial initiative unless it is clearly marked as sponsored content. As travel products change, please be sure to reconfirm all details and stay up to date with current events to ensure a safe and successful trip.
---