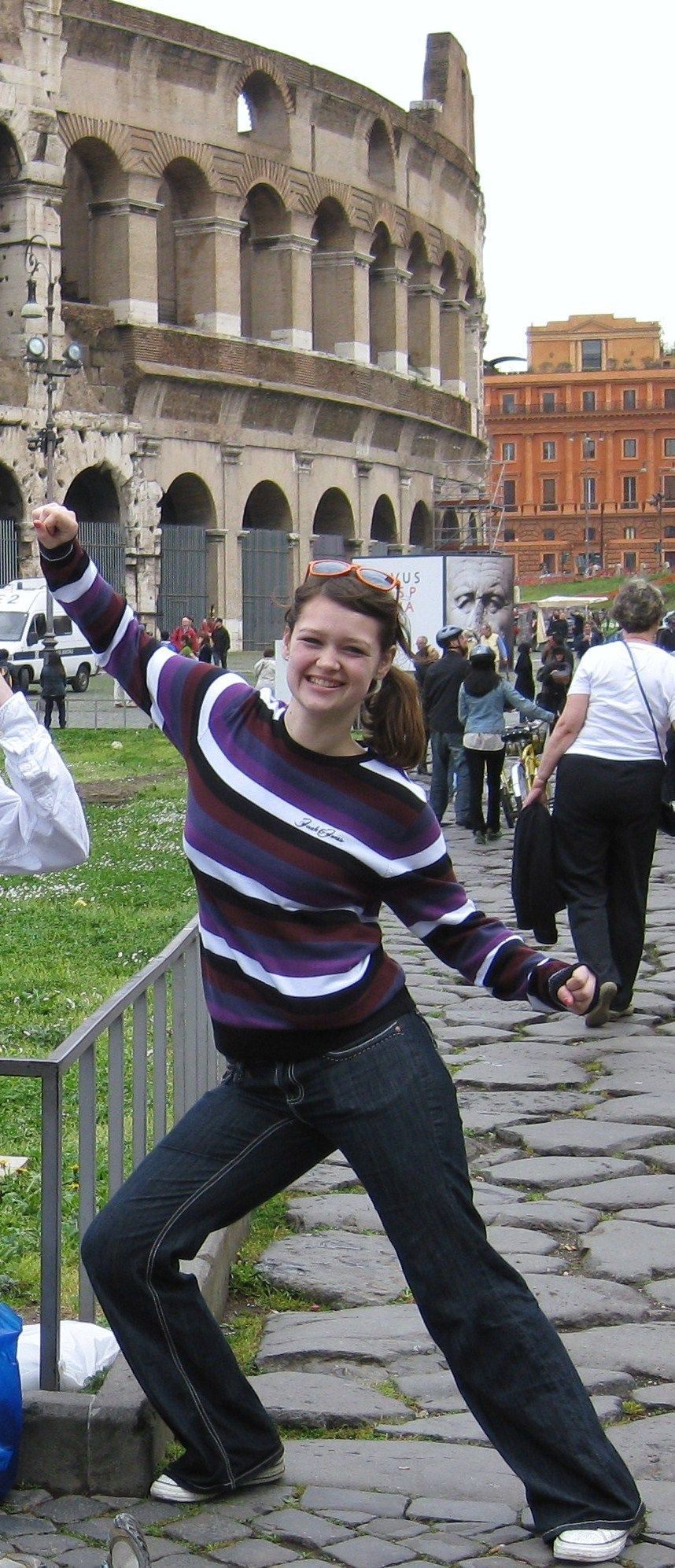 I circle around the slab of rock that has been placed inside of walls and is now presented under a light for all to see. An artist made this marble special; he gave it a face, but more importantly an expression. As I slowly turn, the rocks face changes and I start to see a man. "The David" by Michelangelo keeps his stare as I continue to walk around him; I watch his face evolve from thoughtfulness, to anger, to melancholy.
My tour trip to Italy lasted one week, with only one day in Florence, which is now what I consider my favorite place in the world. While there, I learned a different kind of lifestyle. Even when I was young, art fascinated me. Although I've never been able to find a medium of my own, I hope to always be a student to the subject of Art History.
To begin my journey, I had to realize my desire to learn about art, culture, and history. Living in Spokane, Washington has left few opportunities for European culture to intersect with my life, but I've jumped at each chance. I joined French Club after starting my freshman year in French (language) class. Participating in activities like these taught me about the European culture that I eventually grew to love. I'm now in my fourth year of studying French as a language, and I'm a French Club officer. When the opportunity to visit Italy with a student group lead by one of my former teachers was presented to me in the spring of my freshman year, it sparked my determination. I knew I had to do everything I could to make the trip happen. It was all I thought about. Even when the choice of getting a latte or not came around, my mind was on Italy.
To earn my one week in Italy, I spent countless hours at a minimum wage job earning every penny myself. Italy was my focus for a whole year. It was difficult to find an employer who would hire a 15 year old who couldn't work as many hours and would stereotypically be less responsible. I was lucky enough to get a job at the Spokane Gun Club, the only one that would consider my application. A typical day was about eight hours long outside, scoring shooters or refilling the machines that would throw the clay discs they shot. In the summer there was blistering heat to endure, and in the winter there was below freezing temperatures and stinging wind. If my boss criticized my work, I let it roll off my back even if I disagreed. I knew that I would need every hour available to make my goal. When I was able to pay in full in early December, I felt a weight lift off my shoulders. I was going to Italy when Spring Break came.
Over coming the challenge of money was just one step to visiting Italy. This lesson of work ethic has influenced my success in my highly involved life, including my current job, working on yearbook staff, and social commitments. After losing myself in Vatican City, seeing Saint Peter's Square, and visiting the Pantheon, all I want is more. Italy helped me shape my character in this way. Between the Sistine Chapel and the ruins of Ostia, I could see that I wanted my life to be spent on this side of the ocean, where I could live based on my love of art. All thoughts of traveling as a hobby were thrown out because visiting Europe showed me a world much different from one I could live in Washington state. This is the future step to my story that I haven't lived yet. This I believe is the step I'll find in and after college. I'm not sure if I'll be a low paid intern, or working at an American company with a European office, but I know that I'll wake up in Europe and just live my life: drinking espresso in a French cafe, reading books in an English library, or laughing on the ever lasting roads of Rome.
Dear Reader: This page may contain affiliate links which may earn a commission if you click through and make a purchase. Our independent journalism is not influenced by any advertiser or commercial initiative unless it is clearly marked as sponsored content. As travel products change, please be sure to reconfirm all details and stay up to date with current events to ensure a safe and successful trip.
---