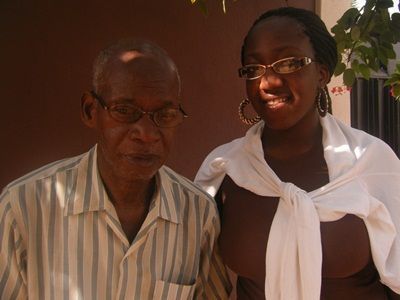 Growing up with Nigerian parents and listening to them talk about their "home" all the time, I always wondered what it was like in Nigeria. Was is really that hot? Was it like America? Does my dad really have 24 brothers and sisters? I always wondered as a little girl, and dreamed or re-visiting since I had only been there when I was two and didn't remember a thing. My mother is extremely close with her parents and decided to visit them in 2009 and also decided to take me with her. I honestly thank God she did! It was the best experience of my life.
I didn't know what to expect. The day finally came and my mother and I boarded the plane to Nigeria. The plane ride was long but relaxing. We finally made it to Lagos, Nigeria an I was very excited. The moment I walked through the airport I knew I was in Africa. It was so hot! I had a coat on I had to quickly remove. Nigeria is a very chaotic place, even at the airport. It took my mother and I almost an hour to grab all six of our bags. It was very stressful but we got through it.
Finally when we got all our belongings, went outside and quickly spotted my dad's brother, uncle Kayode, whom I was very excited to see because I speak with him frequently on the phone. A driver took us to the home my father had built for us in Nigeria. I saw my grandmother for the first time since I was about four years old. She was started to dance and sing "My dear grand daughter!" because she was so excited to see me. I embraced her and smiled from ear to ear.
I spent two weeks in Nigeria with my mother. I met about 10 of my dad's siblings, the rest were in school. I was even able to witness my dad's younger brother's high school graduation which they called a matriculation. I also visited the first church built in Nigeria.My uncles, aunts, any grandparents treated me as if I was their own child. The love my family in Nigeria showed me was the most unconditional and beautiful love I have ever felt. My dad was the oldest of about 26 siblings (two had passed away) so he is very respected among his siblings. They respect him because he took care of them when his parents were working and provides for them whenever they need something. My grand father has five different wives which was normal in our culture back in time so my dad came from an extremely large family. Being able to meet his family members and hear their stories was such a blessing and a beautiful thing.
I also got to see my mother's dad before he passed away last fall. Even though my grand father was aged and didn't remember much, when he saw my mother and I walk through the doors he was very happy and overwhelmed by our presence. I spent a few days with him and my grandmother. Even just to sit with him and be in his presence was a blessing for me. It was heartbreaking to leave him because he began to cry. My mom was also the oldest of four children so she is very close to her parents.
Nigeria is a very beautiful but stressful place. It was so hot, almost unbearble, so I used a lot of my time sleeping. I walked around the neighborhoods to sight see all the beauty and the many people that surrounded me. I was just so happy to be around and be loved by my family. I learned so much from my family, most importantly the meaning of my last name Okunrounmu, which means "gift." My grandather told me the whole story. It was a very historical moment in my life and one moment I will never, ever forget.
Dear Reader: This page may contain affiliate links which may earn a commission if you click through and make a purchase. Our independent journalism is not influenced by any advertiser or commercial initiative unless it is clearly marked as sponsored content. As travel products change, please be sure to reconfirm all details and stay up to date with current events to ensure a safe and successful trip.
---