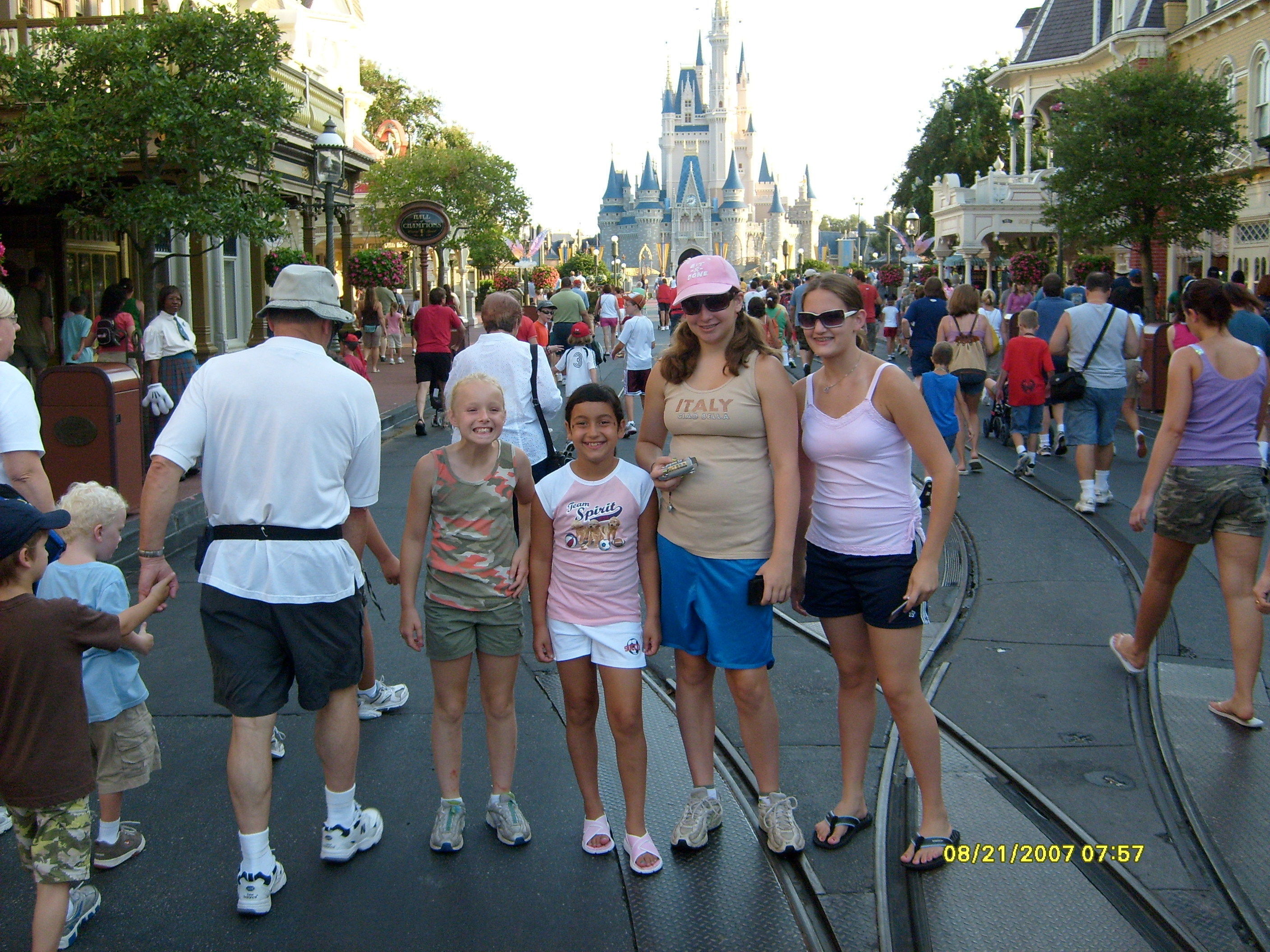 My Disney vacation began in August of 2007 when my Mom convinced my Dad to finally take us to Disney World. My cousin Abby was able to go so that I would have a buddy while my little sisters friend alexis and her mom and dad went so that Katie would have someone to pal with.
The adventure actually started at the Airport. We had to take two seperate flights that wound up being several hours apart upon arrival to the Orlando Airport. My sister had never flown before and was not able to Pop her ears with the pressure change so she did not enjoy the flight at all. Lexi and her mom and dad were waiting for us when we finally touched down then it was about an hour till we got our luggage. I think ours was the last suitcases to leave the plane. You never realize how hot and crowded it is in an airport till you are waiting at high noon waiting for your luggage.
We were finally on our way to our hotel-The Disney All-Star Sports where we would spend the next 7days and 6 nights . I was so excited to be in Florida and couldn't wait to Hit the Park. I wanted to do and see everything immediatly but first we had to check-in. That was when the fun began. First they said they did not have our reservation. Lexi's Mom had all the paperwork but it still took over 2 hrs to get everything straight. We were supposed to be in the Football section of the hotel but wound up in the Baseball section which turned out even better-it was right in front of the POOL! We spent the rest of our first day in Florida relaxing and swimming by the pool. We went to be early so that we could get an early start in the morning. First stop -The Magic Kingdom.
The Magic Kingdom was fun and we spent the whole day there but I really wanted to see MGM,Epcot and The Animal Kingdom.
The next several days were spent between all three parks. My sisters favorite was MGM because of the Rocking Roller Coaster and the Tower of Terror. This floored me because she wouldn't even ride a Rollarcoaster at home yet she rode both of them 6 times and still begged for more. Her friend Lexi was not so fond of them. The first time we went on the Tower of Terror together-she stated she loved it but when it was over-she was hyperventilating and the picture the staff took of her face was hysterical-I wish I would have gotten it.
Every day was over 100 degrees and that was the worst of being at Disney-That and the crowds but the rides and the sites made it worthwhile.
My most enjoyable moment was when I got to pose with The Power Rangers who at the time were Katie's and My idols. My mom waited in the hot sun for over 2 hours so that we would not lose our spot in line. We also got to see the High School Musical Show that we knew all the words and dance steps to.
It only rainded for a few hours on two the the days we were there-But boy did it rain-IT POURED. The first was when we were eating dinner at the resort. Unfortunatly our room was clear across the campus and the rain did not look like it was going to let up so we decied to make a mad run for it. What happened next made me almost die laughing. Lexi's dad decided to take a shortcut around the back of the one section of the building. What he didn't realize was that the sidewalks were dangerous when wet but he found out the hard way-literally. As he was rounding the bend at a full run-he slipped and slid along the sidewalk-losing his cell phone to gravity where it promptly shattered while he slammed butt first into the wall. He didn't get hurt but you had to see it.
Our last full day we spent at Typhoon Lagoon which my mom didn't really enjoy because she can't swim. But boy did I love it-I got to swim the sharks as well as get some major wedges going down the steep slides. Katie on the other hand with lexi stayed at the wavepool section were they kept getting smashed between several very large women.
We left our hotel at 5am to return home. That was so hard getting up that early because we knew it was the last free day of the summer because we had to go back to school the next day(Today was actually our first day of school but we would not make it home in time to make it).
I will always remember this as one of my favorite vacations and hope to someday return to see the Haunted Mansion and Spaceship Earth that were both closed on our trip but I think we rode just about everything . I look forward to many more trips to places that I dream of.
Dear Reader: This page may contain affiliate links which may earn a commission if you click through and make a purchase. Our independent journalism is not influenced by any advertiser or commercial initiative unless it is clearly marked as sponsored content. As travel products change, please be sure to reconfirm all details and stay up to date with current events to ensure a safe and successful trip.
---