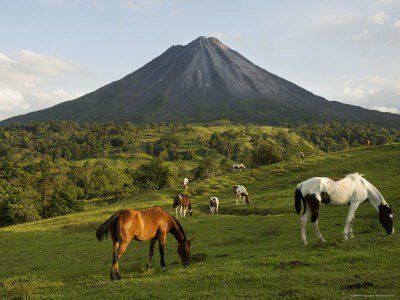 June 14th, 2011 5:26 PM
My first time out of the country.
I have arrived in Costa Rica. We exit the airport to loud people with flailing signs that I cant understand. The excitement is exhilarating yet nerve racking. The walk outside is hectic as we try to organize and group together 100 people. Before we get off the bus to the mall, we exchange our American dollars for the Costa Rican currency. I feel like I've just won a million dollars. I have no idea how much money I've been given nor how much the food is! My first food in the country...Taco Bell. And guess what...the hot sauce packets weren't in Spanish. Now that, is disappointing.
June 15th, 2011 11:42 PM
Just got out of my first church service. I am reminded of why I have volunteered to be on YOM. (Youth On Missions). God is truly amazing. His spirit is powerful in any language. I really wish I had paid attention in Spanish class. Its really hard communicating with someone who has no idea what your saying, and vise-versa. During the service, me and another YOM member started praying with an elderly lady. She then grabbed our hands and put them on her stomach. Later as I was walking around taking pictures, she had put her own hand on her head and was praying for herself. It was such a humbling sight. I then prayed with a young woman somewhere in her 20s. Never in my life have I wanted to communicate with someone so badly. After a few minutes of crying, she looked into my eyes. The rest of the room disappeared and I felt and heard everything she was trying to tell me. We then burst into a fresh stream of tears and she pulled me close and whispered into my ear. I may never know what she said to me that night but that moment has changed my life.
The YOM choir has anointing! We have learned three Spanish songs and in all of them I can only translate parts but every time, it touches my heart.
Libre, Libre, Libre. Gloria! Gloria! Gloria! Tu estas aqui. Tu estas aqui.
As we go from church to church, we also move hotels. I am starting to question if this is really what God has called me to do. My spoiled American ways have started to effect my views of the simple things. As a reminder to limit the complaining, our youth leader has created a "5 finger rule": you. are. not. in. America. And then reality kicks in and you realize...you are not in America! Our luxury sweet consist of bug surprises, in our windows, drawers, showers, and beds. With no air conditioning to save us from the humid heat of Costa Rica, we lie in front of a small corner fan. Shower time is a bitter sweet time. Along with one towel to share, we also have to time ourselves but that isn't much of a problem being that there is no hot water. Sometimes we were stuck with no water at all.
Don't Flush. —you may not flush your toilet paper. The pipes are too small and they all connect so you will clog not only your toilet, but every else's'!
June 17, 2011
The border of Panama. Quite different than the Hollywood and Beverly Hills back home in Cali. It took us 4 1/2 hours on the bus to get here though so anywhere is better than nowhere. I love rice, beans, and chicken. -_- Every time we order food, that's all they have. It must their 'welcome' dish as well. The churches all seem to get the same memo. Every so often we are offered a..'meat'. No one knows what kind. By the way–I've learned to limit my complaining as I realize more and more that I have so much to be grateful for.
Later that night..12:06 PM
As I try to calmly remind myself not to complain...my bad luck is at its best. Throughout the unfolding of the day I had; lost my money, had less than a 2 minute deathly cold shower, broke a mirror, burned my hand, and ripped my sandal in half. If you cant call that a bad day... I feel bad for you. But in the midst...I did not complain and I did my best to look at the brightside. I actually got through it pretty well. I was picked to testify that night at church. "Hola!..." I said. ...Oh crap. I don't know what to say...In Spanish or English!...once I pushed aside my public speaking fear, it felt good to remind myself what God has done for me. My ATV accident was fatal, and its only by God "a miracle" as the doctors said, that I am alive and well today. I can never forget what it feels like to have a second chance. After that, we hadn't even finished the second song when there was an outpouring of the spirit of God. There wasn't even a choir to finish the third song!
As I lay in my bed after this long event filled day, I cant figure out if I miss being home or not. My bed, definitely. And all the necessities that come with it-of course. But not so much the people. Is that a bad thing?
June 21 ... 15 minutes to Midnight.
You cant imagine how exhausting my days have been. I think the heat is getting to me. Along with my 37 sand flees. (Yes. I counted. And yes, they are flees.)... I am sad to say that I might be getting a little home sick.
I rode an ATV for the first time since my accident. Why did my mother sign me up again? It was somewhat nerve-racking, considering the guys were threatening to throw me off. Apparently they didn't hear my testimony. But once I got on, and led the way.. It was like I never stopped! Later, I went horseback riding to the active volcano. Don't worry, it sounds more dangerous than it is. This Costa Rican country is so beautiful. No big city buildings to obstruct the magnificent view. And certainly no smog, you know where the clouds are. I am slowly getting to know all of the 100 YOM members. They are all so talented and goal oriented. Good job making me feel like a failure. There are definitely various different kinds of...'characters'. I'm having a blast getting to know them. When watching the groups converse, I imagine my life as a comic book. The pages keep flipping.
They said not to walk alone. As I walk alone back to the hotel room. Its pouring down rain but I keep my I pod in one ear. I am then silent as I have no words nor thoughts so express the simplicity and the beauty of everything I am and everything around me. Looking back, I long to be in that moment again. It was almost an outer body experience. I could see myself standing in the middle of the street, in the pitch black night, wanting nothing more but to stand there, forever, a moment in time. Life is_____.
I'll never forget
I have realized that I am a very fortunate and blessed American girl. You certainly don't realize what you have until–you don't have it. The Lord has been so good to me any my family. This trip has caused me to be the person that I desire to be. All of these amazing people that I met are being used of God in great and powerful ways. I want that to be me more than ever. I want to bring that fire back home with me. I always say, "be the change you wish to see", I am ready to be that change. You cant change the world unless you change yourself. Whatever God has in store for me, whether it be out on the Mission field or right where I stand, I know I am chosen. I went expecting to make an impact and in return was impacted. If I could say one thing, Love is its own language. and life... is.
A slideshow presentation created by me can be found at: http://youtu.be/HFuNxeiyNO0
More pictures can be found at: http://flic.kr/ps/ZHgyY http://flic.kr/ps/ZHgyY
Dear Reader: This page may contain affiliate links which may earn a commission if you click through and make a purchase. Our independent journalism is not influenced by any advertiser or commercial initiative unless it is clearly marked as sponsored content. As travel products change, please be sure to reconfirm all details and stay up to date with current events to ensure a safe and successful trip.
---