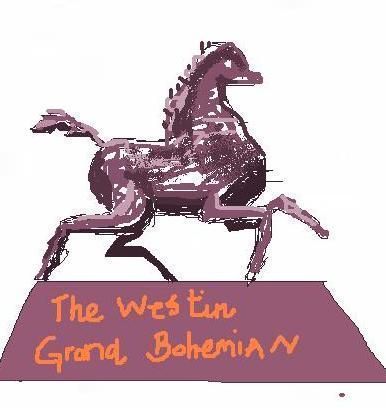 Mid-Summer 2008
I first remember arriving at the Grand Bohemian Hotel in downtown Orlando. It was 6pm, and the day of travel left us tired and ready for dinner. We left the rental car with the valet service and I was greeted by a large horse sculpture by the double doors. I wondered how someone would be able to create such an elaborate horse using such simple materials. The view from the front desk was even more wonderful. I could see down the endless hallways filled with fine art, the shiny, black grand piano and the bar bathed in blue lights. Ornate archways and carpeting gave the space character and almost made me feel like a participant in some sort of art- circus.
The next morning I woke up at 6am by a blaring phone alarm. Hardly feeling like I was on vacation, I sat up in the red velvety couch, yawned, and peered out the tall window at the beauty of downtown Orlando.
My father is seemingly fearless sometimes – he forced me to drive the lincoln towncar (I only had my learner's license at the time) in an unfamiliar area, and eventually down Goldenrod Road (I think) and to the driveway of the now infamous Casey Anthony. We met with various other news crews, as well as my father's photographer and producer. It was absolutely sweltering that day and the media was buzzing about, on alert for press conferences and word from local authorities. Indeed, buzz about the missing child and her suspicious mother had already begun to catch lots of interest. I met many people that day – including Casey Anthony's mother and father – among others in the media and the police force. Mostly though, I was left to observe.
At one point that afternoon, a press conference was announced. A couple of men in official uniforms stood in front of a bouquet of microphones and a paper in their hands. The reporters, writers, producers, and other staff formed a crowd and the feelings among them seemed rather tense as they crammed for a good vantage point. I was leaning on a tree further behind them – I had no desire to get pushed around. When the time came to take questions from the news media, hands shot up everywhere, but usually the person who spoke with the loudest and most persistent voice received an answer. Knowing my dad, I wasn't surprised to hear him amongst the hoard of people, he asked a question that was directed personally to the officer, one that was different from the questions asked before. I saw a couple of reporters sneer at his question, but when we watched the news segments on the TV that evening, many stations used the video where the officer is answering my dad's question.
When I thought of what happened that day and the days to follow, I like to think I learned an important lesson. Though a tad unconventional, my father isn't afraid of the reactions he might receive from his peers. If he has an idea of how to get something done, he will, and he will do it to the best of his ability. In fact, if your efforts are fruitful, it's not just okay to be weird, it's a good thing. I hope more than ever that in knowing this, I can be successful when I travel to Orlando again, this time to study journalism at the University of Central Florida.
Dear Reader: This page may contain affiliate links which may earn a commission if you click through and make a purchase. Our independent journalism is not influenced by any advertiser or commercial initiative unless it is clearly marked as sponsored content. As travel products change, please be sure to reconfirm all details and stay up to date with current events to ensure a safe and successful trip.
---