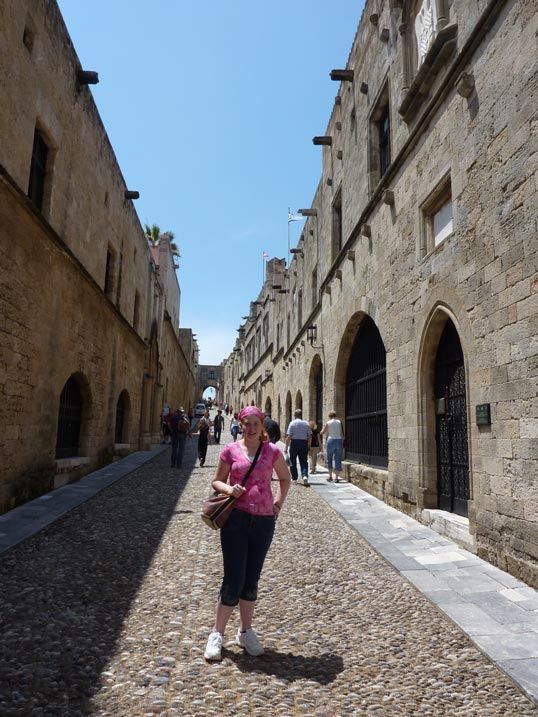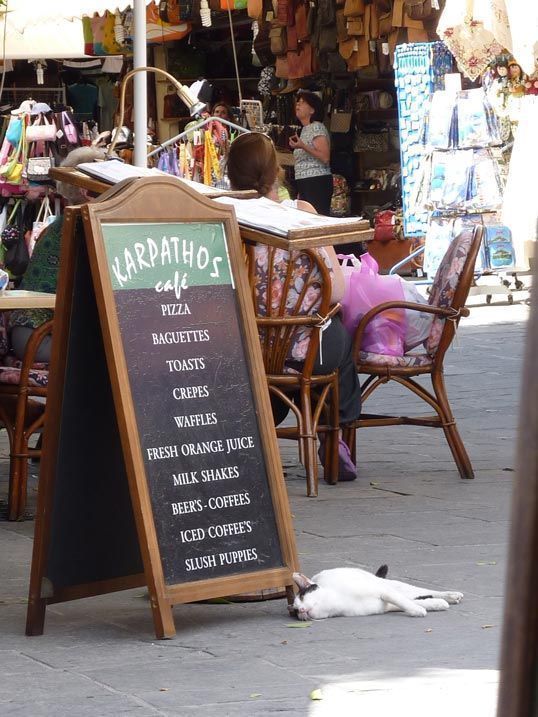 My bedroom walls are plastered with pictures of castles, one of my few surviving childhood obsessions. As a child I would spend hours researching those majestic fortresses on the internet and dreaming of the day when I would walk through one.
In June 2010 my family embarked on a Royal Carribean ship for a two week cruise. Our first destination was Naples, Italy, and from the deck of The Navigator of the Seas I caught my first glimpse of the Castel Nuovo. My family walked from our ship to the castle and, although we did not pay to tour the inside, just standing in the shadow of such magnificence filled me with awe.
Rhodes, Greece, our third port surprised me more than the first. Not only did I not expect to see any more castles, but my view of the winding walls dotted with "regular" buildings didn't reveal how much I would enjoy the town. Palm trees and sea horse fountains graced streets where ancient stones mingled with souvenir shops. My family sat next to cannons and walked down the Street of the Knights. We laughed at waiters manning the outdoor restaurants, who would talk to the stray cats sprawled beneath menu blackboards or curled up on empty tables. However, it wasn't until several days later that I discovered how much I truly appreciated Rhodes.
In neighboring Turkey we toured the house of the Virgin Mary along with the ruins of Ephesus. Both were interesting, but upon arriving at Kusadasi, Turkey I was tired and ready for some time to shop and relax. Instead of the Rhodes-like atmosphere I expected, my family was plagued by salesmen urging us to come into this shop or enticing us to go eat at that restaurant.
Egypt, unfortunately, was worse. I was excited to see one of the seven wonders of the ancient world – the Pyramids – but the experience was somewhat marred by the Egyptian salesmen. At every step we encountered someone begging us to buy their wares. "No money, no honey!" one little boy shouted at my mom as he turned his back and ran away. We witnessed one Egyptian man offer to take a picture of a happy couple in front of the Pyramids, but he would not give back their camera. One man came up to my dad and shook his hand saying he was proud to meet an American, but the Egyptian would not let go. The climate was extremely warm and many of the small canals flowing next to the roads were severely polluted. Although it was amazing to see with my own eyes all the ancient tombs I've read about since I was in kindergarten, the atmosphere was hectic.
Rhodes, Greece wasn't the most popular destination and there were no stunning stories to share, yet it was one of the most peaceful days of our trip. We had no tour buses to miss and did not constantly have one eye through the camera lens and the other on the watch. It was simply my family spending time together, enjoying each others company and that of the shopkeepers who were pleasant, not pushy.
I look back on Rhodes and the cobblestoned streets that were somehow slippery, the fountains speckled with thirsty doves, the bins of gelato shaped like alligators and birds, and realize that is where I want to be. Popular destinations make for bragging rights and interesting stories, but it is the peaceful places that will tug at your heart, begging you to return and explore more deeply. Naples fulfilled a dream, Rhodes urged me to dream more.
Dear Reader: This page may contain affiliate links which may earn a commission if you click through and make a purchase. Our independent journalism is not influenced by any advertiser or commercial initiative unless it is clearly marked as sponsored content. As travel products change, please be sure to reconfirm all details and stay up to date with current events to ensure a safe and successful trip.
---