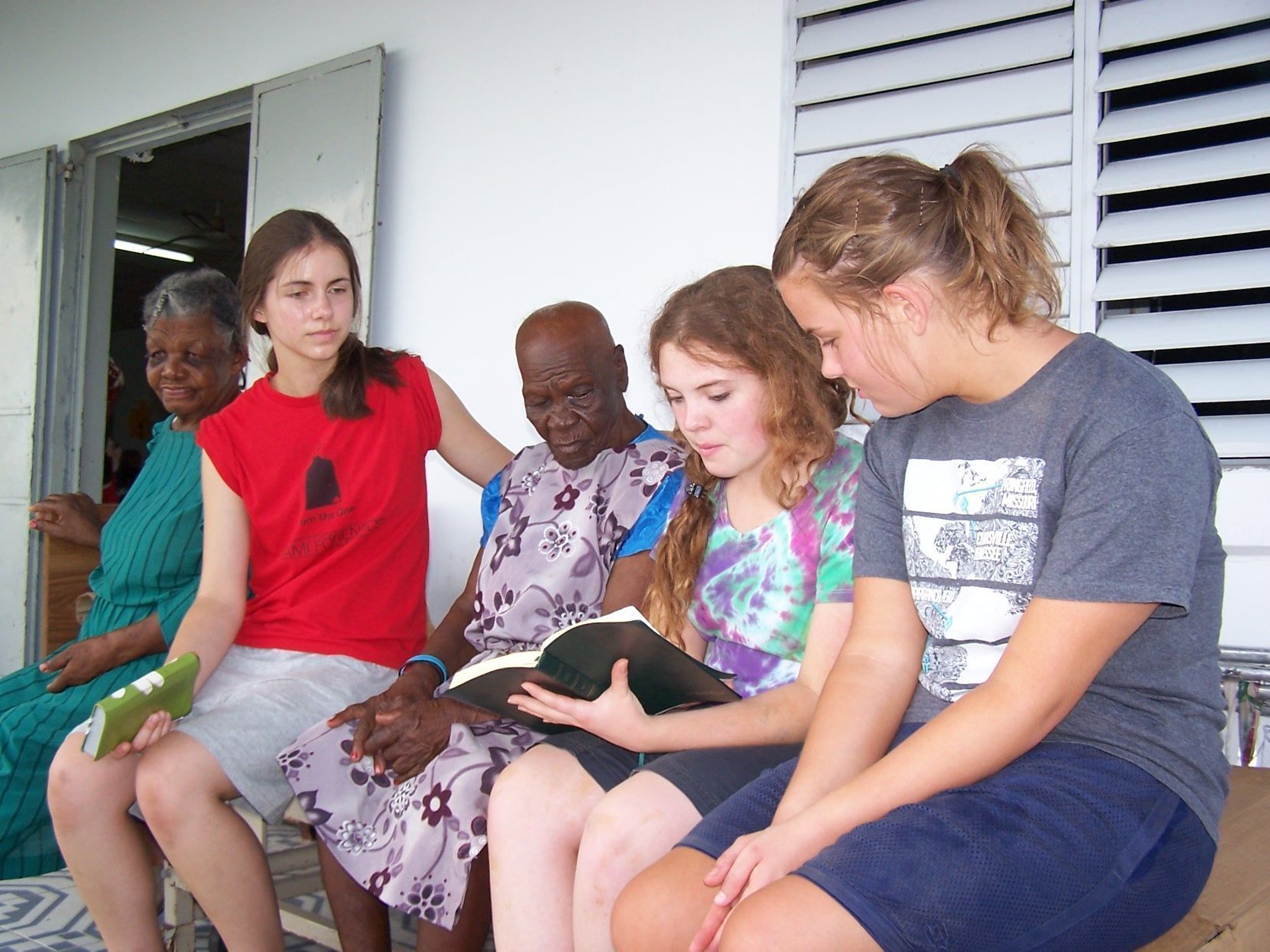 Jamaica is usually known as the island of turquoise ocean and no worries, mon. But instead of checking right in to a touristy resort (although they looked pretty nice), our two packed busloads drove right past white sand beaches on a three-hour trip to Harmons, a small city in south central Jamaica. Little did we know that we would soon appreciate the extremely long, mountainous, white-knuckled drive down – the buses were our only air conditioning for the week.
Who were we? Two groups of youth and leaders, one from a church in Missouri and one from Ohio. Why were we on our way to Harmons, a tiny town that isn't even listed on weather.com? We were with the organization Won By One (www.wonbyonetojamaica.com), that provides the town with a place to gather, accessible clothes, and relationships that point to Christ.
Shortly after our arrival in Harmons, we unpacked suitcases that we had brought, full of donations to Won By One's store. Other jobs included work on concrete, 11' x 15' houses (we finished two that week). Under the white-hot Craibbean sun and the brightest, bluest sky I've ever seen, we also dug a pit for a sewer system, built a foundation, and – hauled maul. This is basically giant blocks of limestone that are chipped down, loaded into burlap bags, and passed up a human chain on the face of a very steep, rocky hill. Yes, even reading that sentence makes you tired. After "going to the maul", ibuprofen was in high demand.
The evenings were our chance to socialize. After a great Jamaican dinner each night (like barbecued chicken, jerk chicken, pumpkin soup or pepper steak), we spent an hour and a half in what can best be described as an open garage. We had a dance night, a kids craft night, a "Jamerican Idol" night. Let me tell you, Jamaicans can dance. And they can sing. They do both so well that any of them can put an American to shame. Loving the kids was another big part of what we called "courtyard time". Fighting the humidity, we grabbed the beautiful dark-skinned babies or an older child, dancing with them, playing tag, and giving piggyback rides.
We even got the chance to eat dinner at a Jamican's house. It was incredibly humbling to be served so impeccably by someone whose entire house is probably valued at the price of your TV. They made us fried chicken so deliciously spicy that Colonel Sanders would have wept.
But the part about the week that taught me the most was a visit to an infirmary in Jamaica. It's a mix between a nursing home and a mental hospital with no health department, where families bring their moms or dads, brothers or sisters who they can't or won't take care of anymore. It was overwhelming, with the sidewalks between the buildings crowded with people who were crippled and had dragged themselves out of their room. It was heartwarming, when I met a woman named Myrtle who called me darling. She laid down on her cardboard-covered-bench and asked me to wake her if I was to leave; she wanted to say goodbye. It was sorrowful when I met a woman who looked up at me and, like a plaintive child, moaned, "I can't walk." There was so much I couldn't do. I couldn't help Myrtle's swollen knees or give her anything for the pain. I couldn't help them get a doctor, because they don't get that kind of care. But I could give them a cup of cold water in Jesus' name. I could read them a Psalm, and I could pray. I still do.
There is so much beauty in Jamiaca, from the mountain we climbed on the last day to the mango-colored sunset over the crystalline ocean that we got to experience. But there is so much beauty and strength in these people I barely met, too. They withtstand conditions that would have me griping in a minute. When I have a glass of clean water or an Advil, I am indescribably blessed. My garage is bigger than one of their houses, and they are grateful, content. For a week, I can withstand a toilet that won't flush and two minutes of cold shower time.
Dear Reader: This page may contain affiliate links which may earn a commission if you click through and make a purchase. Our independent journalism is not influenced by any advertiser or commercial initiative unless it is clearly marked as sponsored content. As travel products change, please be sure to reconfirm all details and stay up to date with current events to ensure a safe and successful trip.
---