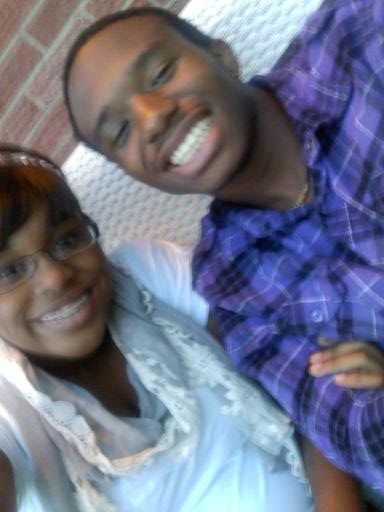 It started out as a normal trip to Ohio. Everything was planned out. I would stay with my grandmother and visit my friends, the norm, whenever I came to visit, but I did not expect to feel the way I did when I got there. A normal drive to Dayton, Ohio from where I live is roughly 6-7 hours, sometimes shorter if my Dad is driving. The normal scenery for the trip consists of a variety of mountains and trees at the beginning and until you reach the Kentucky/ Ohio borderline, the site is mostly farm land and or fields of various grasses and other plant life. At the same time however I am asleep 2-3 out of the 6 hours of the drive so this visual detail may mean nothing. However, nearing Cincinnati, I was wide-awake and a bit anxious as to getting "home" to my friends and family. That feeling changed as we got closer to my grandmothers' house.
Finally, I was in Dayton. That "long time no see" felling was grasping my stomach and shaking it. I was so nervous but didn't know why. All of the sudden my heart sunk. Riding down North Main Street, there was an eerie silence that bewildered me in a way that it never had before. "What the hell happened here" was rolling through my mind like a CD on repeat, but at the same time I questioned myself as to why am I just realizing this now? Dayton has always been like this. My silent jam session in the back seat of the car stopped and I started getting emotional, I didn't want to show my parents though. Looking out the car windows, I saw apartment buildings boarded up, abandoned houses, bard-up stores, and empty streets. It was expected out of Dayton now but, for some reason my ignorant mind didn't want to accept it. Suddenly, I felt the urge to cry but I didn't. I told myself that this isn't worth crying for so instead I sat in the back in silence for the rest of that evening, contemplating on remaining silent for petty reasons or getting over it or trying to be happy in depressing place like Dayton. I pondered over it for a little while, ate some food, talked to my grandmother and fell asleep.
The next day, feeling a little bit better about my emotional moment, I setup a list as to what I had to have for memorial purposes only, which is a lie, so I could reminisce on childhood favorites. This list included Twist Donuts from Donut Palace, Skyline Chili Cheese Coney's, and visiting my childhood friends. Said list wasn't too much of a hassle for time and could easily be completed. Sadly, one of my tasks wasn't fulfilled and that was the Skyline Chili. Was it extremely fattening? Yes, it was. Was it worth it? It definitely was and worth every gallon of gas.
The twisted donuts are some of the most addicting, most delicious and probably one of the best donuts I've ever had. If you are as stingy as I am with food at times, there's is a slight possibility you wouldn't want to share a box with others. The other thing on my list was visiting my friends. My friend Rachel is one of a kind. She's beautiful, funny, and loves to talk, but I don't mind because I love to listen. We talked for hours about everything and discussed some of my poetry. My other friend, Manuel, always has a story to tell, like the time he was in the halls of his school where a fight broke out and he didn't realize a student pulled out a gun. In the back of my head I'm thinking… How do you not realize someone has a gun. I'm just glad he wasn't hurt.
After that visit, it was kind of like a day of recollection for me. I was glad I got to see everybody I wanted but sad I had to go to school the next day, and even sadder that I had to leave. In the end, it was… a memorable trip. All though it was sad, I would do it all over again.
Dear Reader: This page may contain affiliate links which may earn a commission if you click through and make a purchase. Our independent journalism is not influenced by any advertiser or commercial initiative unless it is clearly marked as sponsored content. As travel products change, please be sure to reconfirm all details and stay up to date with current events to ensure a safe and successful trip.
---