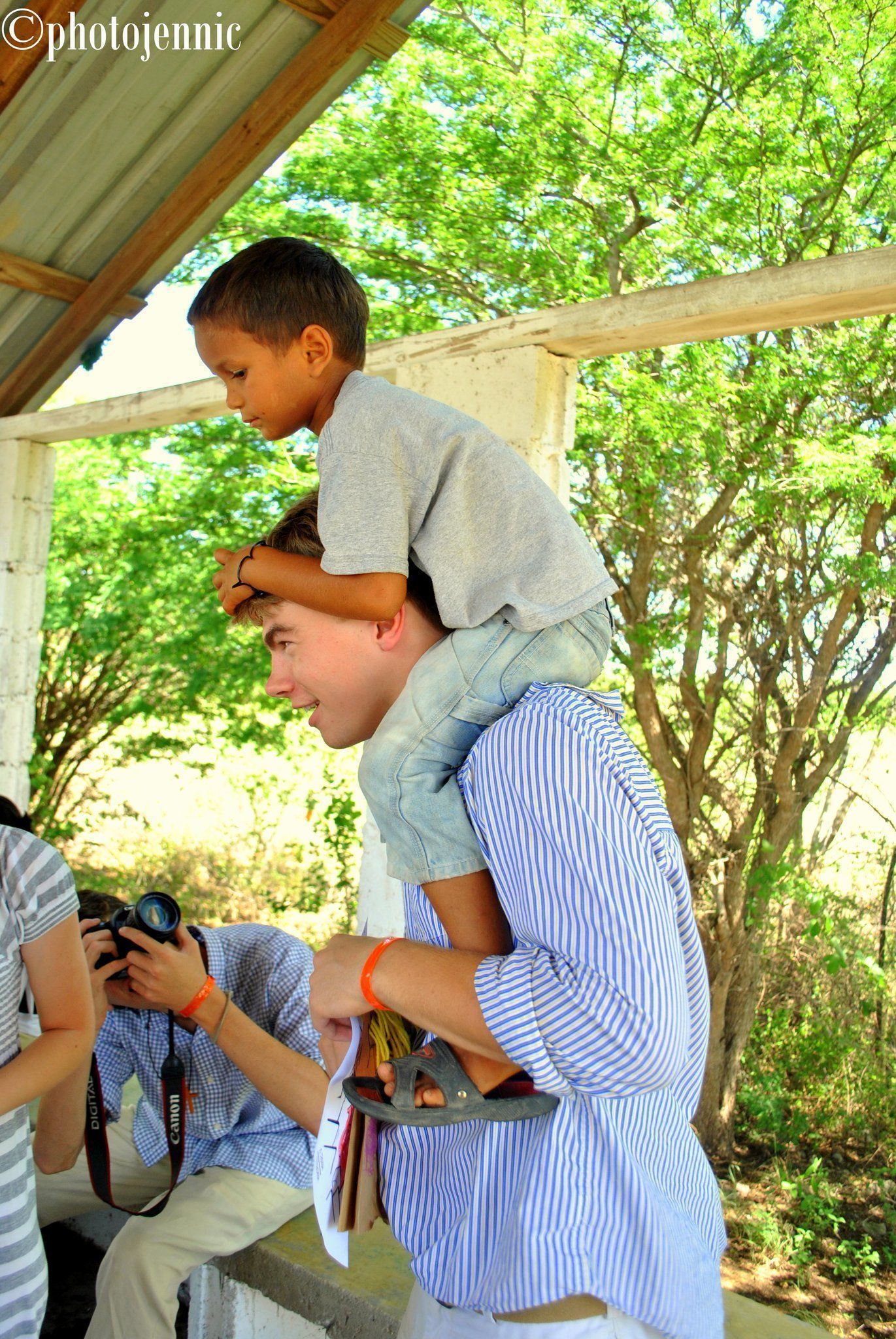 This summer, I went on a week long service trip to the Dominican Republic. I can confidently say that this trip was the most significant experience of my life to date. My team and I went to the town of Monte Cristi, a town on the coast just a few miles from the Haitian border. Our team consisted of 20 students and 12 adult leaders, all from our church's youth group.
We drove up to JFK International Airport, and from there flew into Santiago, the capital of the Dominican Republic. We then drove on a bus for about 3 hours to the town of Monte Cristi. That was the last air conditioning we had for the week. As I stepped off the bus, I walked into a brick wall of heat. I wasn't sure if I was going to last a week, especially with all the hard work we had lined up. But as soon as I had dropped my luggage off inside the basement of the church, which would be our home for the next week, I was dragged outside by a pack of jabbering Dominican boys, who corralled me onto a basketball court and challenged the "Americano" to a basketball game. An hour later, I was drenched in sweat and wanted to stay and play with those kids for the whole week. We awoke each morning and piled into a truck. We went to a school just outside the town, where there was nothing around but tiny shacks. The roads were filled with potholes, sometimes flooded, and rarely paved. Our task was to dig a 2 foot deep trench around the school, so that we could pour a concrete foundation for a fence, to protect the school from vandalism. The trench was about half a football field in length, and the ground was full of rocks and clay. Yet, in 5 days we finished the trench and began mixing concrete. Looking back, the labor was back-breaking, but at the time it was just a lot of fun to dig next to Dominicans and Haitians, all working for the same goal and trying to communicate to each other in a flurry of hand gestures and repeated Spanglish.
In the afternoons, after lunch, we would pack up a bunch of supplies for face painting, balloon darts, soccer, and many other fun activities and go to several towns around Monte Cristi. After a morning of digging, I never felt ready to have a dozen kids hanging all over me. But when we arrived and I saw all the smiles of the kids as we unloaded our stuff from the truck, I knew that I could do this for years and never get tired of it. At the end of the day, my shoulders would ache from too many piggyback rides and too many hours out in the sun, but I felt satisfied. I gave to people who had nothing, but they gave me so much more in return. This experience repeated itself for 5 days. Then it was time to go home.
The ride home was something of a culture shock. We took off from a small airport, flying over the tin roofs of shacks in the countryside of the Dominican Republic, and landed in the hub of American culture: New York City. I looked at the people walking along the streets, and felt that they had so much more wealth, but so much less joy to give. I felt homesick, standing on my own turf.
Dear Reader: This page may contain affiliate links which may earn a commission if you click through and make a purchase. Our independent journalism is not influenced by any advertiser or commercial initiative unless it is clearly marked as sponsored content. As travel products change, please be sure to reconfirm all details and stay up to date with current events to ensure a safe and successful trip.
---