---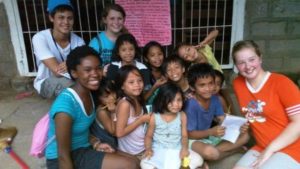 I could see the hurt, the pain, the sting of shattered hope; it was staring right at me.  And what could I do but stare right back?  But there was more: bitterness, distrust, anger, and to a degree – hatred; all focused directly at me and my companions. The drastic and potential violence of the situation was very real, and I didn't see it. None of us saw it, save for Bellwin. And I thank God for Bellwin every day.
It was during my mission trip in the Philippines that I was fortunate enough to meet a local Filipino named Bellwin. He was, for lack of better words, a translator and a guide. But Bellwin was significantly more. A few minutes with Bellwin was all it took to grasp how much more he brought to the table. Even labeling him as an overachiever didn't do him justice because Bellwin didn't do what he did to show off or progress in life. He simply did it because that was who he was. It was his knack to go beyond his role that impacted me on this life changing trip.
Beyond his duty to translate languages, Bellwin would translate emotion and expression. He would read the feelings of others and explain the situation. And beyond his duty to guide us from point A to point B, Bellwin would guide us from our American customs to the customs of the native people. During our mission trip, he guided us across the bridge of cultural differences. He mentored us to the point that we said what he said, walked where he walked, and even sat when he sat. He was the servant and the master; the role model we were lost without.Walking into that church that day could have been a complete disaster. The poverty stricken village itself was built out over the ocean, away from the mainland, with all accountability to the law thrown out those raggedy, home-made windows. Bellwin instantly sensed that something was wrong, and was able to question and convey the situation to us. The conflicting matter was simple enough to explain in minutes and yet drastic enough to cause an outbreak. Through Bellwin we learned that several weeks prior to our visit a group of Americans had been there, asking for pictures and resources in order to raise money from America for food, clean water, and other life essentials that poverty had denied them. The Americans were able to successfully raise enough money to save the beat down village, but when the time came, they kept it. The funds that were suppose to build their church, attain medicine for their sick, and feed their children never came. I was, and still am enraged by this evil act of selfishness. And yet, news of this event caused me to question myself. Was I much different than those Americans? I began to think of all the money I wasted on useless junk that could be sent to people all over the world in same situations as that village. Through Bellwin I saw a pain that I had never understood, and even more importantly; I felt it.
Bellwin impacted me further through his inspiriting character. Even his name, Bellwin was more than just a catchy name. It was the symbol of his new life he'd taken up with the missionaries, despite his parent's threatening disapproval. This symbolic name was chosen simply because he was a martial arts champion, and when the bell rang, he was sure to win. And yet as talented and gifted as he was, Bellwin was the definition of humble. Near the end of our stay in the Philippines, we visited several islands by boat. At one island in particular, we went jumping off of a 10 meter diving board. Bellwin of course was a natural on the board and put us to shame with all kinds of tricks. And yet every time we jumped he stopped, waited, and watched. He would applaud us for the simplest things and constantly ask us, amateurs for advice. The man who could double back flip was asking the kids who could do nothing but belly flops for advice. The humility of Bellwin impacted the person I am today. By his actions, Bellwin glued that fundamental idea into my head; just because you might be faster, or stronger than someone, does not leave you above them. There's always something to learn.
Looking back today, I realize that Bellwin was not the guide across the bridge of cultural differences. He was none other than the bridge itself. I realize that he did not show us to the culture on the other side. He carried us there. Because of Bellwin, my perspective of the world is more realistic. I am no longer a single-minded, typically oblivious American.
Dear Reader: This page may contain affiliate links which may earn a commission if you click through and make a purchase. Our independent journalism is not influenced by any advertiser or commercial initiative unless it is clearly marked as sponsored content. As travel products change, please be sure to reconfirm all details and stay up to date with current events to ensure a safe and successful trip.
---