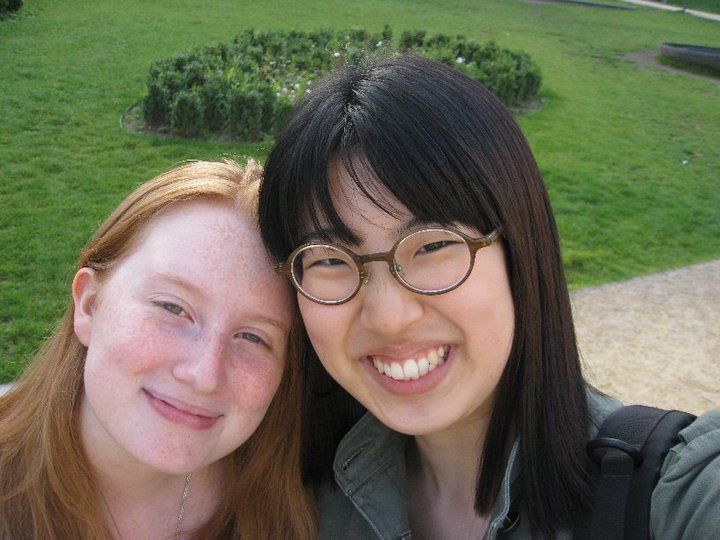 "In South Korea, nail polish is so cheap! Cheap, cheap cheap!"
My face broke into a smile as I turned to look at Min, eyebrows raised in disbelief. "How cheap?" I inquired. The announcer had only just declared that the train meant for Aachen was going to be five or ten minutes late, so we had gotten comfortable in the only bench at the station, having claimed it ten minutes prior. I didn't have to consult a watch to know that now our entire day was going to be a little off, and that we would be forced to walk instead of catching the very carefully planned busses we had previously mapped out. Maybe it was for the best. This was the first time either of us would ever step foot in Aachen, and our excitement was hard to conceal.
â–º QUARTER FINALIST 2012 TEEN TRAVEL WRITING SCHOLARSHIP
"One bottle is one dollar," Min replied, at which point I couldn't stop my mouth from dropping. I was lucky to get a good bottle of nail polish for eight dollars, never mind one. "You're kidding!" I exclaimed, though her answer was cut off by the roar of an approaching train. The small crowd surged towards the train, small clusters gathering around each door, and dividing in two parts in order to make way for those who were trying to exit. Min and I grabbed our respective bags and quickly boarded, moving through the cars in search of a free set of seats.
"Nope. It's very cheap," she repeated with a proud smile. I shook my head and sat down in the very last seat, moving over so that Min had room as well. We were quick to put our feet up on the seats across from us, paying no heed to the other travelers giving us dirty looks for taking up four seats instead of just two. "Do you want to go to H&M? I think they have a sale."
At the mention of a sale, my eyes lit up with anticipation. There were a few crisp Euros hidden away in my wallet that were just begging to be spent, and I didn't plan on denying them. After all, the whole purpose of the trip into Aachen was to explore it, and I fully intended to explore every inch of the stores it had to offer. "Of course," I answered quickly. "Did you want to go anywhere in particular?" Unlike myself, she had been quiet thus far about what she wanted to see, though I had a feeling it would have something to do with cosmetics. I was not disappointed.
"MAC, I think. I want to see if it is the same." Of course. I had never been to MAC, but from the looks of it, it didn't exactly seem like the place where you could get a good bottle of nail polish for a dollar. But to be honest, we weren't looking for a deal. We were looking to experience a particular part of a new city, one that made it my favorite city. I also learned that it was Charlemagne's favorite city, though arguably it was for a much different reason than my own. Charlemagne's favorite haunts within Aachen included castles, but mine included stores and restaurants. Either way, there was no room for any other city in my heart.
Dear Reader: This page may contain affiliate links which may earn a commission if you click through and make a purchase. Our independent journalism is not influenced by any advertiser or commercial initiative unless it is clearly marked as sponsored content. As travel products change, please be sure to reconfirm all details and stay up to date with current events to ensure a safe and successful trip.
---