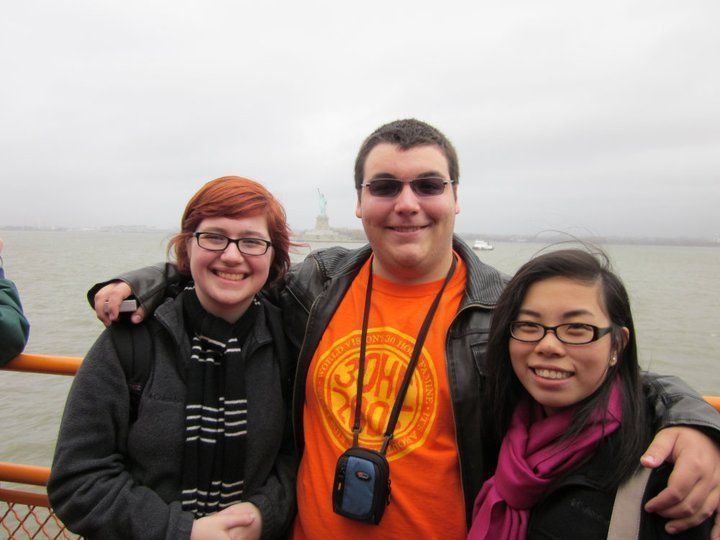 As the plane flew over water and edged more and more towards the runway of LaGuardia Airport, a heightened sense of anticipation began to set in; I'd been waiting for this moment for nearly a year and couldn't wrap my head around the fact that it was actually happening. As the plane moved forward, the aging stranger sitting next to me whispered softly to himself "Finally home…", and I couldn't help but agree with him. Even though I had never actually been to this place, I had this peculiar feeling that I was arriving home; I had the flippant thought that maybe, one day, this would actually be the place that I truly called home. I suppose only time will tell.
This trip had been a long time coming—the idea of simply being in New York City had always captivated me, so when my high school's gifted program planned a trip for juniors and seniors to the "big apple", I knew that I couldn't pass it up. When we finally arrived at our hotel, The Sheraton in Times Square, I instantly was reminded that I was someplace special. The cliché vision of the bright, blinking lights and loud rattle of city happenings moved all around me. The sheer excitement of this new adventure quickly exhausted me, and I was ready for a good night's sleep in a warm, comfy bed.
With a good night's rest, I woke up the next day refreshed and raring to go! In true NYC fashion, the day was slightly dreary, and an umbrella was needed. Our first adventure was a walking tour of the city! We made stops at places such as Trinity Church, a revolutionary war era sanctuary that survived the terrors of 9/11, despite being directly across the street. After much more walking and many more interesting sites (Central Park, John Lennon and Yoko Ono's apartment, and many more), we hopped on the Staten Island ferry and sloshed past the statue of liberty. Being March, the weather was slightly chilly, so my trusty scarf was greatly appreciated.
Over the next few days, our group visited many more locations, such as The Metropolitan Museum of Art and The Museum of Modern Art (which had free admission, thanks to Free Friday Nights, held every Friday evening from 4:00 to 8:00, sponsored by Target Stores). However, over the five days that were spent in the city, my favorite attraction was probably our viewing of Phantom of the Opera. While I had always been a fan of the theatre, not I'd seen previously even compared to the wonders of Broadway.
Being a self-proclaimed lover of food, one of the things that I was most looking forward to on this trip was the cuisine that I would experience. While most of my meals consisted of delicious street gyros and coffee stand deliciousness, the best place that I ate at while in New York was, undoubtedly, Katz's Delicatessen. The location for the infamous When Harry Met Sally scene, and a place notorious for lines outside the door, I was jumping with excitement the second I was on site. Once we sat down, I was eager to order one of my favorite foods, matzo ball soup. And, let me tell you, it was good. Like, better than my mother's at Passover good (but don't tell her that!).
Needless to say, I was sad when I had to board the plane back home. My time in New York City was like none other, and I cannot wait to make it back there someday soon.
Dear Reader: This page may contain affiliate links which may earn a commission if you click through and make a purchase. Our independent journalism is not influenced by any advertiser or commercial initiative unless it is clearly marked as sponsored content. As travel products change, please be sure to reconfirm all details and stay up to date with current events to ensure a safe and successful trip.
---