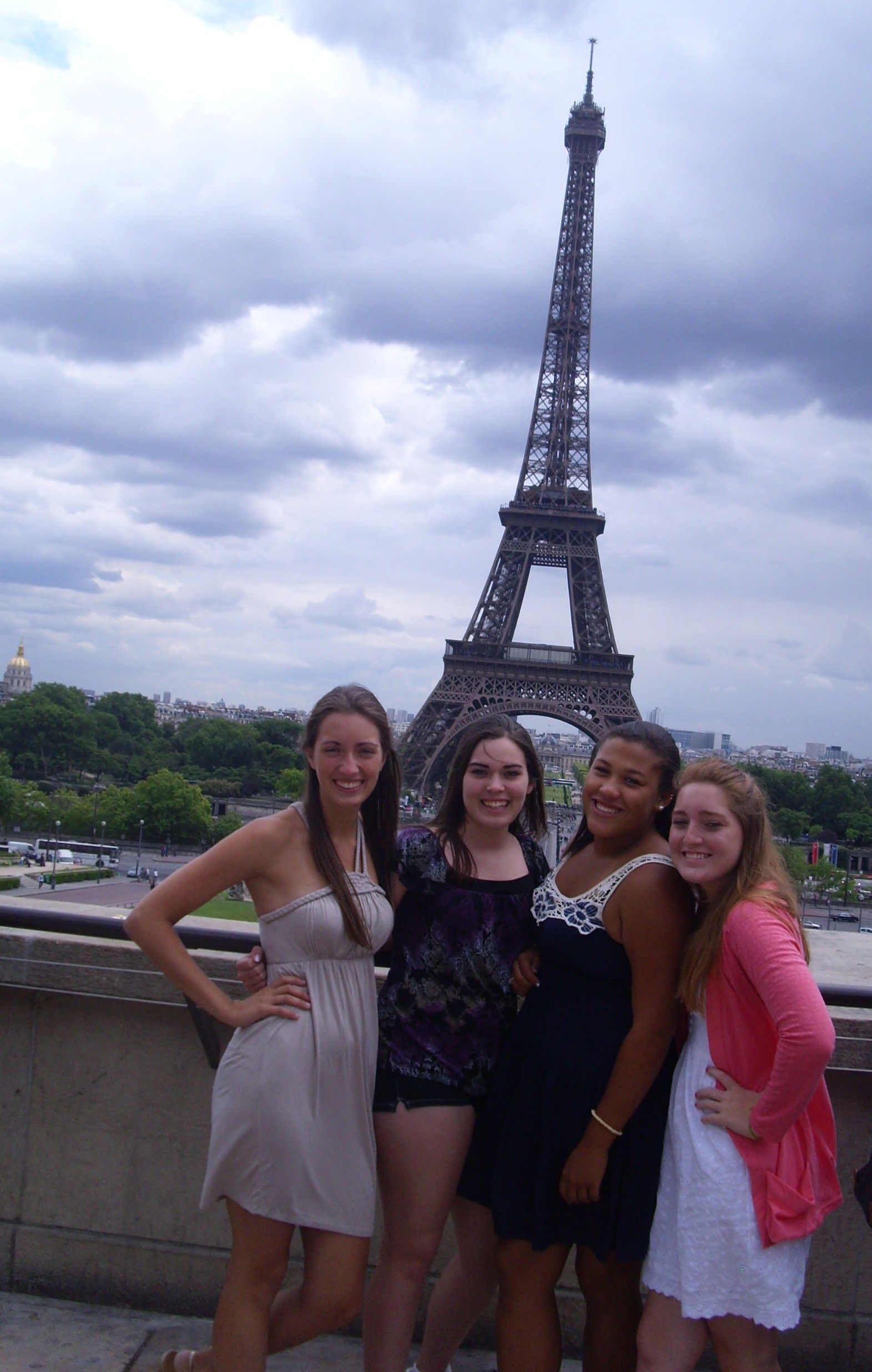 I have always been told that "friends are the family that you chose for yourself". Last summer I took a trip of a lifetime with my chosen family. My three best friends and I went on a two week EF Tours trip to France, Italy and Spain. I learned many life lessons and gained a whole new perspective on the world around me.
Until this trip I never knew what people who experienced jet-lag were really referring to, and neither did my friends. We had been told to sleep on the way there, but lets face if you have sixteen teenagers all on a plane they are not going to sleep. We touched down at the Charles de Gualle airport at 6 A.M. That means that we had all been up for almost 30 hours straight and still had a full day ahead of us. We walked around Paris in a heavy daze all morning. About mid-day we stopped to go into the Muesem de Orsay. Picture this Monet's, Renoir's, Degas', Picasso's around every corner; it was a really exhilarating historical sight. Then in the center of the of the second floor on a long bench there are sixteen teenagers with heads on each other shoulders completely pass out. Of course our chaperones got us up after graciously letting us sleep for twenty minutes, they said it was one of the funniest sight they had ever seen.
I also learned what it was like to be a foreigner, and how difficult it really is to communicate when you do not know the language. In Barcelona we spent the day in this park designed by the famous Gaudi. The whole group thought it would be fun to play hide and seek. Two of my friends and I took off before we heard where the boundaries were. We found the perfect hiding spot in these bushes around a corner. After about 20 minutes some police on horses spotted us and spoke to us in Spanish. We asked them if the understood English and one said a little. There my friends and I were making hand gestures, speaking in broken Spanish trying to convince the police that we were not lurking in the bushes for no reason. They finally got the point that we were playing a game or they did not want to deal with us anymore; they said good day and left. We let out huge sighs of relief, thinking that we could have gotten in serious trouble. Some other members of the group made their way towards us saying they had been searching for us because we were in the wrong area. Everyone got a good laugh from the story.
The most important lesson that I learned from my trip was to take the time to appreciate what is around me. We would go to at least five major sites a day, sometimes more. I could have easily bypassed everything because of all the places we were going. Every stop, the sun setting on Paris from the top of the Eiffel Tower, the scattered buildings from the top of the Duomo in Florence, the gardens of Versailles, to the Sistine Chapel in the Vatican. I absorbed it all, taking all the beauty and history in with my friends by my side every step of the way.
I want to go so many more places and experience everything that I can. I know that the trip would not have been the same without the people that I love the most. They are my family.
Dear Reader: This page may contain affiliate links which may earn a commission if you click through and make a purchase. Our independent journalism is not influenced by any advertiser or commercial initiative unless it is clearly marked as sponsored content. As travel products change, please be sure to reconfirm all details and stay up to date with current events to ensure a safe and successful trip.
---