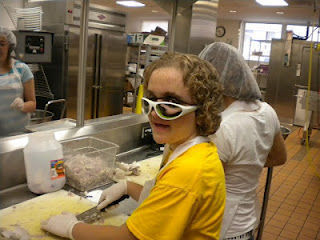 Last summer, I went on a mission trip to Los Angeles, California with my church's youth group. While we were there, we served at various missions and worked at a daycare for Hispanic children whose parents worked at sweat shops. During the trip, I gained a different perspective of life by seeing what some people had to go through to get by, and by learning what it means to serve others.
While my group was in L.A., we stayed at The Center for Student Missions. I and the other girls in my group had to stay in a small room that was hot and stuffy. I hardy got any sleep during my time there because the heat made the room uncomfortable. Despite the fact that I was constantly exhausted on the trip from working hard and getting very little sleep, I still had a positive attitude. I always tried to remind myself that sleeping in that hot room on a mattress was more comfortable than being homeless and sleeping on the cold, hard ground.
One thing that impacted me on the trip was learning that doing work to serve others is actually a very rewarding experience. Work might not seem that fun when we do it to serve others and don't get anything out of it to benefit ourselves. When it comes to working for others, what matters most is our attitude. We can either be grumpy about doing the work or, as my mom likes to say, we can work with happy hearts. It would have been a very long four days in L.A if I did not have the right type of attitude about doing our mission work.
The thing that shocked me while on the trip was learning about sweat shops. Sweat shops are places that make and sell cheap goods. These shops are often dangerous, have unsanitary working conditions, and pay less that minimum wage. This is done just so stores can buy and sell goods for cheap to attract buyers. Our guide in L.A. even told us that most of the bigger corporations have indirectly dealt with sweat shops in one way or another.
What impacted me the most on this trip had to be getting out of my comfort zone and seeing the world from a different perspective. It shocked me to see thousands of people there on skid row all there by similar yet different circumstances. It also made me wonder why there were not more places willing to help people like that. God called us all to minister to the poor and needy. It makes me wonder why some people get on their high horse and pretend that they are better than the homeless. God created us all to be equal. Not one single person is better than the other.
We don't have to make helping the poor and the less fortunate our life calling, but we could do little things like taking a little bit of our time to serve dinner at a homeless shelter once a week. We may not see it, but small things like that make the biggest difference. I recommend that every person go on at least one mission trip in their lifetime because it is a very rewarding experience.

Pondering the lessons learned during the trip.

Dear Reader: This page may contain affiliate links which may earn a commission if you click through and make a purchase. Our independent journalism is not influenced by any advertiser or commercial initiative unless it is clearly marked as sponsored content. As travel products change, please be sure to reconfirm all details and stay up to date with current events to ensure a safe and successful trip.
---