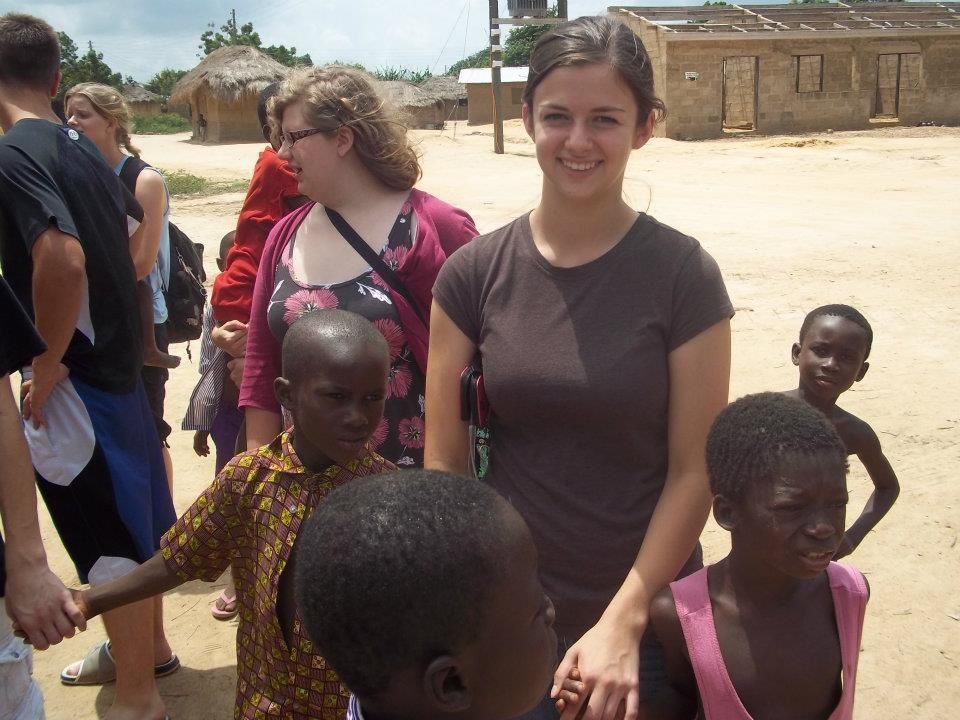 Let me start off by saying that Ghana was never on the top of my list when it came to "Places I Would Like to See". However, the experiences I had in this country were so great, so different, so impacting that I would advise all of you to bump Ghana up on your own lists!
I traveled to Ghana on a mission trip so evidently, I wasn't staying in a tourist resort or fancy hotel. No, I stayed in a bare bones kind of place. We had running water, beds, and electricity, but the water was cold and had no water pressure, the beds were infested with bed bugs, and the electricity didn't work all the time. We travelled to and from our work site and the place we were staying in was a "bus", that actually ended up breaking down twice in one day! So as it ended up, we went through 14 buses on our 15 day trip. But that's enough about our accommodations because that was probably the most insignificant thing about our trip.
â–º QUARTER FINALIST 2012 TEEN TRAVEL WRITING SCHOLARSHIP
Central to our enjoyment were the Ghanaian people. The kids and adults alike were funny, kind, and willing to help. The kids never failed to show up at our work site at 2:30 – when they got our of school – to help us wield wheelbarrows, shovels, and pick axes. They danced around with us and taught us their clapping games – which are very difficult, by the way!
We also had the chance to go to the market, which happened every 5th day. The vendors would sell everything from cloth, clothing, and yarn to dried fish, spices, and live crabs. Although I would advise every traveler to go to one of these, I recommend that they would also leave behind any valuables and not take a backpack. When I was at the market, the front pouch of my backpack was opened and had I been carrying anything valuable, I am certain it would have been gone. Also, a tip for these markets in bargaining. If the vendor says the price is 50 cedi, it is worth about half of that – maybe. The advice we were given was to start with a third of the price given to you and bargain with them until you find a price suitable to both of you.
One thing that everyone should do while in Ghana is buy something from a hawker. Hawkers are vendors that walk the streets and sell things to you through your car window. The best things I ate from vendors, were Fanmilk icecream, tea bread, little doughball things (I didn't get the name), and octopus. I also had a snail shishkabob (Ghanaian snails are about the size of a baseball only not so round) and shrimp complete with the tail, eyes, head, and shell. Not my favorite. Be fore-warned though; one of the major causes of traveler's diarrhia is buying from street vendors. Personally, I think it's worth it.
Another thing that our team did was attend church. Wow, was that amazing. The way they praise God even though they have nothing was just mind-boggling and prompted tears in more than one member of our team. They sing and pray with such emotion that it would almost be a sin to go to Ghana and not visit a church. To be quite honest, in Ghana one learns to live without many things, but what is gained from a trip to this country is worth more than the things one has to live without.
Dear Reader: This page may contain affiliate links which may earn a commission if you click through and make a purchase. Our independent journalism is not influenced by any advertiser or commercial initiative unless it is clearly marked as sponsored content. As travel products change, please be sure to reconfirm all details and stay up to date with current events to ensure a safe and successful trip.
---