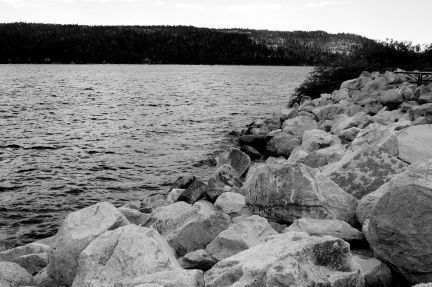 Living in arguably one of the most popular cities in Southern California, one might think that Palm Springs natives would jump at every single opportunity to soak up the sun during the summer.
Well, think again.
Palm Springs is unbearably hot during the summer. Take it from me, because very few non-locals know this, but when I say "unbearably hot" I mean that sitting outside is equivalent to being locked in an oven with no way out, save for the bittersweet use of the electricity-hoarding and money-guzzling air conditioner.
Ah, but wait! There's another way to escape the heat! It's called Big Bear Lake!
This is what prompted my family to take a "daycation" to try and seek some higher ground in hopes of finding cool air. We've previously been to Big Bear and absolutely adored the city, abundant trees, and the people. It's a rather perfect solution to getting away if only for a few hours. All that's needed is gas money and the courage to drive up a mountain that isn't all that scary.
At the time of going to Big Bear, my family would do anything to get away from our 115 degree weather with stark humidity- and for those of you East Coasters who say, "Oh, humidity? No big deal!" believe me, it's much different than you'd expect it to be. So, as we proceeded to leave Palm Springs, we let our trusty GPS that we dubbed "Gerdy" guide us up the mountain. The unfortunate part to this is that we unknowingly went up the other main way to get to Big Bear. The only issue with this route is that it has much sharper turns- and I mean sharp turns. It was a bit hectic but we made it! There were a few verbal altercations on the way, but that's just because my family can't seem to drive long distances without some type of arguing.
After being on what felt like Disneyland's "Mr. Toad's Wild Ride", we finally reached our destination. The moment I saw the lake in between the large amounts of trees, I was ecstatic. We parked on one side of the lake, and I jumped out like a child and started going around taking pictures of everything. I was in heaven… with trees! Which I don't see that often, as Palm Springs' plant life is really only palm trees and various species of cacti. It really was stunning, the lake, the greenery, and the feel of the whole town.
However, I think what really stood out to me was the beauty of the environment. I felt more aware of the natural wonders that Mother Nature has given us- even the barren desert that I live in. I felt that I was waking up, and realizing that the earth around us shouldn't be taken for granted, as ecosystems are being wiped out or just withering away. The thought went through my mind that our environment should be cherished, because no material item can be equivalent in nature's elegance. With this in mind, I decided to thoughtfully take photos of what I saw as beautiful in Big Bear's surroundings.
With that said, I'm thankful that my vacation was more than just a day away from the heat. I came to Big Bear looking forward to seeing trees, and I left with a valuable lesson that nature is a fierce, yet wonderful part of our lives that needs to be treasured. Not only was my vacation fun, but it was a meaningful experience that I can carry with me my whole life.
Dear Reader: This page may contain affiliate links which may earn a commission if you click through and make a purchase. Our independent journalism is not influenced by any advertiser or commercial initiative unless it is clearly marked as sponsored content. As travel products change, please be sure to reconfirm all details and stay up to date with current events to ensure a safe and successful trip.
---