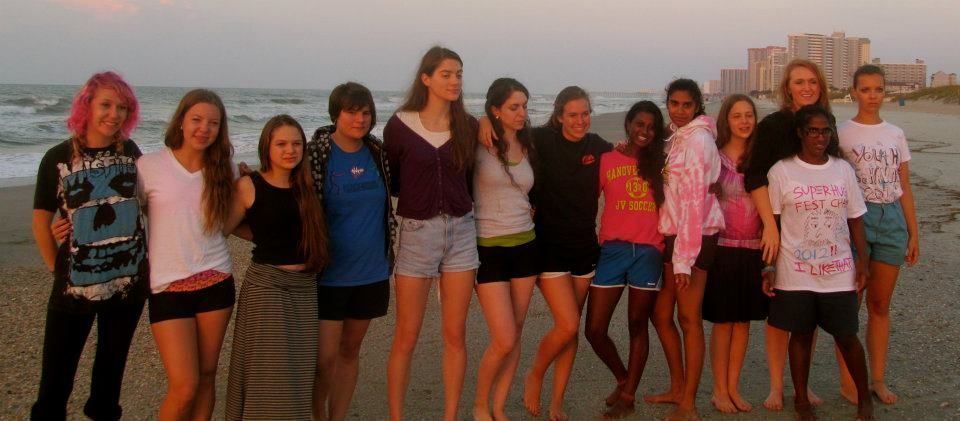 It is a dream, or rather, it seems that way. When it is over and I go home and fall asleep for twelve hours, its surreal quality is only strengthened. I am referring to Youth Sahavas, which took place at the Meher Spiritual Center from July 24 to July 29, 2012. Reader, this story may seem odd to you, but I accept that, because it is of the most real experience I have ever had. This was not an ordinary trip. No, it was Youth Sahavas, the annual gathering of youth who are dedicated to loving God and living in an atmosphere of unconditional love and a nature paradise for five nights and six days.
Covered in sweat from the humid air of Myrtle Beach, South Carolina, we must begin the retreat with accepting attitudes. The experience is life changing, and we yearn for everyone to experience Youth Sahavas, not because we want to convert others, but so that they too can discover the intense love we all feel for one another.
The love is obvious. People break down their inner walls and let their feelings pour out. Within just twenty-four hours, I am comfortable letting old friends, new friends, and almost complete strangers know my deepest thoughts. The trust I feel for everyone there is like none other. Judgments are almost nonexistent.
In the midst of love, we have fun. We sing, dance, act, play, laugh at bad jokes, and go to the beach. We are our "normal" teenage selves, but wrapped up in a beautiful energy that is ever so close to being tangible.
Sahavas helps me love and trust people back at home. It is how I resist negativity and give the world positive energy. It is my happiness when I think of all the people I love and my sadness when I long to remember how to feel and create goodness. From Sahavas, I have learned that unconditional love is possible, and knowing this makes more eager to be a good person and love others. I have become less judgmental and I can feel the difference it has made. Simply put, Sahavas is love and feeling God in the strongest and most beautiful way I can.
What did not work? Everything worked. Everything is always how it is meant to be. Sure, there were times when I was not feeling my most blissful and happy. This was my second Sahavas, and for the first part of the trip, I was feeling slightly disconnected. The energy was different than that of last year, and I was afraid I had forever lost the feelings I associated with Sahavas and had for so long sought to immerse myself in once again. Perhaps, I thought, I had been merely dwelling on figments of my imagination. But with the blink of an eye, everything I sought for was there. Unfortunately, it was as if I did not realize I was at Sahavas again until it was coming to a close.
As we walked to the house of the beloved, we held hands in a chain of almost one hundred souls, silently passing down kisses on each others' hands and cheeks. When we got there, we proceeded to sing, and when I realized it would be a whole year before I again saw such warm embraces, I began to cry. I finally felt full of the energy I had feared was missing. We are all one, and all love is the same. All religions are one, and all faiths are the same. And that is the true spirit of Sahavas.
Dear Reader: This page may contain affiliate links which may earn a commission if you click through and make a purchase. Our independent journalism is not influenced by any advertiser or commercial initiative unless it is clearly marked as sponsored content. As travel products change, please be sure to reconfirm all details and stay up to date with current events to ensure a safe and successful trip.
---