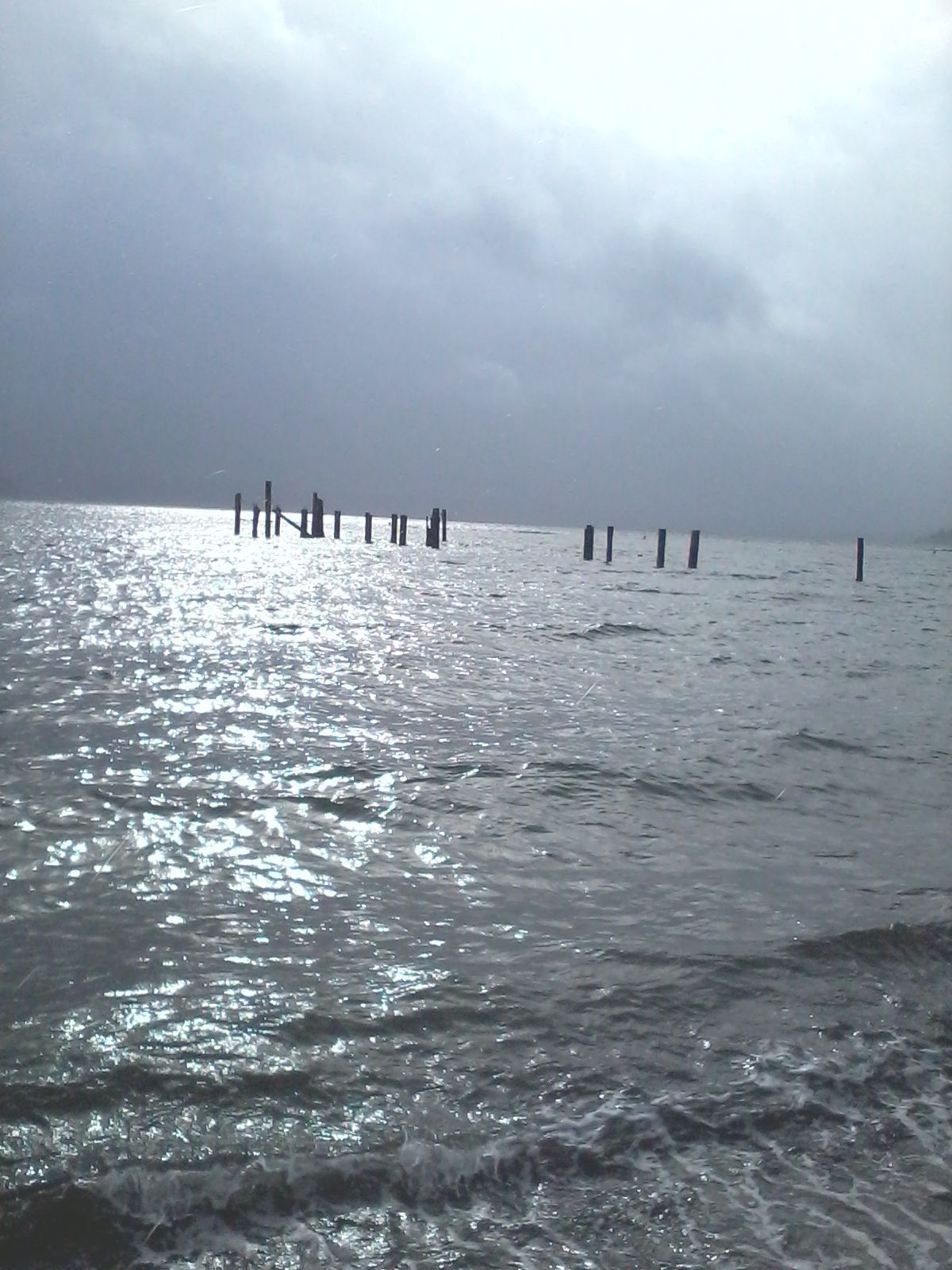 There are no family vacations-we cannot afford them. My parents and I- we go on drives. Usually hour long trips to nowhere and back. Then one day, in late February, we miraculously had some extra money. So we retrieved my brother, Bobby, who lives with his father, and just like that were off for a drive. Getting onto the highway our travels began.
A few hours later we arrived at our destination, Sunrise Motel and Diving. It offered us a small cozy room with a kitchen, a bathroom, a bedroom and a couch with a pull out bed. At first, things were awkward. No one was used to this much time together in such a small area. But then we got more comfortable and hanging out became easy. We went outside; saw how when the sun hit the waves the water just glittered. Shells littered the beach. Bobby and I photographed the docks, the water, and shore. We strolled down the road. Even though Bobby, the average fourteen year old, preferred the mall, I still dragged him into the souvenir shops and antique stores. I think he discovered that they were not "lame" but more like rare gems hidden in the corners of small towns. We bought chocolates that look just like pebbles. Our plan was to freak out our mom by eating the "rocks". All I can say is mothers are too smart.
Not everything was peachy in that cramped space. Bobby grew bored. There was a huge fight between my parents about which can opener to use since there were two. Later we played Hedbanz, a board game we brought. During the game, "can opener" appeared and despite the earlier confrontation, we all had to laugh, even my parents who probably felt silly. Soon, even though we were enjoying ourselves, we felt cooped up and so we jumped into our Dodge Durango and headed presumably to home.
Boy was I wrong. Hours after hours we spent in that car with the windows rolled down and the radio cranked up. The car passed totem poles and fields and many different scenes. When we finally arrived at the next location, our butts felt like they were going to fall off. My parents had been trying to find a spot named Tongue Point, but found themselves lost. We ended up by Cape Flattery close to Neah Bay. There was nothing but woods except this "Cape trail".
It was a two mile walk. Bobby ran ahead, while I walked close to my parents, frequently looking over my shoulder for fear of coyotes thanks to some posted signs. Soon the trail was like a boardwalk. Twists and turns and trees and plants made up the path. We often than not had to help each other over small obstructions or up steep hills. The distance seemed to take forever but it was worth it. At the end of the trail was a viewing point. The water crashed against the cliff and created swirling mocha foam. Caves revealed nothing about the contents of its depth but blackness and water. An island with a lighthouse lay off in the distance. Everything was peaceful, powerful even. We took photos and spent the time in awe. I felt closer to my family during those moments than I had in a long time. My parents were disappointed that we couldn't find Tongue Point. I believe that it was part of the adventure. The spontaneity, the way that life takes unexpected turns and deposits you and your loved ones to just the right places they need to be.
Dear Reader: This page may contain affiliate links which may earn a commission if you click through and make a purchase. Our independent journalism is not influenced by any advertiser or commercial initiative unless it is clearly marked as sponsored content. As travel products change, please be sure to reconfirm all details and stay up to date with current events to ensure a safe and successful trip.
---