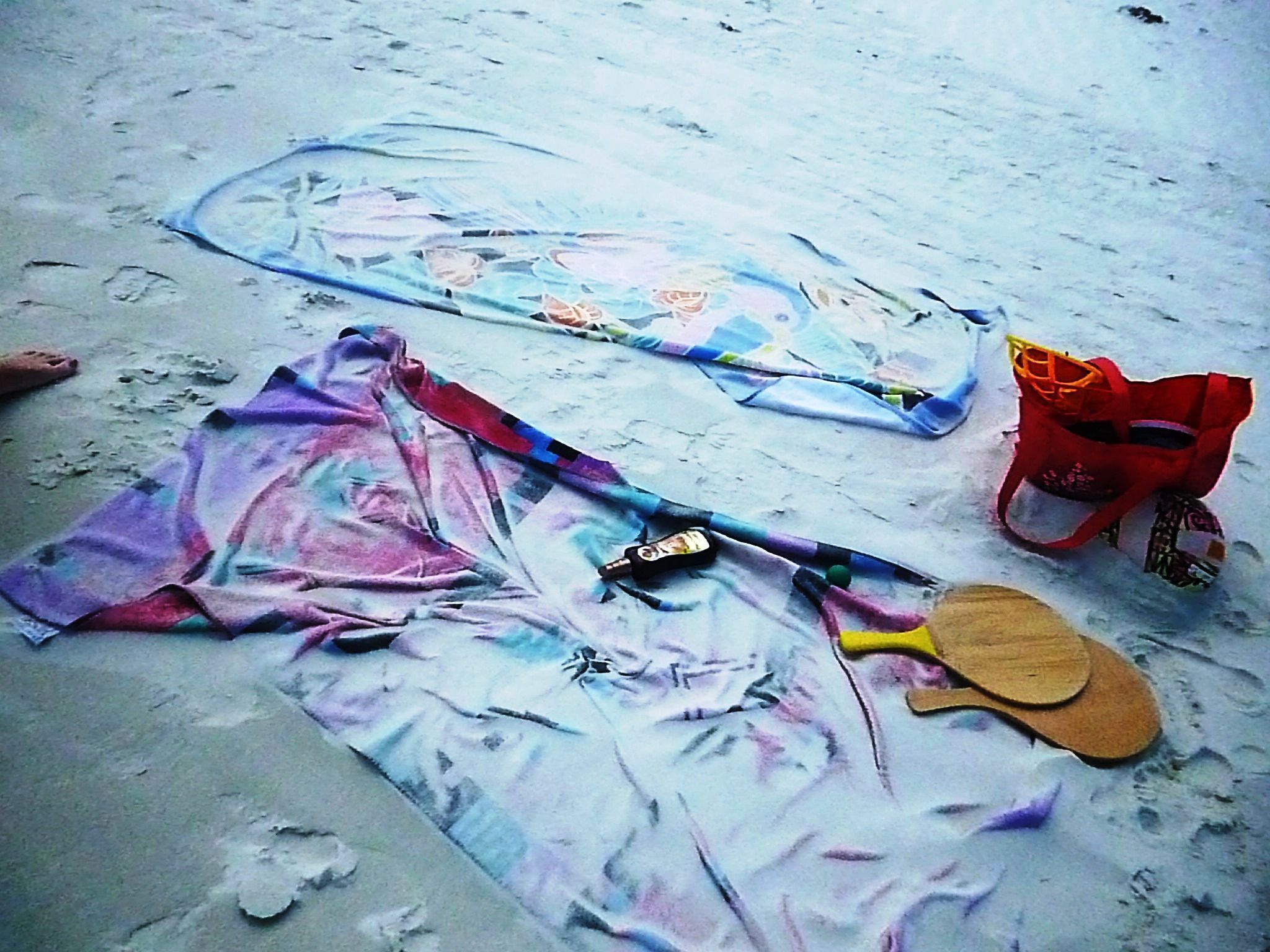 The sun beat down on our bare backs as we jogged along the water's edge. I could feel the heat starting to burn my skin, turning its pretty fair complexion into a far more burdening red one. After taking a quick break to hydrate, we continued to jog for about a minute until finally we came back to our spot on the beach. I slowed down and waded into the ocean, jumping in head first when it was deep enough to cool my body off completely. And boy, did it feel good! A wave of cool swept through my body, silencing the cries of my now cherry-colored upper back, and chilling my aching legs. I came back up and into the air and treaded water for a minute, taking a moment to just stay there and bask in the refreshing feeling of the ocean. After a few seconds I made my way back onto the sand and to our spot, where my brother, Derrick, was already reapplying sunscreen.
â–º FINALIST 2012 TEEN TRAVEL WRITING SCHOLARSHIP
"You know, the sun is gonna' go down soon, right?"
"Yeah well, you can never be too safe, right?"
I laughed and plopped down next to him, sipping my water and rubbing my legs. I'd forgotten how difficult running in the sand was, since it was the middle of winter and I wasn't in my "beachy-phase", as my best friend called it. It never ceased to amaze me how even in the middle of a Florida winter, the Caribbean was still sweltering hot.
"Look, the sun's starting to set!" I pointed out into the distance and looked at Derrick to see if he had heard. I handed him a can of Coke and ruffled his hair. "Ready for the IMAX experience of the most beautiful sunset you've ever seen?" He grinned and took my hand, squeezing it lovingly.
I lay my head on his shoulder as we watched the sun set together. I smiled as the indigo clouds danced along the top of the sun, encouraging it to continue to sink down into the ocean. My toes wiggled into the sand and my fingers danced along the different textures of all the various shells on the beach. A cool breeze whispered through the air, tickling my skin and teasing the edge of the towels that we sat on. After a long day of jogging along the beach, beating our paddle ball records, and touching up on our volleyball skills, just sitting and watching the sun disappear into the horizon in a breathtaking spew of colors was extremely soothing and relaxing. So we sat there until the sun disappeared completely and the horn of the cruise ship rang, piercing the still air like a knife through warm butter, and jumping us from our calm trance.
Standing and stretching, I reached my hand out to him. "Get up you lazy person. That was our get-the-heck -back-on-the-ship call. Taking my hand, he got up, and we gathered our stuff. Together, we jogged back to the ship and headed to our room, where we dropped our towels on the floor and sat on the bed, liberally applying the aloe that sat on our bedside table.
Hours later, when we lay down and closed our eyes, welcoming sleep to carry us away to dreamland, all I could think about was the wonderful day I had just had with my brother. The whole day ran through my head, from the Breakfast Royale in the Animator's Palate Restaurant to the sunset on the beach. And I was so glad that we weren't like those people who hated their siblings. I was glad that we could have a day together; just brother and sister, having a wonderful time without anyone else to bother us.
Dear Reader: This page may contain affiliate links which may earn a commission if you click through and make a purchase. Our independent journalism is not influenced by any advertiser or commercial initiative unless it is clearly marked as sponsored content. As travel products change, please be sure to reconfirm all details and stay up to date with current events to ensure a safe and successful trip.
---