---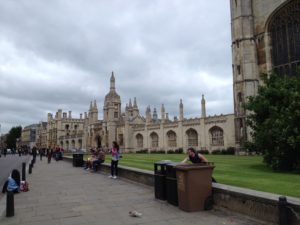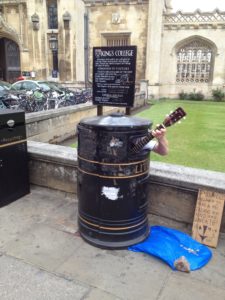 I remember not being terribly excited to go to Cambridge. There was still so much to see and do in London, and I wasn't quite ready to go. But we all piled in the car, my best friend and I cramped together in the backseat, long legs tangling in an attempt to stretch out on the hour-long drive north.
We spent the first day at a family reunion, in a huge old white house, laughter spilling out of every open window until late at night, and the next morning the sun woke us, pouring in through the skylight as the stubborn gray English clouds cracked open for a rare glimpse of clear blue sky. We ate a late breakfast in the garden, soaking up the first true warmth of summer, and then headed into town.
It was a short drive, barely three minutes, and we tumbled out of the car and onto the sidewalk with curiosity quickening our steps. Everything was stone, colorful window displays, green lawns, a faint melody drawing us to the center of town where a musician sang in King's Parade while a tour guide drew his group in around the 24-karat gold Corpus Clock, explaining to them the meaning behind the time-eating Chronophage perched atop it. We tossed coins to a student who had managed to squeeze himself and a guitar into a trash can in front of King's College, and ordered cream teas at Fitzbillies, the richness of the scones forcing us to eat them slowly while our feet rested. We prowled through Heffers, buying more books than we should have, and meandered down unfamiliar streets, exploring a bustling market and a little shop of knick-knacks called The Ark (so named because it has two of everything). We bought incense and scarves at Mayhem and walked along the river to let the breeze ruffle our hair while people gave their best attempts at punting with bright smiles and wind-kissed cheeks.
I remember everything so vividly, the ache in my feet, the grass-and-sun scent of The Backs, the feel of old stone against my fingertips, the creak of wooden steps as we explored Pembroke College, the smell of ink and paper in Heffers. I remember the sunset over the trees on our first night, the bite of the rain on our second, and the relief of a hot cup of tea in my icy hands. I remember feeling like a part of something, big and small at the same time. Cambridge is no large, anonymous city. It is rich in history and art and culture, and it made me feel connected to everyone, to the Chinese tourists and the choir boys in the chapel and the musicians on the streets and the students cycling around in a rush of carefree energy and even the people who lived there hundreds of years ago, the builders and the architects and the peasants. When I was there, there was no question of finding my place in the crowd; I already was a part of it, nothing to do but explore, no time to live but that moment, no one to be but me.
Dear Reader: This page may contain affiliate links which may earn a commission if you click through and make a purchase. Our independent journalism is not influenced by any advertiser or commercial initiative unless it is clearly marked as sponsored content. As travel products change, please be sure to reconfirm all details and stay up to date with current events to ensure a safe and successful trip.
---