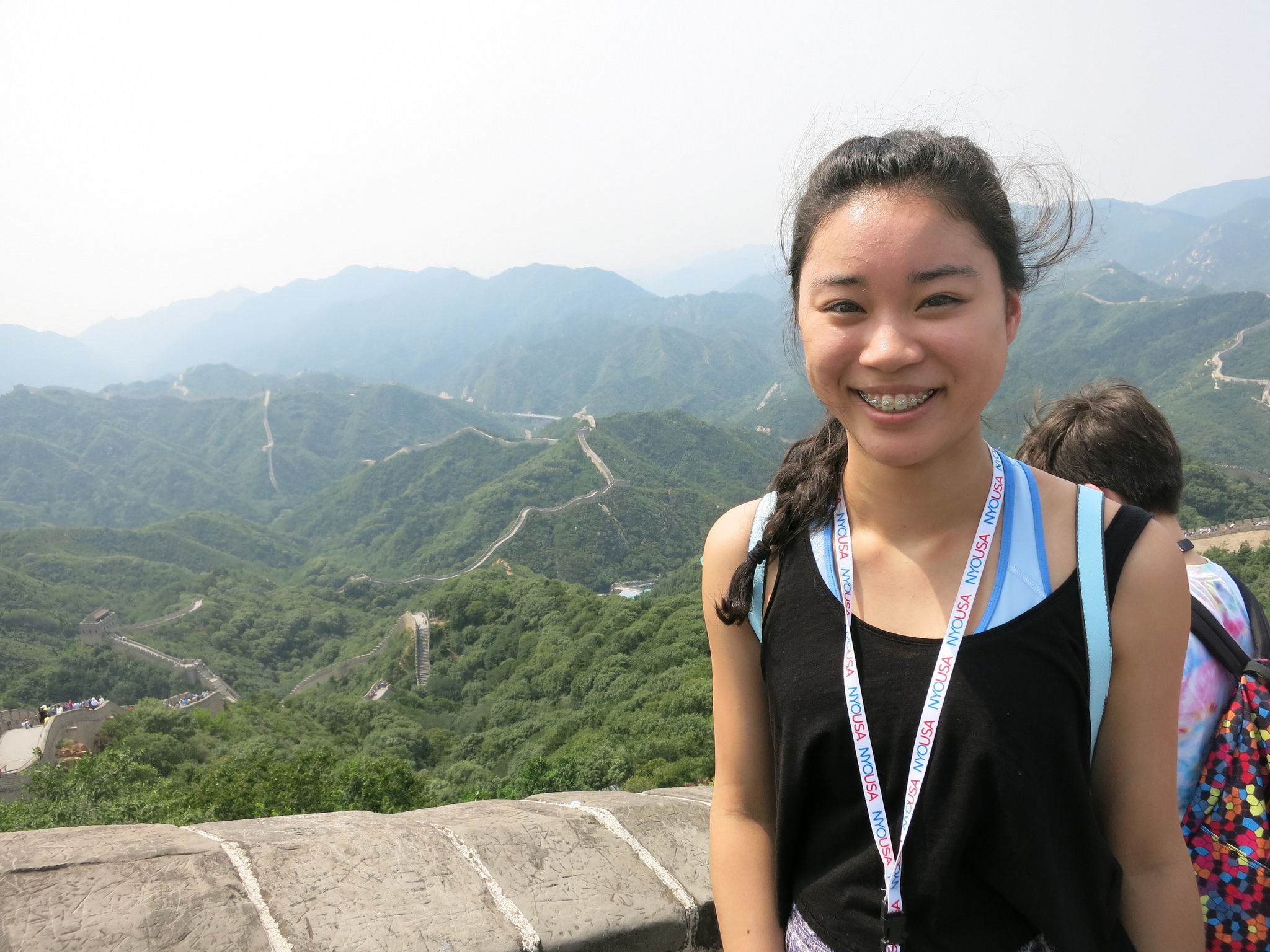 My journey in China begins and ends with a public restroom.
SEMI-FINALIST 2015 FTF TEEN TRAVEL WRITING SCHOLARSHIP
It's early, yet already my shirt clings to my back. We've arrived at Badaling, and my comrades of the National Youth Orchestra of the USA rush to the restrooms before our ascent of the Great Wall. Our performance tour in China has just begun, and the air thrums with excitement over today's sightseeing plans.
But inside, it's unlike any restroom we've ever seen. A putrid stench makes my nose shrivel and eyes water. The Chinese ladies appear unperturbed by the smell, standing elegantly while we clamp our nostrils.
Once I've squeezed myself into a stall, the real challenge awaits. I peer down at the porcelain hole at my feet, and I know this is it: the infamous Chinese squatty potty. I press one hand to the door, as the broken lock hangs uselessly like a pendulum. The toilet itself doesn't flush, so an overflowing waste basket holds the used tissues, spewing out a vile odor like an angry volcano. Outside, we rub on copious amounts of hand sanitizing gel and recount our experiences. We are all a little shaken.
You may wonder why I find it necessary to recount my first squat toilet story. The truth is, I've come to view my encounters with it as a parallel of my entire experience in China– my initial expectations of the culture, food, and atmosphere were flushed away, quite literally, and what helped me come to terms was a simple hole in the ground.
Over the course of my 17-day stay in seven of China's biggest metropolises, trips to the public bathrooms were unavoidable. At first it was met with dread. Such uncomfort, unfamiliarity, uncleanliness! I couldn't relax my muscles or suppress my repulsion. Moreover, I fell ill with food poisoning; an impromptu trip to a decrepit KFC had wreaked havoc on my digestive system.
Thus, my initial idea of China was one of utter disgust: the food had made me sick, the water was undrinkable, and the crowds– people, people, people everywhere. Overwhelmed and suffocated, I found myself struggling to enjoy the exquisiteness of the country. Rather, I was focusing solely on what made me uncomfortable.
But trips to the squat toilets became more frequent. Little by little, my disdain for the hole-in-the-ground toilet waned. And once I had completely vanquished my fear, I jumped headlong into all the cultural wonders that China had to offer.
After one forgettable KFC incident, I was treated to the most mouth watering egg tarts and the crispiest Pecking duck. And while I saw the smog that clung to the horizon, I marvelled at the skyscrapers that etched out the seemingly eternal skyline, a true testament to the economic vitality of the country. And as I learned upon multiple interactions with the charming musicians of local youth orchestras, the cleanliness of China's public restrooms had no reflection on the kindness and hospitality of its people.
My trip hasn't just made me a better squatter; I've returned tremendously more open to beliefs, cultures, and experiences that may frighten me. In retrospect, I realize how my gradual acceptance of the bathrooms, so different and uncomfortable at first, allowed me to wholly appreciate China's strikingly distinct culture.
And regardless of our toilet preferences, we're all people, equal in our humanity and dignity– a truth that struck me as I was hurrying out of a stall in Shanghai. Multiple women in line stopped me, their hands on my elbow and genuine concern in their eyes: my shoelaces were untied.
Dear Reader: This page may contain affiliate links which may earn a commission if you click through and make a purchase. Our independent journalism is not influenced by any advertiser or commercial initiative unless it is clearly marked as sponsored content. As travel products change, please be sure to reconfirm all details and stay up to date with current events to ensure a safe and successful trip.
---