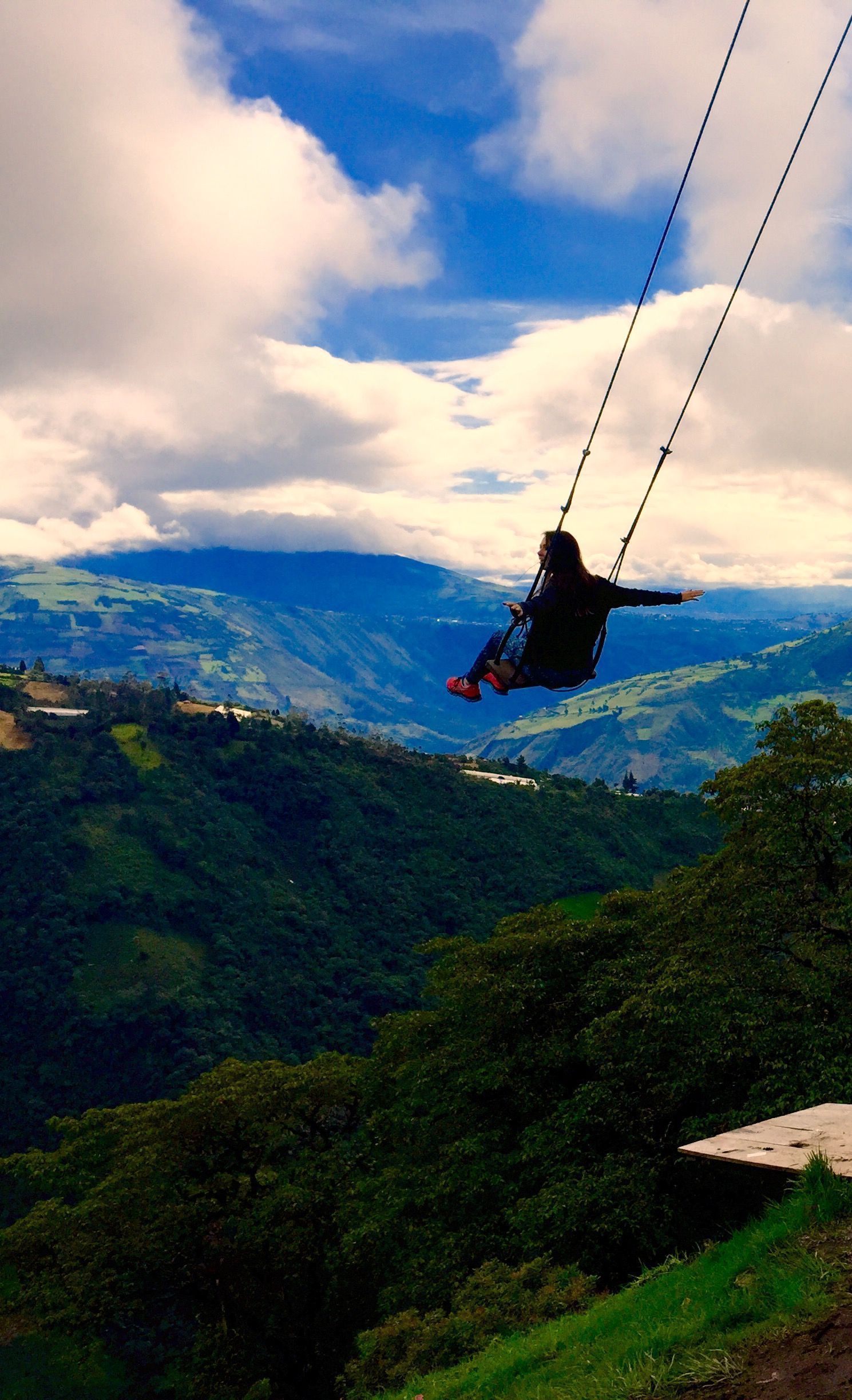 We arrived at the La Casa Del Arbol in Baños, Ecuador. I was overwhelmed with beauty as I gazed over the mountain onto the boundless valleys where hill by hill, they seemed to stretch to the ends of the earth. Everyone was gathered around the main attraction. In Ecuador, it is locally called a "columpio" which in my English vocabulary translates to "terrifying swing sweeping over the myriad of gorgeous green mountains".
FINALIST 2015 FTF TEEN TRAVEL WRITING SCHOLARSHIP
I am normally known to be a rebel, but for some reason I could not force my frozen body to take on the challenge. As I saw my boyfriend's little sister jump on, I could almost feel the butterflies as she soared across that sky. The feeling was too intriguing and in the next moment I was being held by someone I deeply trusted, until gravity snatched that trust and threw me over that unforgettable landscape. That feeling of losing trust vanished from my mind as soon as I felt that strong breeze whisking around my body. I felt freedom as I was tossed back and forth between the increasing levels of gravity that wanted to bring me back down. Most importantly, I felt forgetfulness. Everything left my mind; the stress of SAT scores, college applications, scholarships, and maintaining my GPA while being involved in every extra-curricular activity all disappeared, even if it was just for that moment, flying across the valleys of Ecuador until gravity decided to bring be back to reality.
I learned something extremely valuable from that swing in Ecuador. I repeat over and over in my mind that experience as I recall the feelings of that breeze, that freedom, and that forgetfulness. I take those feelings and see a resemblance to something much greater. Now, I envision that patchwork of valleys and hills as my oyster of endless opportunity. I imagine that feeling of trust to be a feeling of comfort, while gravity is the drive that pushes me to conquer my fears and accomplish my desires.
I know that everyone cannot possibly venture out to Ecuador and share my experience on that swing, but it is time that we open our eyes. We live in a world where "intelligence" is now defined as memorizing the methods of the SAT. Ever since our birth, from the time we could not utter a single word, we learned by watching, by observing. So much real intelligence and knowledge can still be gained through those methods by simply venturing out and exploring.
Being in Ecuador helped me to become fluent in Spanish. I was staying with my boyfriend's family and my only option was to communicate with them in Spanish. However, each day, I trained my ear to decipher each word and each day it got better and better. I was thrilled with excitement as I gained the ability to speak with my boyfriend's parents, friends, and grandparents. I got to watch the locals take part in their traditional dance ceremonies. I learned how to make traditional Ecuadorian dishes and I took time to keep up with their national politics. Within a month, I felt so close to his family and began to call them my own. There are so many interesting cultures and peoples in this world and, despite our different backgrounds, we can connect with them on a level that makes us appreciate our differences.
There is an alternative kind of "intelligence" in this world that many fail to recognize. Learning languages, traveling, and experiencing other cultures offers far more knowledge than memorizing some test. It is time that we open our eyes and just fly.
Dear Reader: This page may contain affiliate links which may earn a commission if you click through and make a purchase. Our independent journalism is not influenced by any advertiser or commercial initiative unless it is clearly marked as sponsored content. As travel products change, please be sure to reconfirm all details and stay up to date with current events to ensure a safe and successful trip.
---