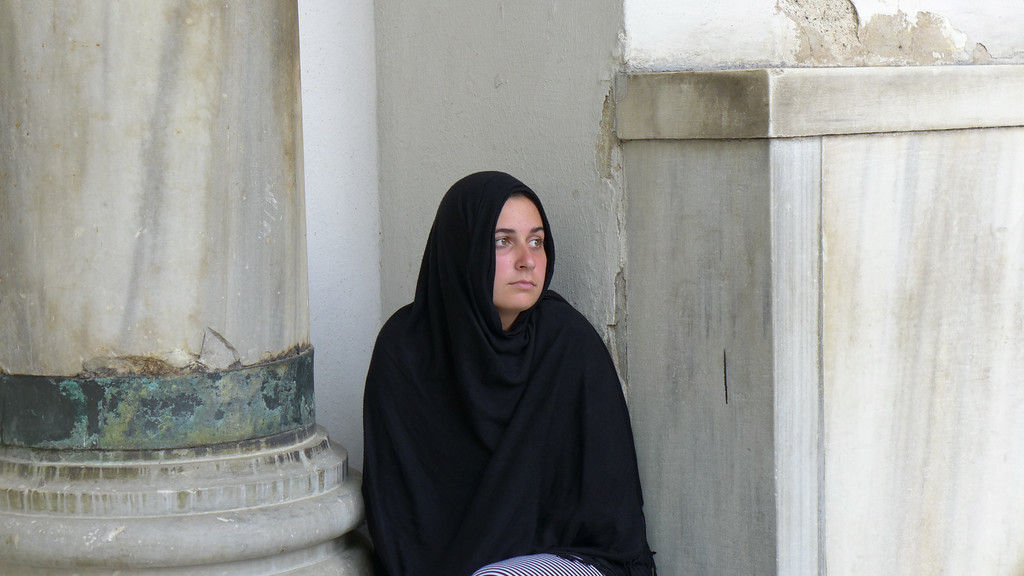 The world reopens. Kekik and Cumin spices rekindle their piquant friendship as their aroma fills
the air. Pashminas hanging in the dimly lit store fronts regain their color. Vendors sing out like
the birds overhead as they resume shouting to every potential customer passing by.
T
he showers hadn't lasted very long, and the city is now dirtied back into the beautiful mess of
Western and Eastern life that Istanbul is. My cousins and I emerge from the plane tree we had
been hiding under and continue walking down the narrow alleyways that constitute Istanbul's
Spice Bazaar. The Grand Bazaar's overshadowed little sister, here the souvenirs are a bit more
than "I Heart Turkey" baseball caps, and we are donned in traditional hijabs so as to respect the
Islamic customs of the mosque looming over the lines of small shops. In all of the excitement
surrounding our new veils, my family gushes over how "ethnic" I seem to appear wearing mine,
as my uncle insists on snapping a photo of me to include in his next photography book of "local
Turks".
I don't give their tourism antics much attention though, as I am preoccupied watching my
grandma slowly trekking down the cobblestone path; this path whose inherent slickness has only
been enhanced by the rainfall. I suppose with traveling off the beaten path comes traveling on a
path that is highly unbeatable; the jagged lumps of stone rise and fall like the waves of a restless
sea, inviting ships to sink into its belly. And it's much more difficult to stay afloat when you're
my eighty year-old grandmother, attempting to swim through the crowded streets on your uneasy
feet. I won't help her though, I know better. She would only refuse offers with an "I'm fine", and I
know she is. Surely, a woman who's lived through laughter and tears, peace and war, love and
heartache, six rounds of motherhood and now grand-motherhood dozens of times can walk down
a street. Yet I cannot help myself from feeling angry toward the street below her. My grandma is
the reason my family is in this incredible place, and as we take in all the spices and colors, she is
forced to stare at the wet, gray stones below her, watching her step. Why can't the path just be
easier for her? Why can't it just smooth out under her feet? In frustration, I too lower my head f
or grandma. This is her trip, and I want to see it through her eyes. And bowing below the colors,
below the aroma of the spices, below the shouts of the vendors, I can take in Istanbul because
Istanbul is in this street. The city shuffles above it, disregarding its aging and worn nature, as less
of a path for travel than a tripping hazard. But as I watch my grandma, I realize she knows why t
he street rises and falls, she knows why it calls us. These stones tell of the world's laughter and
tears that have fallen upon it, the peace and war they have seen, the love and heartache they rise
and fall for, the motherhood, grand-motherhood, and everything in between that these stones join
together. This street has lived millions of times over, giving life and breath to this crossroads of
civilization no matter how many times the city changes names. Indeed, this path is alive with the
history of the world, and now I am part of it.
FLASH
My uncle's camera lifts my head, "Perfect shot! You look so immersed in Istanbul life." Life?
Talk to the streets. Talk to grandma.
Dear Reader: This page may contain affiliate links which may earn a commission if you click through and make a purchase. Our independent journalism is not influenced by any advertiser or commercial initiative unless it is clearly marked as sponsored content. As travel products change, please be sure to reconfirm all details and stay up to date with current events to ensure a safe and successful trip.
---