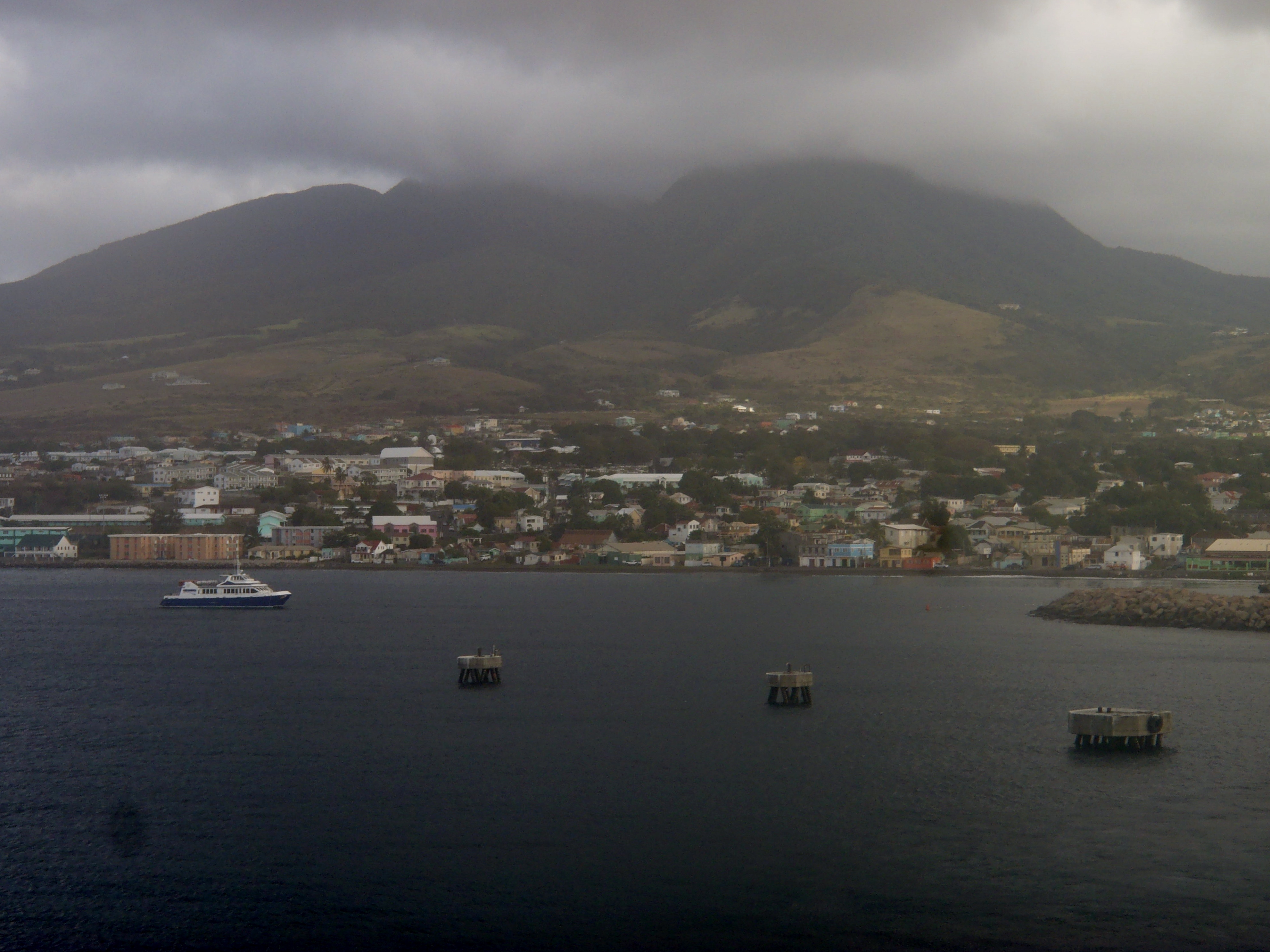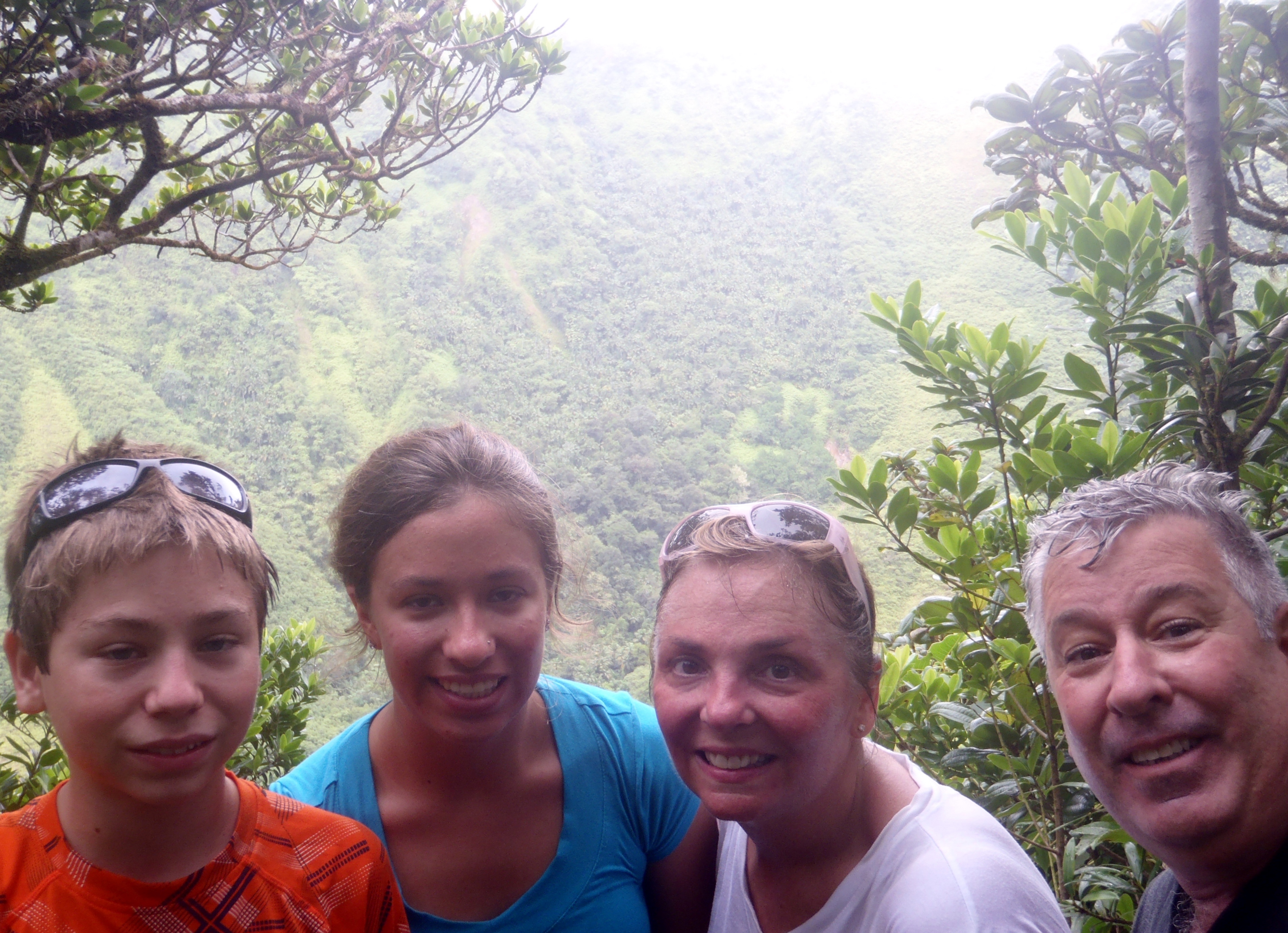 It's a tradition in my family that we take at least one cruise annually. Last summer, it was a seven day cruise to the Southern Caribbean. We piled into the car, drove to the airport, flew to Miami, and from Miami to San Juan, Puerto Rico. Our itinerary included: Puerto Rico, St. Thomas, St. Kitts, Aruba, and Curacao. Prior to our departure we browsed excursions on the internet. I was intrigued by a listing in St. Kitts for a volcano hike. Eager for new experiences, I immediately signed us up.
My family is definitely in shape, but we are by no means seasoned hikers. So imagine my shock, when the guides began dividing us into groups based on skill level, and my mom strides to the group of experienced hikers. My dad and brother follow in her footsteps, leaving me to hesitantly take up the rear. Our group consists of our fearless guide Adrian, a young couple who tells us about how they go hiking every weekend, a band of brothers, who are also boy scouts, and my humble family of four. Not even twenty minutes into our trek I stumble on a tree root and fall to my side. What a way to make a good impression with my new elite hiking buddies. I brush myself off and forge on.
After what feels like hours, our guide pulls us aside and informs us that we will be taking a short break to refuel on snacks and juice. Normally I absolutely despise the taste of fruits, but when offered mango punch I was quick to accept, welcoming the taste of anything sweet. Someone asks if we are almost there. Adrian promptly announces that we're only halfway there and we hadn't even gotten to the challenging part of the hike yet. My heart drops, I was banking on a small hope that we were only minutes away from reaching our destination.
To say the next half of the hike was intense would be a massive understatement. I was under the impression we signed up for extreme hiking, not extreme rock climbing. The terrain turned vertical rendering my walking stick useless. At one point, I became so tired of carrying the cumbersome stick, I would just throw it ahead of my path and chase after it like some perpetual game of fetch.
At last we arrive at the top and I'm feeling mixed emotions. Part of me is in a daze, astonished by the rewarding views. Another part of me is tempted to throw myself into the caldera because I'm dreading the trip down.
The trip down is just as (if not more) excruciating as the ascent. My body feels drained of energy and my legs begin to wobble underneath me. Our escort, Adrian, takes one look at my teetering legs and proclaims that I have "Elvis legs" and recommends that we all take a five minute break. Even though no one in our group would admit it, I expect that we were all secretly grateful that my "Elvis legs" had bought us a short interlude.
Shockingly enough, we were all able to survive the wrath of Mt. Liamuiga. That's not to say we didn't come out unscathed. All my toenails ended up bruised and one of my big toe nails actually came off. My entire body was sore for the duration of the cruise. Tasks like taking the stairs and squatting down to use the toilet became a monumental challenge for me. Nevertheless, I still relish the memory of that trip and that feeling of invincibility after conquering the volcano.
Dear Reader: This page may contain affiliate links which may earn a commission if you click through and make a purchase. Our independent journalism is not influenced by any advertiser or commercial initiative unless it is clearly marked as sponsored content. As travel products change, please be sure to reconfirm all details and stay up to date with current events to ensure a safe and successful trip.
---