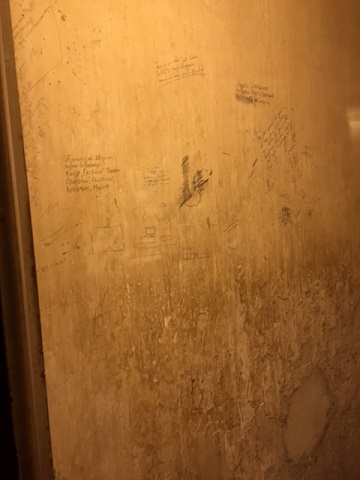 The building looked innocent enough from the street. With its greying stone, plain rectangular structure, and uniform windows, it looked like simply another old office building that you could walk past, barely noticing that it was there. On a panel of glass above the door, the letters EL-DE were spelled out in crisp, gold paint. As our tour guide would later explain, these were the initials of the man who had built the building, and who in 1943 had rented it to the Gestapo to use as a headquarters and prison.
I was on a three week study abroad trip to Germany, and while the rest of our schedule had been constantly shifting, the EL-DE Haus in Cologne had been in the itinerary since day one. Built in the mid-1930s by Leopold Dahmen, a jeweler who used it to house his business, the building was rented to the Gestapo from 1943 to 1945 and was used as their Cologne headquarters and as a prison for laborers and political prisoners. Incredibly, the building survived the war and in 1979 was designated as a memorial site, with the full museum opening in 1988.
We met our tour guide in the lobby and filed down a narrow stairway to the basement, which housed the prison. The air was dank and carried an unpleasant odor. The floor was smooth, unforgiving cement, and the yellowing walls were splotched with brown. Heavy wooden doors stood open at the entrance to each cell. A sinister feeling crept over me as we turned down a narrow corridor; you could no longer deny that something terrible had happened here. The cells were each blocked off with a sheet of glass – to protect inscriptions made by the prisoners, our guide explained. Although I was secretly relieved not to be entering the cells – it was too easy to imagine the door slamming shut behind us – the inscriptions fascinated me. Drawings, names, dates, and messages in a myriad of languages covered the walls of the cells, and I felt a twinge of regret as we continued down the narrow hallway.
As we walked, the guide pointed out one inscription in particular: "Wenn Keiner an dich denkt, deine Mutter denkt an dich". When nobody thinks of you, your mother thinks of you. She explained that it had been written by Hans Weinscheimer, a fifteen year-old boy who had been imprisoned here for six weeks before being transferred to another prison. Every evening, his mother stopped on the street outside the window of his cell and talked to him, sometimes bringing sandwiches that, if they were lucky, the guards would deliver.
At the same age as me, this boy had already been braver and gone through more than I could ever imagine. He had been imprisoned, repeatedly interrogated, and felt that the world had forgotten about him. And still, even something as simple as sandwiches and a conversation with his mother had filled him with hope.
These thoughts bounced around in my head as we stepped out into the courtyard. The brilliant sunshine clashed with the grim statistics lettered on the wall: In 1944 alone, over 400 prisoners had been shot here. That this courtyard, bathed in sunlight and with flowering trees peeking over the high wall had witnessed so much death and despair made it even harder to believe that Hans could have felt so much hope in the dark prison cell downstairs.
However, maybe it's not where we are that defines us, but rather our relationships, aspirations, and how we choose to move forward in the lives we've been given.
EL-DE Haus / NS Documentation Center of the City of Cologne – http://www.museenkoeln.de/NS-DOKUMENTAtionszentrum/pages/315.aspx?s=315
Dear Reader: This page may contain affiliate links which may earn a commission if you click through and make a purchase. Our independent journalism is not influenced by any advertiser or commercial initiative unless it is clearly marked as sponsored content. As travel products change, please be sure to reconfirm all details and stay up to date with current events to ensure a safe and successful trip.
---