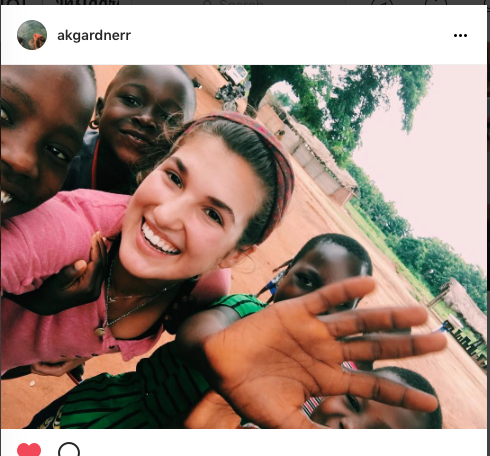 Every summer, I go on a mission trip through Seacoast Church. It has been my personal tradition since my freshman year of high school that has taken me to Costa Rica, Thailand, and many destinations all over the United States. This year I was fortunate enough to go to a small country in West Africa called Togo. I know that a mission trip to Africa sounds cliché, but I really felt led to be a part of God's work in Togo. I began with raising the money. Within eight months (and lots of elbow grease), I raised the $3100.
You may be wondering, "Where in the world is Togo and why have I never heard of it?" You are not alone. Even those sharing the same continent as the Togolese people are not familiar with this country that goes so unnoticed and underappreciated. Togo has mountains that seem to reach the sky; they also create the most eye-catching sunsets with their black silhouettes. It has an ocean hue like nowhere else. Its grasslands seem to go on forever. But, there is so much more to Togo beyond its beautiful landscape. The people are the reason that Togo is known as "the most joyful country in Africa".
Before I start diving into the details, I want to underline the fact that no words could ever amount to God's work on this trip. It is hard to put into words the feeling that leaves you speechless when a starving child offers you food. It is hard to put into words the feeling when something specific you have prayed so long and hard for becomes evident. It is hard to put into words the rewarding feeling of hearing kids aged between four and twenty harmonizing to "Jesus, We Love You".
One of the highlights of my trip happens to be a little girl I connected with. She is a young girl named Weimann, who ironically poured into me more than I could ever pour out to her. She may be only four years old. There may have been a language barrier. But, there was something really special in her little, growing heart. She loved on everyone around her, whether it was by holding someone's hand, offering food or water (when the supply is so low), or giving kisses. Weimann showed ME what Jesus's love looks like even though it was supposed to be the other way around. I would not be surprised if she ended up changing the world one day. In fact, I would be surprised if she did not.
I have been on my share of luxurious trips. I have stayed in some of the nicest resorts, and eaten from five star restaurants. But, those trips are beginning to mean less and less to me as I grow older. I want to travel to places that leave me feeling inspired. I want to travel for self-growth and leave as a changed person. I once read a quote that said "traveling is the only thing you can buy that makes you richer." It is so, so true. I cannot write a recommendation of restaurants or hotels from the month I stayed in Africa, because we spent the entire time at a local missionary's home. However, if you are a person that likes to get dirt on your hands and are not scared of a few bugs, please keep your mind open and hear when I say that this is somewhere you would love. If you are looking for a place to soul search and leave feeling fulfilled, yet exhausted, Togo is calling your name.
Never will I forget the classroom full of kids that gave their lives to Christ after I shared my testimony. Never will I forget the dirt roads with women carrying babies on their backs and water on their heads. Never will I forget the children like Weimann who touched me with their godly love. Never will I forget the authentic and genuine form of living that was the only thing they knew. Never will I forget scoring that one goal during the Togolese soccer tournament. Togo has changed me. I hope I left at least a footprint.
Dear Reader: This page may contain affiliate links which may earn a commission if you click through and make a purchase. Our independent journalism is not influenced by any advertiser or commercial initiative unless it is clearly marked as sponsored content. As travel products change, please be sure to reconfirm all details and stay up to date with current events to ensure a safe and successful trip.
---