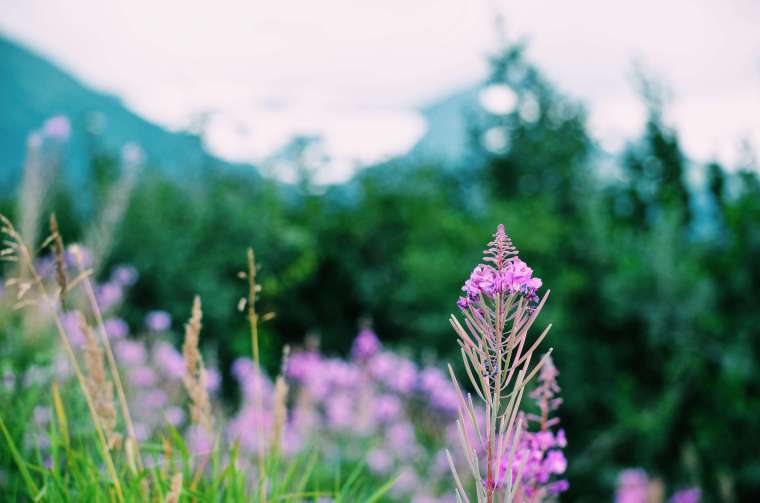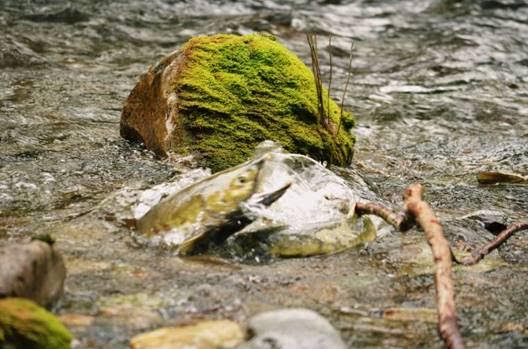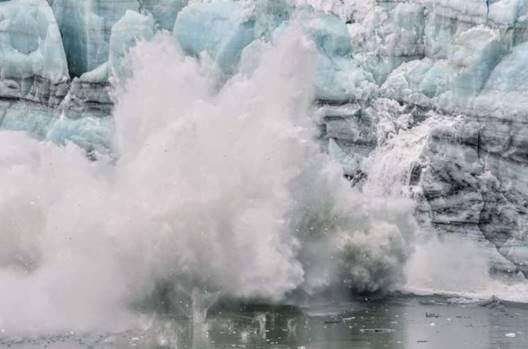 Summer in Alaska was the wilderness that embodies a grand adventure. There were looming mountains covered in dark green forests with strips of white just visible at the peaks,  uninhabited islands shrouded mysteriously in fog, large rolling expanses of deep blue water, and an occasional glimmer of ice floating by.
Accustomed to the suburban setting of my hometown, this new world that hummed with the energy of critters and plants rather than the drone of car engines was strange to me. In Juneau, spruces over two hundred years old towered over bright berry bushes, mushrooms and soft creeping moss. In Ketchikan, salmon fought their way upstream to spawn. In Turnagain Arm, beluga whales swam lazily while fields of fireweed thrived along the shore.
John Muir, famed naturalist, once wrote "In every walk with nature one receives far more than he seeks." His observation was indeed true; delightful surprises were everywhere I looked. I was walking back to the port in Ketchikan when I saw movement in the murky waters and eagerly pointed, "Woah…?"
I wasn't sure what I had discovered. My mom looked over and was equally perplexed. It swam like a mammal but had a fin on the side. I could make out whiskers and some scales. What followed was two minutes of speculation as we tracked the creature along the water. When it arrived at a hole by the pier, its identity was revealed: a sea otter had finished dragging a huge salmon back to its home.
While the gems of wildlife came unexpectedly, the glaciers were hard to miss. The grand masses of ice with streaks of dirt that hugged the sloping valleys left me awestruck. The most spectacular part was the calving of the glaciers in which chunks of ice fell into the water with a resounding splash. The deep echo of the cracking ice is fittingly called white thunder by local Native Americans.
The notion of glaciers melting evokes the controversial issue of climate change. People deny climate change because they are faraway from the change. It can be hard to understand environmentalism when one can't observe the direct effects of global warming but there I was standing in front of a great glacier, witnessing the ice dramatically crumble away.
Because calving itself is part of the glacial cycle, comparing the rate of melting versus the rate of accumulation of a glacier is more telling. In Alaska, 95% of glaciers are losing mass every year. It's a shocking physical representation that our world is changing rapidly. Places like Alaska are increasingly rare havens.
I found a unique sense of freedom and serenity during my trip. Distancing myself from the bustle of cities, I gained a humbling appreciation of the planet we inhabit. At home, a barrage of flashy services and products demand my attention. Out there, the rain continues to fall, the streams run along their paths, and the glaciers march on without me.
Being in Alaska was a glorious breath of fresh air: a much needed cleansing of the soul.
Dear Reader: This page may contain affiliate links which may earn a commission if you click through and make a purchase. Our independent journalism is not influenced by any advertiser or commercial initiative unless it is clearly marked as sponsored content. As travel products change, please be sure to reconfirm all details and stay up to date with current events to ensure a safe and successful trip.
---