Aruba travel requirements guarantee your Aruba family vacation or remote work break will be safe, healthy and fun. In July, 2022, Aruba travel requirements to help stop the spread of COVID-19 were lifted by public health authorities. The good news is that the island has maintained its vigilence in keeping all visitors safe.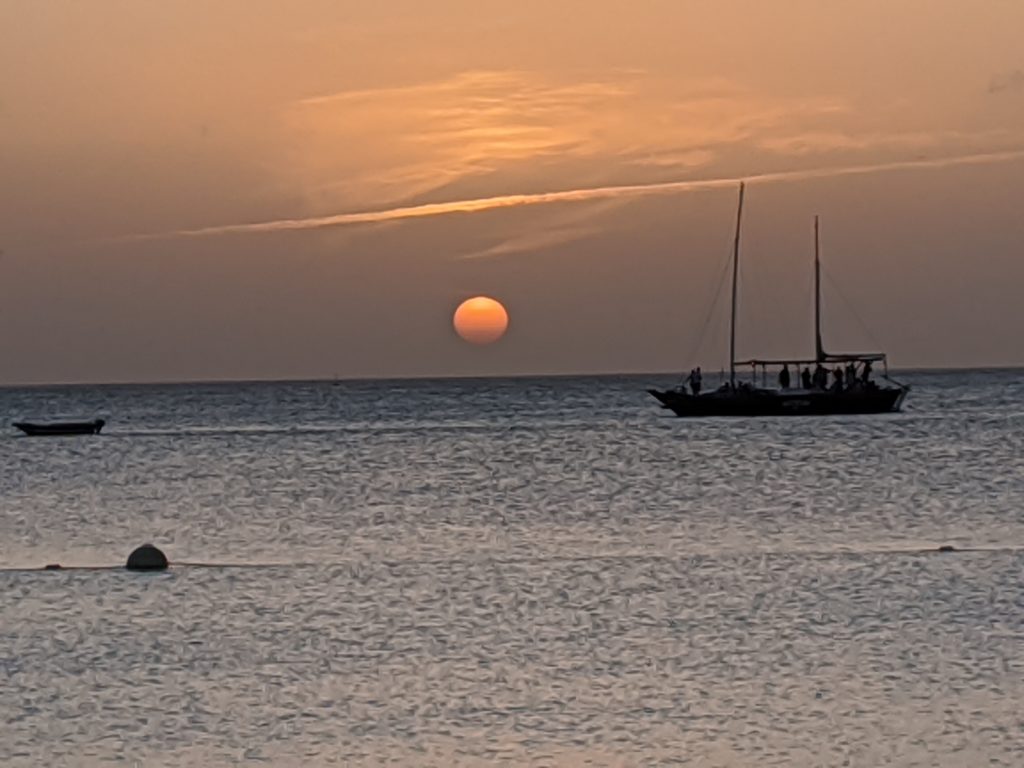 Know Aruba Travel Requirements Before You Go
Tourism is essential to the Aruban economy, comprising about 30% of GDP and employing about 30% of the workforce. Why not support the local economy by making Aruba your work from home resort? It's easy to plan what they call a One Happy Workation with special long-stay hotel discounts and a free, 90-day entry visa.
Regarding entry, all ages need to obtain an Online ED Card (embarkation-debarkation card.) This is true even though proof of vaccination and testing requirements have ended.
Keep in mind that public health authorities monitor the situation weekly. During your visit, they may recommend wearing face coverings at the airport, on public transportation and indoors at all venues including casinos.
Why Aruba? Do The Vacationer's Requirements Checklist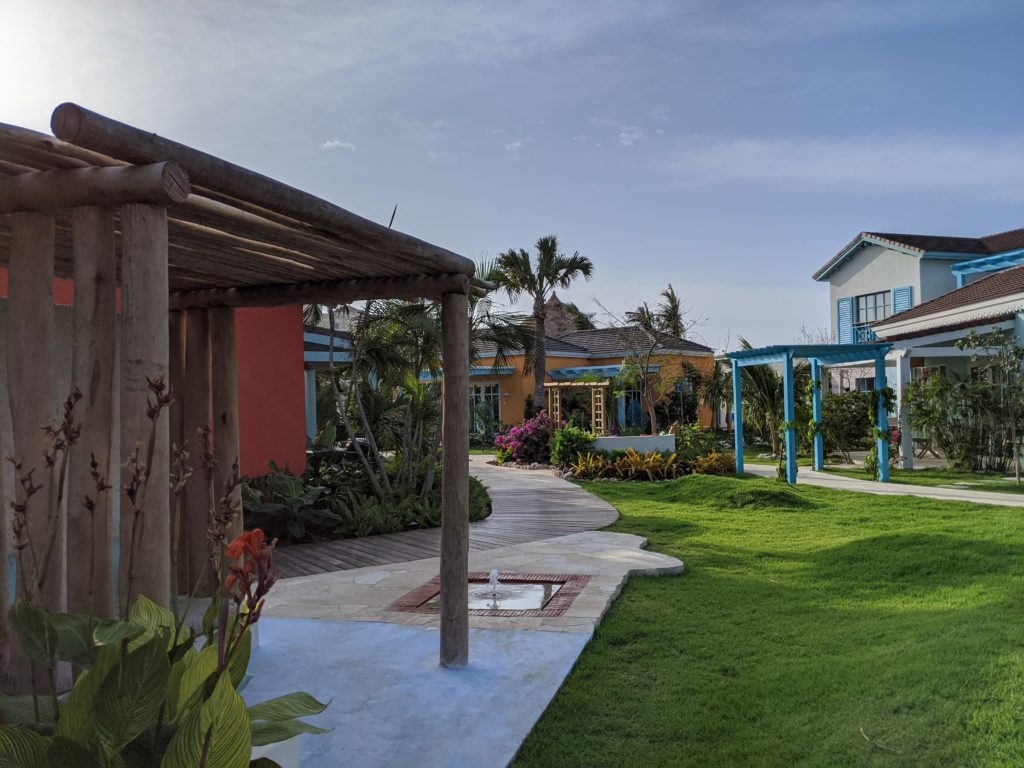 What about our family's travel requirements for warm weather, pristine beaches, cheap airfare, great food and convenience? Aruba definitely checks all the boxes:
[x] Tropical Weather; it averages 82 degrees Fahrenheit
[x] Beautiful Beaches; there are 12 major ones
[x] Cheap Flights; Aruba is served by Southwest, JetBlue, Spirit and Sun Country
[x] Great Food; your choice of seafood shacks and European cafes
[x] Islanders conveniently accept U.S. dollars and speak English or Spanish
After those five must-haves for a family beach vacation, we always dig deeper for local culture and new experiences. If you, like us, need to get away but want more than a standard flop n' drop beach vacation, read on for our tips and finds from a recent Aruba vacation.
Vacation Your Way in Aruba
We were dreading manifestations of the tourist slogan "One Happy Island" when we visited Aruba last February. We were afraid of crowds and casinos, which are returning to full capacity. To avoid them altogether, we chose the small Boardwalk Boutique Hotel, a complex of one and two-story casitas in a lushly planted tropical garden that was one block inland – a world away — from the lively, busy tourist scene of Palm Beach.
To get away from the very commercial tourist enclaves, we rented a car. Aruba, beyond the hurricane belt in the southern Caribbean, is only 19.6 miles long, 6 miles wide and about 21 miles from the coast of Venezuela. We explored it on our own, finding many happy islanders, lots of Venezuelan workers and a really diverse mix of travelers.
Find Arubian Culture in Oranjestad
Spend an hour exploring the sprawling capital of Oranjestad in the lanes near the restored Dutch colonial buildings. Take the trolley along a pedestrian mall that will one day be full of window-shopping cruise ship passengers again. Look for the Cosecha shop if you want to purchase authentically local handicrafts and souvenirs. Taste of Aruba serves the local favorite fish, pargito.
Visitors who are really interested in Arubian culture will learn more at the weekly Bon Bini Festival than anywhere else. On Tuesday evenings (6:30pm-8:30pm at our visit), look for food stalls, a bar and some crafts and jewelry vendors who set up in the courtyard of Fort Zouteman. During the show, a narrator recites the island's history while local dancers illustrate themes like slavery, the Spanish conquest and Dutch settlement. A very loud brass band with a drum corps marches in at the end.
Tour San Nicolas for Aruba Street Art
The funky, two-story town of San Nicolas on the south end of the island claims to have the largest collection of street art in the Caribbean. Roam the few streets in this village where mostly abandoned buildings are graffitied with sophisticated murals.
Aruba Travel Requirement: Eat Your Way Around the Dining Scene
Most restaurants are serving meals indoors and out. The island's best chef is arguably Dennis van Daatselaar, who does a chef's tasting at Carte Blanche and an a la carte menu at Wilhelmina, among other highly praised restaurants. (Make reservations when you book your flights.)
We preferred the casual local places. However, restaurant reservations are recommended everywhere, and we often had to call to get them. Here are some of our favorite eateries.
Sample Aruba's Bounty from the Sea
The West Deck's outdoor and indoor rooms overlook a government beach in Oranjestad so it's popular for sunset views. Caribbean seafood and vegan specialties go well with the local Barashi beer. As at most of the local places, fish comes with rice, fried plantains and pan bati, which is a lightly pan-fried cornbread. Their tangy Caribbean-influenced Key Lime Pie is surprisingly good.
Enjoy A Romantic Night Out by the Lighthouse
To us, El Faro Blanco has one of the prettiest settings on the island. Tables are set out on a limestone block terrace overlooking Aruba's north coast. Just behind is California Lighthouse, a local landmark. The tasty food is very old-world Italian — lots of marinara sauces and garlic – and service is wonderful. We tried the delicious fresh pastas made with seafood, clams and chunks of fish. More dressy and expensive than most places, it was perfect for a romantic meal.
Get Close Up to Local Fishermen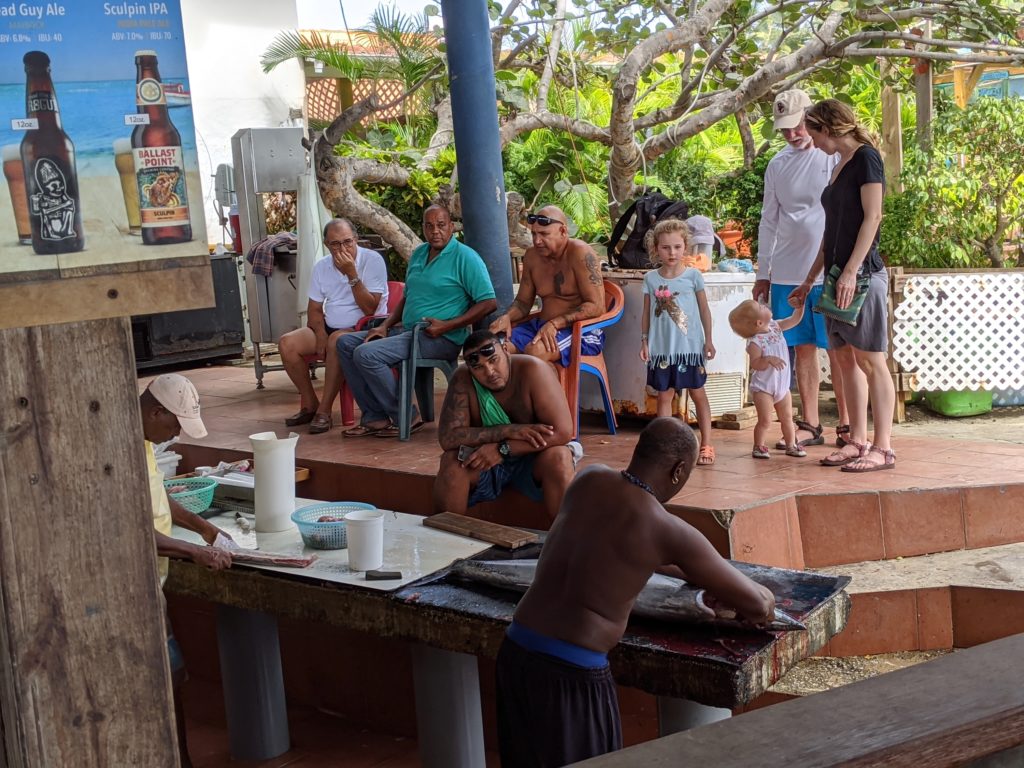 Zeerovers embodies the beach shack style even though it's on a marina in Savaneta. Go, wait and commune about the day's catch with other patrons. Once it's your turn at the window, you can order shrimp or fish of the day (wahoo and amberjack at our visit) – always deep fried – and sides of tangy onions in vinegar, tartar sauce, French fries or corn bread.
We happily waited at our shaded picnic table for everything to be delivered. Savor the opportunity. Watch old-timers clean and filet the fish as it comes in off the boats. Down a Barashi beer in tiny, children's sized glass bottles. Eat with your fingers and lick palm oil off your hands. Follow up your feast with a savory coconut ice cream served in a Kalypso shell.
Dine Like The Expats and Save By Dining Inland
We'd heard about the Wacky Wahoo. It's a 10-minute walk inland from the Palm Beach hotels in a small strip mall where lazy dogs and cats roam.
Here it was all about the fish, with a large daily catch menu that included wahoo, barracuda, ahi tuna and snapper filets plus local lobster. Catering to international tastes, Wacky Wahoo will fry, grill, broil or pan sear your fish with Caribbean spices. Pasta is available if you don't like rice and beans. Our shared ceviche – a huge bowl – and Arubian fish soup were redolent of Caribbean peppers, oregano, papaya juice and limes. We followed it with the grilled barracuda and lobster tail special, both delicious, then cashew cake drizzled in chocolate sauce with tart frozen yogurt.
Go Beach Hopping, an Aruba Travel Requirement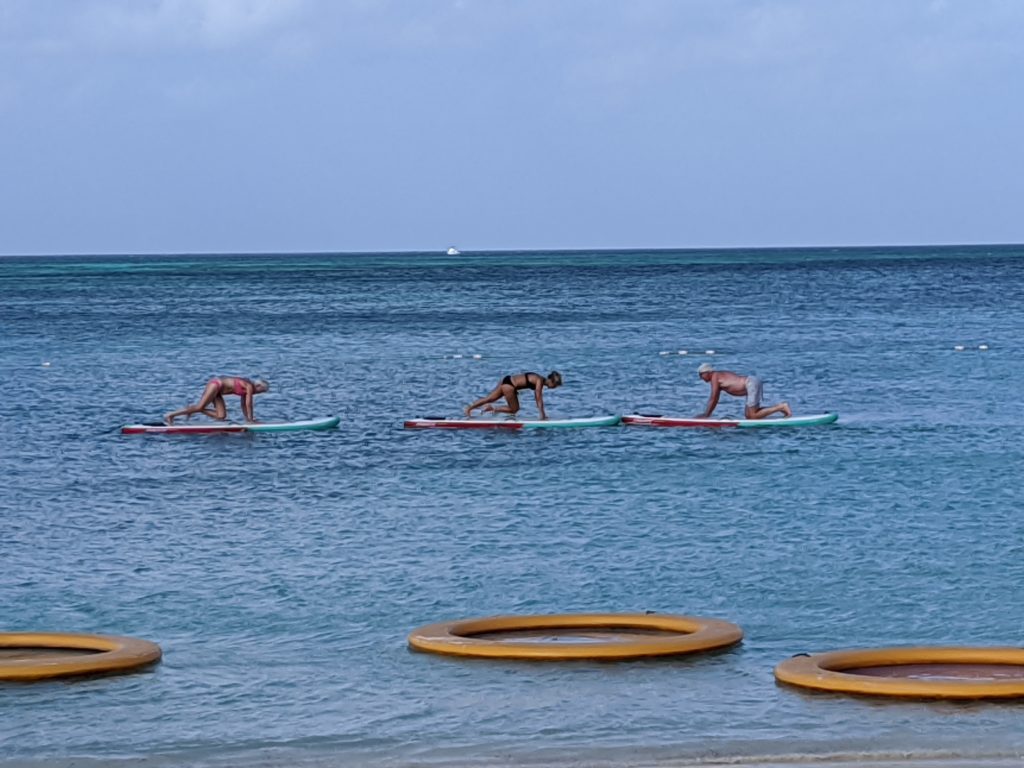 Between restaurants, we looked for many of Aruba's famous beaches, unmarked on unpaved roads. We had a few good maps but little cell service and could never locate some of them. Therefore, another Aruba travel requirement should be a navigation system in your rental car.
Our hotel was near Palm Beach so finding that was a no-brainer. The views out to the gorgeous blue sea, with alternating bands of light over the white sand and dark over the undersea coral reefs, were speckled with passing windsurfers and myriad kite boarders. Palm Beach is lined with hotels and most had their own concessions pedaling jet skis, catamaran rides, windsurfers, standup paddle boards and kiteboards, so it's a great place to try new watersports.
To us, the water seemed cleaner at other west coast beaches like Arashi, under the lighthouse on Aruba's north point; and at the less commercial Eagle Beach, just south of Palm Beach. Whether the water clarity is hampered by sand kicked up by constant Tradewinds or the masses of tourists spilling sunblock and boat fuel into the surf we will never know.
Aruba Travel Requirements Include Snorkeling
Aruba's scuba diving is world famous because so many reefs are close to shore. We wanted to go on a snorkeling tour and found Delphi Watersports Tours at a beach shack in front of the Hyatt Regency Hotel. With several other families, we spent an afternoon at sea aboard The Dolphin.
We took a small powerboat to reach the Dolphin catamaran, then sailed north up the coast. Our first stop was the wreck of the WWII ship, Las Antillas. In about 45 feet of water, we could not see many fish, but it was fun to spot pieces of the wreck's hull and anchor below us.
After some Latin dance music, watching kite boarders zoom by, lots of open bar visitation and fresh fruit snacks, we headed to Boca Catalina, a bay with a reef not far from Arashi Beach. Some marine life did swim by. But it was taking pictures, using the waterslide and watching babies and their grownups dance – all touted as signs of "One Happy Island" — that made our afternoon memorable.
Sleep Under the Boardwalk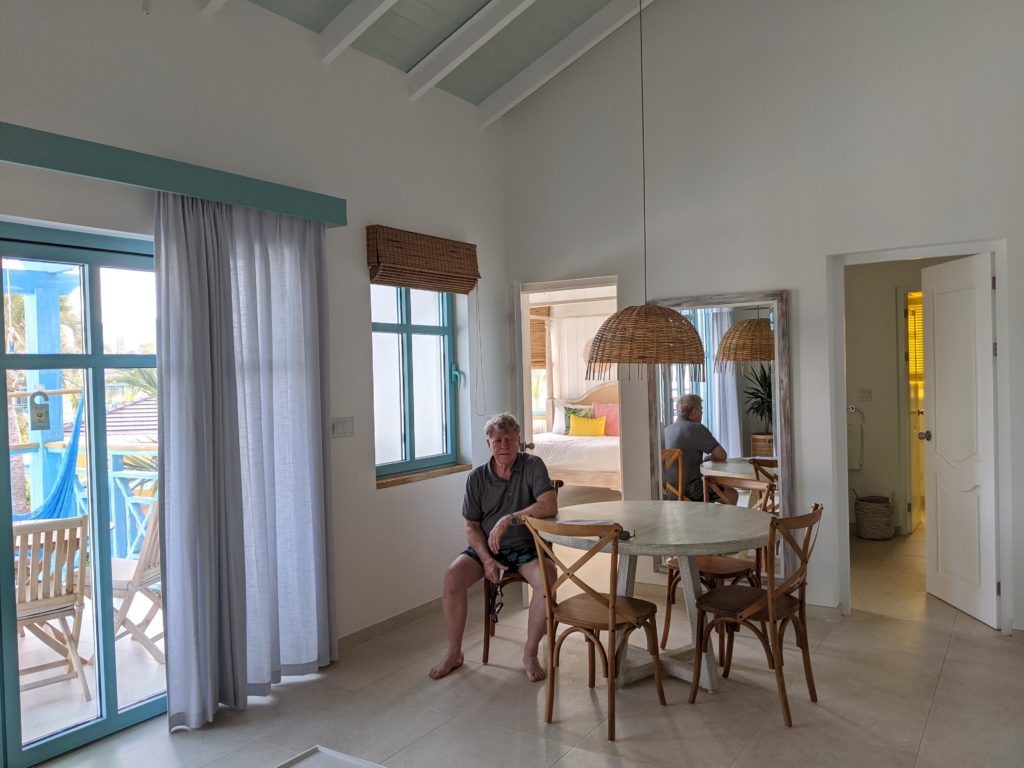 Boardwalk Boutique Hotel is owned by Belgian twins who took it over less than a decade ago. They refurbished its 14 casitas, then added 32 more of these spacious and colorful living spaces. It doesn't have a casino, bar or restaurant but there's a cute snack shop by the pool and 'grammable throw pillows, painted walls and rattan furniture everywhere. Tranquility abounds.
We guarantee you will relax under the Boardwalk's dense canopy of palms accented by bougainvillea and pink ginger. We guarantee you will feel COVID-safe because you can stock your casita kitchen, hang out, dip in and out of their two pools, grill on your own deck and just listen to the birds.
Boardwalk's little slice of beachfront is tucked between the busy chaise lounges at the pretty Aruba Marriott Resort & Stellaris Casino and the Segway-mounted waiters at the Ritz-Carlton, Aruba. The friendly front desk will reserve your private beach chairs in the shade of a thatched palapa. Alternatively, book one of the WiFi-enabled palapas and do your work from there.
And our final Aruba travel requirements?
[x] Sample Aruba's famous crushed shell beaches
[x] Wade into the calm, shallow surf
[x] Commit to the 5-minute walk to the beach for sunset
[x] Be happy
Dear Reader: This page may contain affiliate links which may earn a commission if you click through and make a purchase. Our independent journalism is not influenced by any advertiser or commercial initiative unless it is clearly marked as sponsored content. As travel products change, please be sure to reconfirm all details and stay up to date with current events to ensure a safe and successful trip.
---