There are many Palm Beach County attractions to please the active family year-round and, in summer, this upscale beach town becomes a family bargain. Visiting grandparents in Palm Beach means much more than just lounging around.
We've been impressed with each of the established resorts of Palm Beach, because of their services and facilities to keep kids and parents happy – at least for a while. Like most families, however, we need to get off property and explore a bit, if only for a change of scenery.
Fortunately, over numerous trips, we've found that Palm Beach County has plenty of attractions that offer visitors a little bit of south Florida – outside the palace gates.
Natural Palm Beach County Attractions
Head first to the 500-acre John D. MacArthur Beach State Park on Singer Island. It's not your everyday "picnic tables and barbecue" state park. MacArthur Park offers a sweeping, secluded 1.6 mile beach accessible only to park visitors, with unique beachcombing treasures. Go for the subtropical, coastal habitat and see why we say it's a cross between spooky and adventurous.
There are dozens of funky tree and plant species, such as gumbo-limbo, strangler figs and three types of mangroves, that represent south Florida as it used to be. Grab some brochures in the nature center and hit the short trails through the forests so your kids can identify butterflies, poisonous plants and huge spiders. Bring a towel and swim, kayak, snorkel, go fishing – or just wander the natural beach.
The Park also features a small nature center with worthwhile educational exhibits on the south Florida habitat. Park rangers give talks and brief tours of the local plant and animal community, highlighting the indigenous species of fish, fowl and furry creatures, some of which are housed in the center.
Animals are Among Palm Beach County Attractions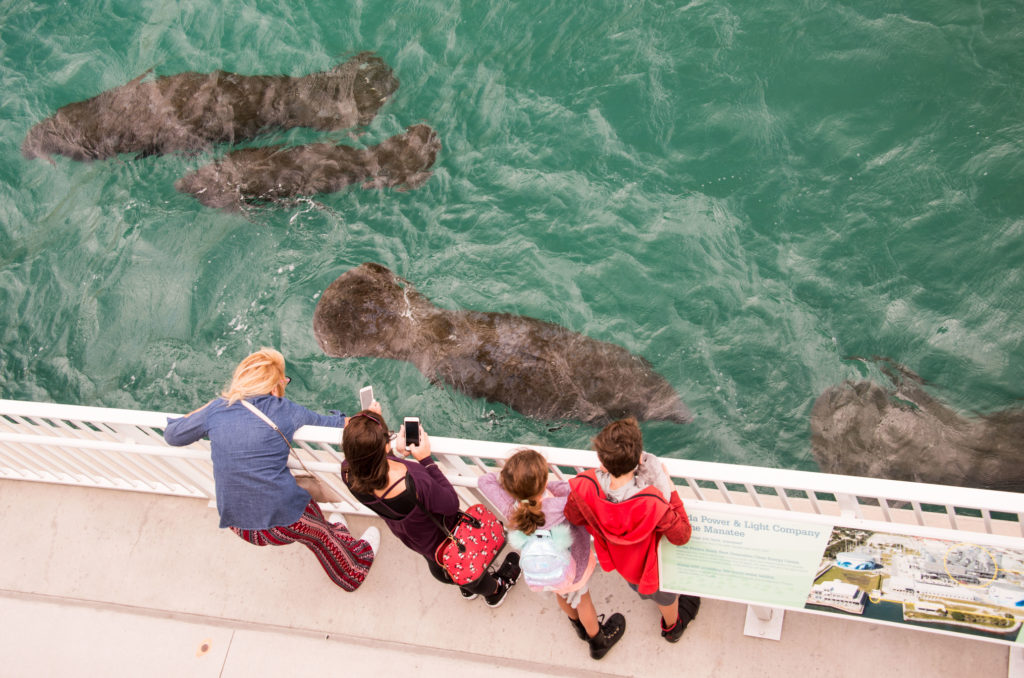 The non-profit, non-touristy Busch Wildlife Sanctuary in Jupiter provides medical and rehabilitative care to over 4,000 sick, injured and orphaned wild animals each year. After their stay at the Sanctuary, the animals are returned to their natural south Florida habitat.
The outdoor cages (yes, it's a bit zoo-like) showcase an impressive variety of animals undergoing rehab. All manner of Florida wildlife – snakes, owls and others birds of prey, alligators, bobcats, panthers, turtles – are on display, often in settings that allow nearly intimate contact. (Jamie was a little freaked out at the panther staring at him only three feet away.) Join a tour or discover other educational programs; the sanctuary also encourages volunteering. The Sanctuary's small size makes it very manageable – it's a terrific one- to two-hour diversion for adults and kids.
Don't miss another animal wonder, the Manatee Lagoon in Lake Worth Lagoon, a free Palm Beach County attraction run by Florida Power & Light. The electric company's Riviera Beach Next Generation Clean Energy Center releases warm water at this spot, which attracts manatees during the cooler months. Check their website for visitor's center hours; admission is free and manatees are adorable and quite interesting.
Palm Beach County Attractions Include The Everglades
Strap on a set of headphones (for the noise), hang on to your kid and sit back as you slide across the Everglades on a Loxahatchee Everglades Airboat Tour in Boca Raton. Spot osprey and turtles and laugh at goofy looking waterfowl that saunter across floating vegetation. And prepare to get close to alligators. Sometimes really close.
This diversion is best suited to kids who can deal with heat and noise. Maddy found it to be terribly noisy and far too uncomfortable one torrid June morning, despite the headphones and breezy ride. On the other hand, Jamie was unfazed by his trip in mid-August. Regardless, be sure to plan this outing early in the day to avoid the oppressive heat. Don't forget to slather on the bug spray and sunscreen. And bring water!
For a more touristy-type of adventure, try a 75-minute musical tour aboard the DivaDuck. This Hydra-Terra amphibious vehicle cruises the Intracoastal Waterway through West Palm Beach and Palm Beach's restored neighborhoods. Guests often catch a glimpse of wildlife, including manatees, turtles, and dolphins making it one of the easiest Palm Beach County attractions to do with grandparents.
Zoo & Wildlife Bring Nature Back to Palm Beach
We're not really zoo people, but the old-Florida style Palm Beach Zoo and Conservation Society is worth a stop. Home to 190 species, some of its landscaped habitats include Tiger Falls, an aviary, a black bear habitat, and presentations of various cultures, plants, and animals. Kids can splash around in the interactive fountain, too.
As an alternative, you may want to check out the more commercial Lion Country Safari in Loxahatchee, America's first cage-less zoo. The 600-acre wildlife preserve is home to more than 900 animals from around the world. Our kids enjoyed it – to a point. They laughed at the monkeys' antics and the lions that nearly nuzzled the windows.
This is among the most popular Palm Beach County attractions. Tips: go in the morning when the lions are fed – a real photo op! And rent a car or SUV that allows your small kids to stay seated in the drive-trhough preserve since it gets very tiring kneeling. Also, download the audio tour so you can listen to the play-by-play narrative (hard to tell the players without a scorecard, so to speak). We didn't stick around for the walk-through animal exhibits, premium interactive experiences or the carnival-like offerings. Our resort pool was calling.
Palm Beach County Attractions Outdoors, Indoors & Rainy Day Fun
Take a break from the heat and head to the air-conditioned Cox Science Center and Aquarium. It's constantly abuzz, with Stroller Daze for toddlers, kid-friendly scientific exhibits, a planetarium, aquarium and observatory. Kids can learn about Florida's animal and plant life on the outdoor Science Trail and at the conservation-oriented mini golf course. With new exhibits opening through out the year, there's a surprise around every corner of the trail. The museum also runs weekend programs for parents and kids.
When there's free live music, Clematis Street in downtown West Palm Beach is a must. Check their schedule for ourdoor concerts near Centennial Fountain and special events. At other times, the café-lined Clematis Street is a car-free plaza paved with multi-colored geysers that dance to the rhythm of the music. Maddy joined dozens of kids in swim suits and had a ball chasing the liquid fireworks.
Sugar Sands Park in nearby Boca Raton sports a three-story, interactive science playground that ranks among the best in the universe — at least according to Maddy. In addition to having a wayfinding feature and splash pad, this playground welcomes all abilities. There are wheelchair accessible swings, slides, sensory walls, and an inclusive expanded climbing structure that allows for access to all. Features are designed to provide greater visibility for parents and children alike. Look for all 132 acres of fun. Try out the in-line hockey rink and experiment stations at the science explorium geared to ages 5-12. Just try to peel your kids away from here!
Dear Reader: This page may contain affiliate links which may earn a commission if you click through and make a purchase. Our independent journalism is not influenced by any advertiser or commercial initiative unless it is clearly marked as sponsored content. As travel products change, please be sure to reconfirm all details and stay up to date with current events to ensure a safe and successful trip.
---