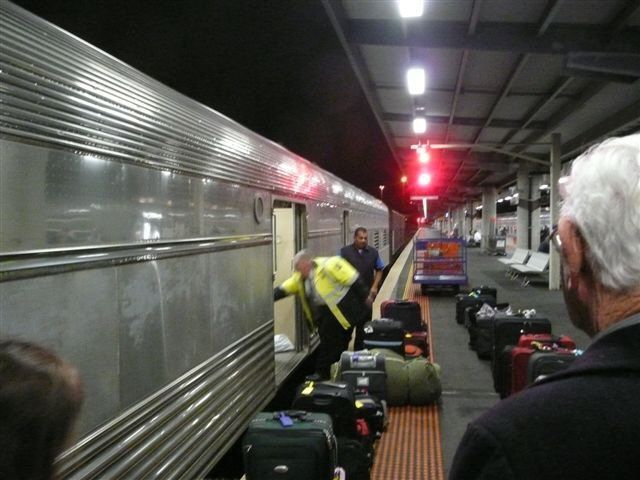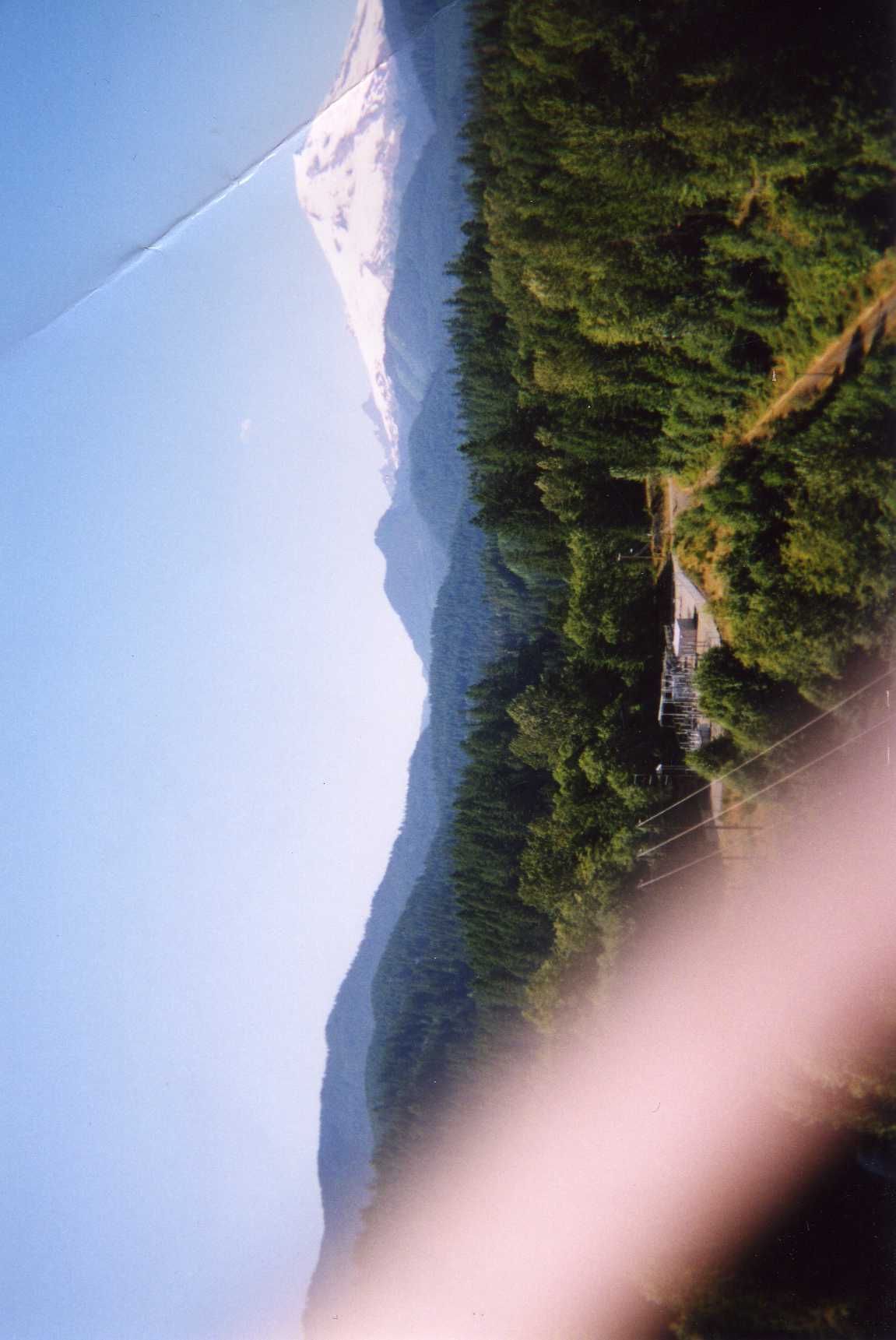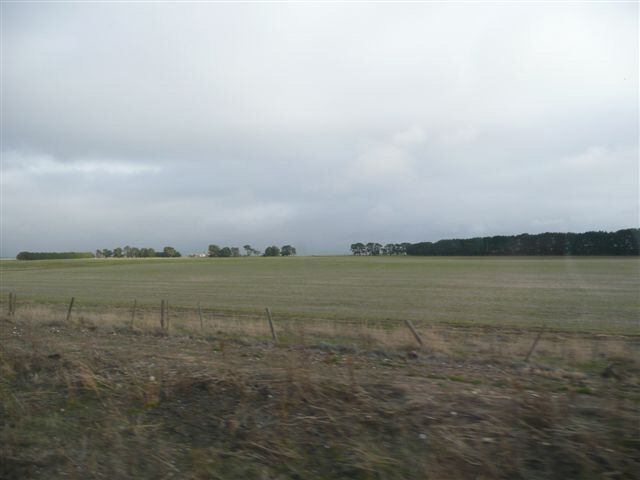 A southern Australia vacation by family-friendly train offers mountains, rivers, kangaroos and a whole lot more, while someone else does the driving.
As on many train journeys throughout North America, the horn on the diesel locomotive gave a few sharp blasts, and with an almost imperceptible tug the train was off on its over 500-mile-long journey. New York to Raleigh NC? Chicago to Omaha? Los Angeles to Williams Junction, Arizona? The train seemed quite American, the passengers aboard spoke what sounded like a very unique English — even the acceleration of the train brought us through suburbs that looked like they were a part of the lower 48.
No. Wrong on most counts. My wife and I were among the passengers of The Overland, the passenger train operated by Great Southern Rail between the cities of Adelaide in the state of South Australia, and Melbourne in Victoria. The 10½-hour journey travels through land that is quite unique from other parts of Australia, giving it a mystique that draws passengers to its tri-weekly departures.
An Historic Route
Passenger trains have been traveling this line since 1887. "The Overland," named as such after the 'Overlanders' who traveled this route on horseback, has been gracing the tracks since 1936.
Between 1922 and 1930 the South Australia Railways were managed by an American by the name of William Webb. His influence was felt in many ways, including the building of a dining car and two sleeping cars by the Pullman Company in Chicago for use by his company.  The dining car, named Adelaide, which can be visited at the Australia National Railway Museum in Port Adelaide, was the heaviest piece of railroad equipment ever used in Australia.
What a route to travel aboard The Overland! Spectacular views of the Gulf of St. Vincent , a railed and vigorous assault of the Adelaide Hills, a descent to the border with Victoria state, and then hundreds of miles of Australia frontier and farmland, followed by an unusual approach to Melbourne, but, alas, I am getting ahead of myself.
All Aboard The Overland
The city of Adelaide is as good a point to start a trip as any. Founded in 1836, three years later it became a colony of civil and religious freedom. 20 years later, Adelaide had its first railroad station. While there is still a grand railroad station in town, built on the same site as the original, it now serves only commuter trains. The new long distance Parkland Terminal, about 3 miles from the center of town, was opened in 1984 and handles The Overland, The Indian Pacific and the The Ghan, the three trains of Great Southern Rail.  An excellent portent of the upcoming ride, this modern depot was spotless. Check-in was handled expediently, and there is a gift shop and snack bar in case you have any urges in either regard. The Overland was soon ready for boarding for its 7:25am departure; no one had to scramble as boarding was a smooth procedure and shortly we were sitting in our Red Premium Seats.
Every train has a distinct personality. This one had a big 4000 hp diesel, our Red Premium Car, a Cafe Car with a rather large menu to please adults and children, some coaches, a baggage car, a power car, and a railroad car fitted to take automobiles for those who do not care to drive between the two end points.
No train is better or worse than its staff and on our ride we were privileged to be under the stewardship of Mr. Cliff Bayliss, Train Director. Cliff, as pleasant as possible to all, handled inquiries from passengers and staff with the calming influence so rare anywhere, these days. The staff was friendly and helpful, making it a wonderful way for a family to travel and feel looked after. Without a doubt, this is a longer trip than a flight would be, but when was the last time all of you had a window to look out at the same time? And maybe, just maybe, you will get to see kangaroos hopping away from the right-of-way as the train approaches, as we were lucky enough to.
With social engagements pulling everyone in different directions, a family rarely has time together these days, yet travel has that amazing ability to pull everyone in sync for a while, and what better place to enjoy this quality time together than on a train? No cramped automobiles or tiny airplane seats, always room to move around in, and for those toddlers to walks back and forth. There is a kind of drama that occurs with each brake release to signal another journey to the next destination, no matter how close or far they are apart, and The Overland was no exception.
Photos by Ralph Spielman
Traversing South Australia's Landscape
If you glance at a map of all of Australia, you would assume that this route is straight and flat, no bends in the rails and no great rises or depressions, but you are veering away from the truth. From the Parklands Station to a point by the name of Mt. Lofty (once a station, and now a B&B with a front porch from which to watch passing trains), it is a hard slog upwards. Scarcely 30 minutes from Parklands Station, the train has climbed over a quarter of a mile, with the speed gradually reduced.
At the highest point of the line, our train ground to a halt while we waited for two separate freight trains to head in the other direction back to Adelaide. Without too much noise, you could feel the moment as, much like the "Little Engine That Could" (or in this case, the big engines that can) the trains crested the hill at a fairly slow speed, passing us, and then picking up speed for the "downhill final" to the end of the line. I've always found railroading to be quite dramatic, and this moment is unduplicated by other forms of transportation.
After this, we headed downhill on the other side of the Adelaide Hills, as the track wound down the mountain, passing backyards in small towns reminiscent of perhaps western Massachusetts or central Pennsylvania. As the descent ended, the land became more level, and about an hour later, we stopped at the town of Murray Bridge, South Australia from where steamboats cruise upriver and back. While there is no equivalent of the Mississippi River in Australia, the Murray River, just over 1,100 miles long, is the continent's longest, and our train passed it just after leaving the town.
South Australia is almost 380,000 square-miles, bigger than New Mexico, Arizona, and Nevada combined, and this train covers a very small part of this vast region. About 1½ hours after crossing the Murray River, we bid South Australia a good-bye at aptly named Bordertown, and said hello to Victoria State, our train's "home" for the next 6 hours or so.
Speeding Through Victoria
Victoria, about the size of Minnesota, has over 5,000,000 people living within its borders, or about three times the amount of people living in South Australia, on about one of quarter the of land. For this reason, the next six hours offers a much different ride. At speeds over 60 miles per hour across the landscape, ever changing, we see that even in fall, the grass is green and leaves are still on the trees. We traveled through small villages viewing sheep and wheat farms that keep the country fed and clothed.
Our first major stop in Victoria was Dimboola. Seventeen hundred very hardy souls live in this town, located 225 miles northwest of Melbourne, about the distance between New York City and Washington, DC.  But what a difference! No politicians gathering here, instead, wheat farmers discussing crops. A quick platform walk revealed some railroad facilities and a few buildings; that was about it. For all of us living in densely populated parts of the United States, quite a difference.
Nearby is Little Desert National Park, which has many different kinds of plants and animals, including the black-faced kanagaroo! But, we had to move on, towards our destination. Our journey continued through western Victoria, passing Grampian National Park, near the town of Ararat. This park contains Aboriginal Art painted on the mountains, some of which are over 4,000-feet-high. The entire park is about 650 square-miles with many trails throughout. Next time, my ride on The Overland will be done in stages. Too much to be missing!
And so it went through that wonder fall afternoon, with clear blue skies alternating with cloudy ones. Every turn of the wheel brought us closer to Melbourne, passing through many places with little evidence of people living close to the track. Almost 250 miles from the Victoria border to North Geelong where many housing developments, traffic lights, billboards and shopping centers came into view as we had entered the far (50 miles or so) reaches of Melbourne's suburbs.
As the late afternoon sun light diminished, we rode for the last hour through an industrial landscape, dotted with bedroom communities and commuters waiting for trains on each passing station platform. We were no longer the train flashing through pastoral fields laced with animals and plants, but a hurtling vessel bringing the human cargo to the end of the line.
Photos by Ralph Spielman
A Railfan's Treat
As someone who has watched and studied trains since I was a child, I was very excited about our unusual approach into Melbourne. As a legacy from the past, Australia, unlike most countries, uses different gauges (widths) of track in different parts of the country. Even though Great Southern Rail's trains ride on standard gauge track, just as we have in the United States and Canada, the state of Victoria uses so-called "broad gauge track," wider than North American track, for their intra-state trains.
At certain points, we diverged from the broad gauge mainline from Geelong to Melbourne to a different right of way of the standard gauge track, bringing us into Melbourne's Southern Cross Station.
Shortly before 7pm, The Overland turned its last wheel, the air brakes applied, as we arrived in Melbourne, happy to be at our next exciting destination, but sad to leave our seats on this wonderful train.
Should you and your family have an opportunity to visit Australia, you must try to include this on your itinerary. It is not as fast as flying between the two cities, but you have a rare chance to look into the soul of this vast nation, and witness things invisible to the naked eye at 30,000 feet.
Details, Details
Great Southern Rail operates three trains, all different, each traversing its own part of the vast Australian landscape — The Indian Pacific is a three-night journey between Sydney and Perth, The Ghan travels from Adelaide to Darwin over two nights, and The Overland gives you a view of the wonderful lands of South Australia and Victoria by day.
Red Premium seats are comparable to Business Class on Amtrak and cost about $USD110 at current exchange. Coach Seats are about $USD75. Children's fares are $USD75/35 respectively, and lower-priced non-refundable fares are available as well. Red Premium Service offers 2-1 seating and allows an extra bag per person over coach. You won't bump your head on the overhead racks as baggage space is available at each end of the car, and checked baggage is an option as well.
Meals, if you want them, can be brought to you if you are seated in Red Premium; there is a cafe car for coach passsengers. The timing of the train for meals in each direction is breakfast and lunch; by the time dinner rolls around, you will dining in town. Seats can be booked online at Great Southern Rail or through local travel agents.
Photos by Ralph Spielman
Dear Reader: This page may contain affiliate links which may earn a commission if you click through and make a purchase. Our independent journalism is not influenced by any advertiser or commercial initiative unless it is clearly marked as sponsored content. As travel products change, please be sure to reconfirm all details and stay up to date with current events to ensure a safe and successful trip.
---