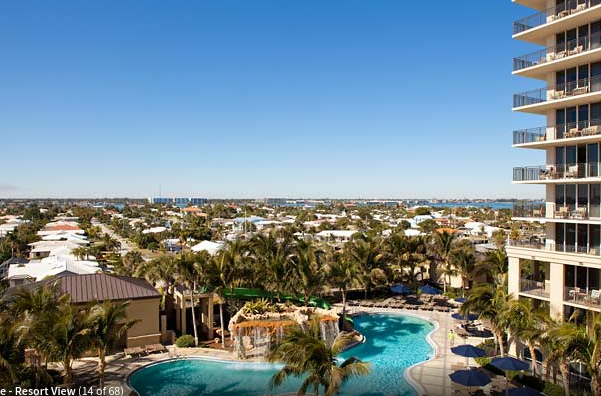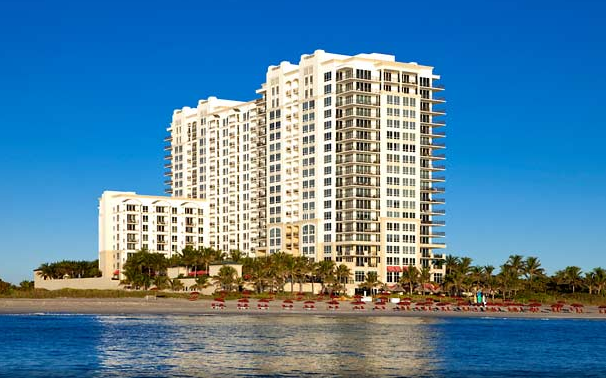 Whether you're traveling to Florida, visiting Grandma, or just enjoying the sunshine in your home state; g
et out of the ktichen and enjoy Thanksgiving dinner in luxury this year.
Skip the generic restaurants with overcooked turkey and gather around a traditional holiday dinner at the Palm Beach Marriott Singer Island Beach Resort & Spa. The helpful and attentivfe staff will keep your group well-fed and relaxed with ocean views.
Families will love the location on Singer Island, a barrier island between the Atlantic and the Intracoastal Waterway. The contemporary highrise resort has 193 suites offering condo-style living for a comfortable and luxurious multi-generational family vacation. Not only can everyone have some privacy yet be together in the one or two-bedroom units; they can prepare whatever they like in a homey setting or dine out at one of the resort's fine restaurants.
On Thanksgiving Day, families can gather at the 3800 Ocean's restaurant at Palm Beach Marriott for a holiday breakfast prepared by their executive chef Gustavo Calderon. This year's favorites include seasonal dishes that picky eaters and the discerning palates of grandparents alike will enjoy. Try the Spiced Apple Stuffed French Toast, Sweet Potato Chocolate Chip Pancakes and traditional Eggs Benedict. Breakfast runs $28 for adults and $14 for children under 12 served from 8am to 10:30 a.m.
If you've got a family who likes to sleep, or just can't get out the door in the morning, try the Thanksgiving Grand Brunch Buffet instead. You'll find a little of everything from ceviche and crudo, slow braised short ribs, traditional roasted turkey with cranberry saw and maple bourbon glazed ham. Brunch runs $65 for adults and $18 for children under 12 and is served from noon until 3 p.m.
For the grand finale, families can gather round the table for a prix fixe menu's first course selections. This year's selection includes Yellowfin Tuna Tartar With Mango-Avocado Salad; Roasted Pumpkin Soup; and Seared Scallops. Entrée selections include Chestnut and Sour Cherry Stuffed Turkey Breast Roulade; Grilled Filet of Beef Tenderloin; Fennel-Glazed Salmon; and Grilled Chicken and Duck Ragout Pappardelle. Kids will flock to the pastry table with traditional and innovative holiday desserts prepared by Pastry Chef Brittani Szczecina. Dinner runs $65 for adults and $18 for children under 12 and served from 5 to 10 p.m.
When you're sufficiently stuffed with Thanksgiving meal goodness, burn off some of those calories with activities around
Palm Beach Marriott.
On property, there are opportunities for biking, kayaking, snorkeling as well as surfing, and lessons in golf, tennis and yoga. The large lagoon pool has a waterslide that stays busy, and a separate infinity pool promises tranquility in private cabanas. The award-winning SiSpa reports that it draws guests from all over with its sea-inspired therapies of all kinds — the Voyage of the Si Chakra and Replenishing Sargasso Seaweed are two favorites — so you should plan a pampering session for everyone. And when you're ready, the kids can check into the Kids Club for ages 4-12. That is, unless you're celebrating Pink Month by treating little ones to mani pedis of their own.
Palm Beach Marriott's
Suite Holidays by the Beach package starts at $399 a night for a two-night minimum stay, and comes with a full kitchen, spacious living room and washer and dryer for large families and multi-generational travelers looking for a holiday reunion. There's also a $50 gift certificate for their SiSpa and Kids Club access for one half-day for up to two children.
Need transportation options?
For travelers looking for a luxury rental without the hassle of airport shuttles, Silvercar delivers fully loaded Audis and aims to make the process painless. The company eliminates waiting around in car rental lines, paperwork or uncertainty about what type of car you're going to get. Instead, your family can focus on spending their holiday together and relaxing instead of stressing over transportation options. Silvercar also comes with an intuitive mobile app and concierge service so you get what the transportation you need when you need it.
Read more about Singer Island, Florida for your next family vacation.
---
This story was accurate when it was published. Please be sure to confirm all rates and details directly with the companies in question, and stay up to date with current events to ensure a safe and successful trip.