I finally scratched it off the list: the very best of South Dakota's Black Hills region including Mount Rushmore, Custer State Park and Badlands National Park! Ever since seeing the debonair Cary Grant and the beautiful (but dangerous?) Eva Marie-Saint climb atop the presidents' faces on Mount Rushmore in Hitchcock's classic movie "North by Northwest," South Dakota has been on my travel bucket list.
Mount Rushmore – The Shrine of Democracy
South Dakota's Black Hills region has beautiful vistas, wilderness and wildlife, Native American history and national parks, yet the star is Mount Rushmore National Memorial, the 60-foot-high sculpture of the heads of presidents Washington, Jefferson, Roosevelt, and Lincoln, carved into granite. This site, which welcomes over 30 million people a year, is an image most Americans can bring to mind.
Seeing it in person is a completely different experience. While it can be seen from many spots at the park, the best photo op is Grand View Terrace, reached by walking along the Avenue of Flags, surrounded by 56 flags of all states, territories, commonwealths, and the District of Columbia.
For me, Mount Rushmore was made more magical by an unexpected snowfall (in May) on the day of my visit. Usually photographed in full sun making the faces off-white in color, the wet snow turned them to gray, and they took on a different mood.
The site made me feel very small. I was astounded at the thought of its creation and happy to be there in person.
Learning How Mount Rushmore Came to Be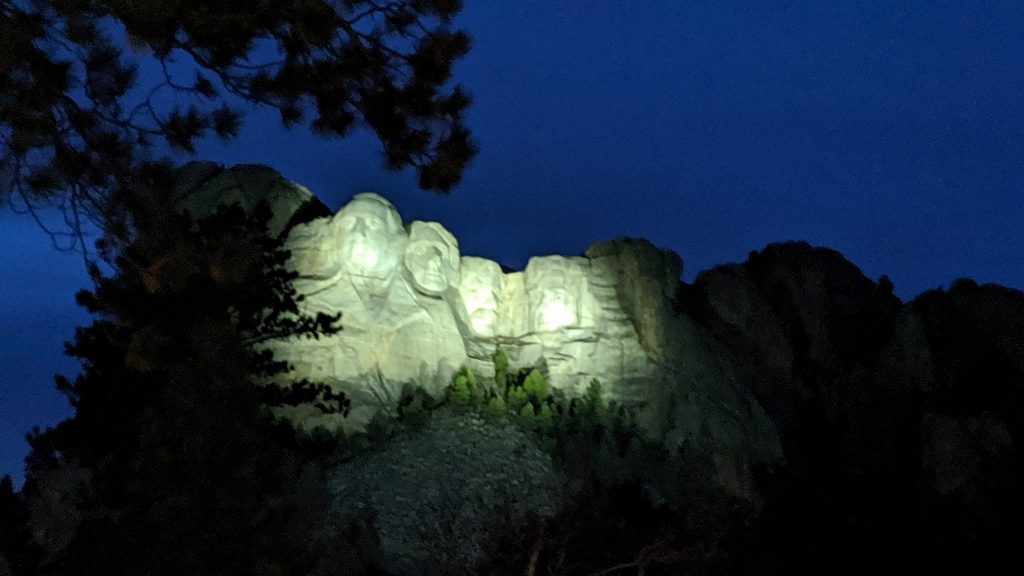 Begun in 1927 by Danish-American sculptor Gutzon Borglum and completed in 1941 shortly after his death, the sculpture was conceived by a South Dakota historian to encourage tourism in the region. Borglum was intimately involved in selecting the site based on the solidity of the rock, and the angle of the sun. He specifically chose these presidents to represent the first 130 years of America's history: Washington for its birth, Jefferson for its growth, Roosevelt for its development and Lincoln for its preservation.
A team of 400 workers toiled for 14 years blasting the hills with dynamite while on harnesses attached to steel cables. Not one worker died as a result of the construction.
Stop at the Visitor Center to view the introductory film, "Freedom: America's Lasting Legacy." The center also houses The Borglum Museum with information and artifacts. There is a .06 mile Presidential viewing trail along the base of the mountain, a kid's exploration area, and a sculptor's studio with scale models and tools. Ranger-led programs offer information such as the creation of the monument, how workers access it to seal cracks in the granite, and the local Native American Heritage Village. Also inquire about the Junior Ranger Program for the kids.
Check their website for the times of the Evening Lighting Ceremony, a moving experience, especially for veterans, who are asked to stand for acknowledgement. The ceremony includes a presentation by a park ranger and a video about Mount Rushmore, and is held every evening from the Friday before Memorial Day through September 30.
Rapid City – City of Presidents
The urban hub of the Black Hills is Rapid City, located about a half hour drive from Mount Rushmore at almost exactly at the geographic center of the U.S. It has a charming, restored downtown lined with interesting shops and galleries.
RC is known as the City of Presidents for two reasons. One is it's proximity to Mount Rushmore, and the other is their public works project which honors the history of the American presidency with life-size bronze statues of 43 (so far) presidents on street corners throughout downtown. Stroll around and see how you measure up.
Fun events ranging from concerts to festivals take place at Main Street Square, which is also a great place to lounge in the summer and go ice skating in the winter. The art scene and creative expression is also alive and well in Rapid City. Your kids will enjoy a stroll down Art Alley — between 6th and 7th Streets in downtown, where they will see cool, colorful pop art, graffiti and political expression adorning the lane.
Animal Encounters near Rapid City
It's easy to do a three-day carless road trip from Rapid City because Black Hills Adventure Tours, a locally-owned, women-run business, provides transportation, day tours and even regional sightseeing with excellent guides in comfortable vehicles. We used their super service with the indomitable Carrie serving as our guide and non-stop entertainment director.
There's lots of fun to be had in the environs around Rapid City. Bear Country USA is a drive-through wildlife park for photo safaris, and you just may come face to face with brown or black bears, roaming bison, reindeer and maybe an Arctic Fox. Head to the animal nursery in back where adorable baby bears frolic and will pose for (safely distant) selfies.
The octogenarian Reptile Gardens, like Bear Country USA, is one of those timeless roadside attractions that make the American road trip – nearly ruined by the interstates — great again. Still family-owned, you may meet renowned reptile wrangler Terry Phillip and his son when they come to feed mice and raw chicken to huge crocodiles like Maniac. Or ogle the slimy ones who make up the world's largest reptile collection in and among prairie dogs, a botanical garden and much more.
Deadwood is Not the HBO Series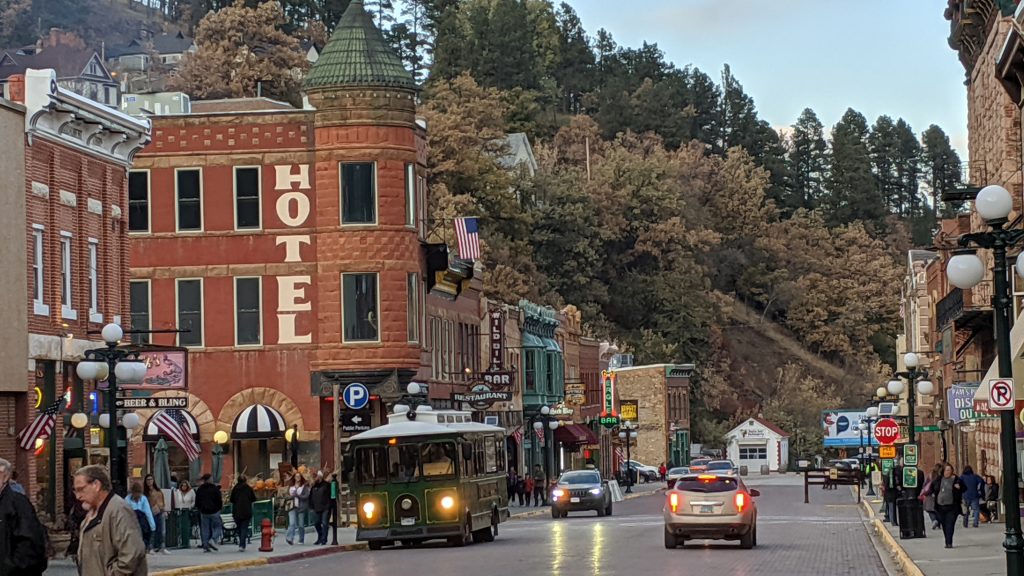 Your teens will get a kick out of Deadwood, about 50 miles northwest of Rapid City, which boasts of its Bad Boy roots from the 1870s Gold Rush days but is much tamer than the HBO series of the same name. Yup, the Wild West outpost the made gambling and prostitution legal to attract nearby prospectors only outlawed prostitution in 1980 and shiny slot machines and penny poker tables still fill the fudge shops, cowboy boot shops and bars along Main Street. History buffs will enjoy the Adams Museum where Potato Creek Johnny's huge gold nugget found in 1929 and memorabilia about Wild Bill Hickok is displayed. The famous Hickok assassination plays out in Saloon #10 several times daily while you take a break from the midday heat.
Meet Buffalo at Custer State Park
Named Paha Sapa (black hills) by the native Lakota, these mountains are actually covered by towering, dark green ponderosa pine trees that give the impression of being black from a distance. Once granted to the Lakota and other tribes, the U.S. government took re-took control of the land when gold was discovered there in 1894. Home to Wind Cave National Park, Jewel Cave National Monument, Black Elk Peak (the highest point east of the Rocky Mountains) and the Crazy Horse Memorial, our goal was Custer State Park which is about a 45-minute drive from Rapid City.
The largest park in South Dakota, it covers 71,000 acres of wild terrain, including magnificent mountains and four lakes where you can bike, rock climb, go horseback riding, kayak and canoe. Or, take your kids on the scenic George S. Mickelson Trail, which spans over 100 miles on an abandoned railroad line. It's gentle terrain, so kids and adults of all ages can enjoy. A Visitor Center helps the whole family enjoy the outdoors and better understand the plants, animals and cultural heritage of the area. There are great experiences tailored for children ages 7 to 12, who join guided nature tours and participate in educational and recreational activities with the Junior Naturalist Program, and the similar Pups Program is available for preschoolers from ages 4 to 6.
If you want to cover more ground, arrange for a two-hour, off-road Buffalo Safari Jeep Tour. Don't forget to bring a pair of binoculars to watch the rambling wildlife, as the park is home over 1,300 free-roaming bison, elk, bighorn sheep, antelopes, whitetail and mule deer, plus colonies of prairie dogs. I didn't see any deer and antelope play, but I did see them roam, along with the massive buffalo.
Planning to be in South Dakota in the fall? You can take your kids on a real wild west adventure in the park and come face to face with a herd of charging buffalo during the annual Buffalo Roundup. Every year, approximately 14,000 spectators gather to view this wild tradition which began as the park's way of maintaining the quantity of buffalo, in balance with the amount of grassland. Real cowboys and cowgirls are in action as 1,300 buffalo, rushing at speeds close to 50 mph, kick up a dust storm and are herded into corrals.
Custer State Park offers several lodging options. From tents and cabins to ranches and resorts such as the Custer State Park Resort you'll be certain to find the right place for your family; check the South Dakota state park campgrounds directory to find inexpensive family lodging camp facilities.
All Is Good At Badlands National Park
If you enjoy the experience of searching for clues to the region's history, Badlands National Park is definitely where you want to be. Located 50 miles from Rapid City or 70 miles from Custer State Park, it is a combination of an unrefined landscape, an enormous open sky, a vibrant collection of ancient mammal fossils, and a home for living animals such as bighorn sheep and bison. What struck me most was the complete quiet as I gazed at the stark landscape in this land of extremes.
Mako Sica meaning "land bad" in the Lakota language, described the difficult conditions in this region, and fur trappers from Canada later made reference to the difficulty of travel across the buttes, canyons, spires and gullies. The site is eerie and unearthly, but unforgettable. It is hard to imagine how any life can be sustained here, however, it is home to many mammals, reptiles, amphibians, birds, butterflies and wildflowers. Much to my surprise and delight we came upon several bighorn sheep and a flock of lambs. Mesmerizing, it was certainly something I will remember. The past is alive here too, and there are many traces of ancient life. Amidst the eroded layers of sedimentary rock, with colors in a stunning array of shades that change with the light, are fossils of such creatures as three-toed horses and ancient camels from 26 to 32 million years ago.
Badlands Loop State Scenic Byway was carved out along the most dramatic path even though it was a more difficult task to undertake. There are two visitor centers offering interpretive exhibits, naturalist programs and trail maps. Knowledgeable park rangers are happy to assist and answer your questions.
If you're looking for some kid-friendly diversions or plan to continue from South Dakota on a road trip to Yellowstone National Park and/or Jackson, Wyoming, read our Road Trip USA: Great Sights of the West story.
Further information and South Dakota itineraries are available at Travel South Dakota.
Dear Reader: This page may contain affiliate links which may earn a commission if you click through and make a purchase. Our independent journalism is not influenced by any advertiser or commercial initiative unless it is clearly marked as sponsored content. As travel products change, please be sure to reconfirm all details and stay up to date with current events to ensure a safe and successful trip.
---