Updated Mar. 29, 2020. As Passover, Easter and summer vacations approach, families around the world are very concerned about the novel coronavirus, COVID-19, and its impact on health, safety and travel plans. The State Department has issued a Level 4 Travel Advisory advising U.S. citizens not to travel internationally,. The CDC is recommending against all but essential travel within the U.S. and asking residents of several states who do decide to travel, to self-quarantine for 14 days after their arrival in a new destination.
Anyone planning to travel despite all recommendations should take into account that their potential exposure, even if no symptoms appear, means that family, friends and neighbors may get sick. Travelers may also be subject to sudden border closures or quarantine, so be prepared.
Understanding Travel Bans
Little is known about the virus, so the emphasis is on reducing the number of people who are exposed to it as quickly as possible. "Social distancing" has become the new normal as major events, gathering places and businesses that attract crowds have closed so we may maintain at least six feet between each other to avoid potential infection. Meanwhile, medical facilities are ramping up for a flood of very sick patients.
Travel bans as of Mar. 29, 2020 cover the world and this N.Y. Times list is being constantly updated. .
Flights originating from most countries carrying those currently exempted from the sweeping U.S. ban (U.S. citizens, legal permanent residents and some of their immediate family members) will be routed through select airports for advanced passenger screenings and all passengers returning to the U.S. will be asked to self-quarantine at home for 14 days.
At this time, the prudent choice is stay home and travel later.
What is Coronavirus? Fast Facts
Coronaviruses are a large family of viruses that usually infect animals. Although initial cases were diagnosed in China, the actual origin of this strain is still unknown. Some coronaviruses from animals can change into a new human coronavirus such as COVID-19 and diseases in most people typically cause mild to moderate illness, the Los Angeles County Department of Public Health says, like the common cold. Scientists now estimate that about 20% of those infected with COVID-19 will become very ill.
Reported COVID-19 symptoms range from fever, cough and difficulty breathing to illnesses requiring admission to the hospital. An accurate number for those infected is not available because little testing is being done in the U.S. However, scientists know it is spreading very quickly and a surge in cases will make it impossible to save the lives of those most in need.
How does COVID-19 spread?
Virologists say the COVID-19 virus is spread in large droplets by coughing and sneezing and that some tiny droplets can suspend in air for up to three hours. This means that the air may infect you and surfaces where droplets land are infectious for at least several hours.
Regardless of its origin or transmission, reports of violence and discrimination against others (including withholding of medical care) grow daily. People of Asian descent, anyone who's traveled internationally — even first responders and medical personnel — have been stigmatized by those who ignorantly blame them for the epidemic, and that hurts all of our communities.
Do Your Part to Avoid Catching Coronavirus
In addition to staying at home and practicing social distancing of at least 6 feet if you must go out, here are commonsense precautions to protect against getting COVID-19 from Dr. James Rabb, MD FCAP, a pathologist from UC San Diego who had done pioneering work on the original coronavirus strains. Dr. Rabb's anti-coronavirus tips have been supplemented by medical professionals around the world. They advise:
1) Social distancing! No handshaking or close contact with others. Use a fist bump, slight bow, elbow bump, etc. when greeting friends and family.
2) Use only your knuckle to touch light switches. elevator buttons, etc. Lift the gasoline dispenser with a paper towel or use a disposable glove.
3) Open doors with your closed fist or hip. Do not grasp the handle with your hand, unless there is no other way to open the door.
4) Use disinfectant wipes displayed at stores when available and wipe the handle and child seat in grocery carts. Wash the exterior of fruit and food packaging or move items into your own storage containers before putting food away.
5) Wash your hands with soap for 20 seconds and/or use a greater than 60% alcohol-based hand sanitizer whenever you return home from any activity that involves locations where other people have been.
5 Tips to prevent spreading Coronavirus
In addition to staying at home and practicing social distancing of at least 6 feet if you must go out, you can do your part to prevent the spread:
6) Keep a bottle of sanitizer available at each of your home's entrances and in your car for use when you can't immediately wash your hands. Washing hands vigorously with soap and running water is the most effective sanitizer.
7) If possible, cough or sneeze into a disposable tissue and discard. Use your elbow only if you have to. The clothing on your elbow will contain an infectious virus that can be passed on for at least several hours and, some doctors say, up to a week or more! Be sure to wash clothing from anyone infected in the hottest water setting possible with extra detergent.
8) Stay at home if you begin to feel any symptoms or are sick with any illness. Isolate yourself from other family members or caregivers and try to use only one bathroom.
9) Get a flu shot if you have not already had one. Some patients have been diagnosed with both the flu and COVID-19.
10) Avoid crowds and densely packed public spaces. Many municipalities around the world have already cancelled public gatherings, events and sports competitions. Museums, theatres and restaurants have closed; cruise lines and ski resorts have temporarily suspended operations.
Protecting yourself when out of the house
Have hand sanitizer available and wear disposable gloves, because you may come into contact with contaminated areas.
Surgical masks don't prevent the inhalation of sub-microscopic viral particles without specialized fitting and you may contribute to the shortage hampering the work of medical professionals treating sick patients. That said, doctors are recommending that anyone over 70 wear a surgical mask or any protective gear they can find to be sure they don't spread any infection or inadvertently receive any while outside the home.
Staying safe on airplanes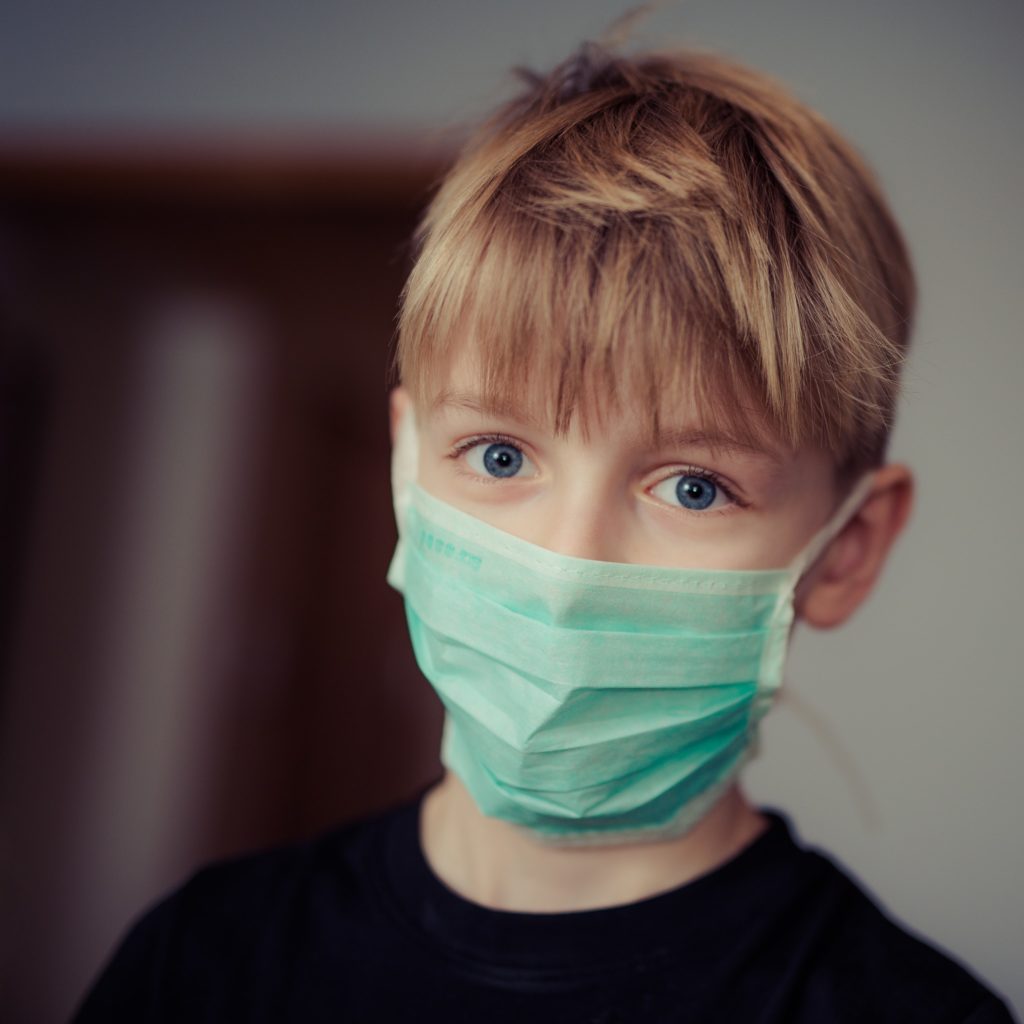 Airlines are also reaching out to the public with news about their efforts to combat the spread of COVID-19 to quell fears. Most requre that passengers and crew wear face masks and have limited the number of passengers on each aircraft so that they can sit several rows apart. Southwest, for example, says they "spend between 6-7 hours cleaning each aircraft every night [with] an EPA approved, hospital-grade disinfectant [and] it will be used in the cabin, on elements in the flight deck, and in the lavatory." Here's the latest on airline safety and anti-COVID measures.
Aircraft also have a HEPA (High Efficiency Particulate Air) filter like those used in hospitals to filter recirculated air onboard to remove airborne particles although experts question if this is enough to prevent the COVID-19 virus from spreading in an aircraft carrying an infected passenger.
Families should be proactive about hygiene by bringing sanitizing wipes aboard airplanes so they can wipe down seat belt buckles, armrests, tray tables, window shades and other airplane surfaces.
Use discounts now to book flights for later
Air travel is more affordable than it's been for several years. Major airlines have severely cut the number of flights they operate in order to save cash, while offering deep discounts and waiving change and cancellation fees for flyers who book travel now for later in the year.
The current stay home mandate is having effect because air traffic in the U.S. is less than 20% of what it was at this time last year. Use the price cuts to book summer travel now.
When should our family take a cruise?
Following the U.S. Department of State and the CDC recommendations against cruise travel, especially for the elderly and those with underlying medical conditions, the cruise industry's major trade organization announced the voluntary suspension of major cruise lines' activity for 30 days beginning March 14, 2020.
Families who currently hold a booking on a CLIA member line should contact their travel agent or cruise line directly to inquire about refunds and rebookings and expect to receive at least a 100% voucher.
Families may consider applying the range of refunds, such as cruise vouchers, onboard spending credits and cash reimbursements, towards future bookings. Plus, many family-oriented cruise lines are extending the option to cancel cruises shortly before sailing, offering reassurance without a penalty.
This makes planning a future cruise vacation for summer or fall a nearly risk-free option, even for those who have not purchased travel insurance.
What Happens if You or Family Members are Exposed?
Whether or not your region is under a government-mandated Shelter in Place order, many families have already begun a period of hibernation to protect themselves from becoming exposed to or infected by COVID-19 and being carriers.
Self-quarantine after exposure to COVID-19 is becoming common. In the past few weeks, public quarantines have been imposed on guests at resort hotels, on families living in certain cities and, most notoriously, on cruise ship passengers both onboard and off the ship.
Many international borders are closed to all but citizens of that country.
Any traveler showing signs of respiratory illness is being tested by medical personnel at airports and cruise ports. Others are being questioned about their travel history. The thing to remember is that every country is handling this differently — you have to remain flexible.
How to make your vacation plans
Disneyland has closed. Broadway theatres are dark. Ski lifts have stopped running. Museums are off limits.
This is not a good month for travel. Yet, things will certainly improve; it's only a matter of when.
Travel agents are now a great resource for upcoming late spring, summer or fall vacations. According to Travel Leaders, "many travel providers, including cruise lines, airlines and tour operators, have great offers and savings and have introduced flexible policies in the event your plans change." Hotel chains are promoting steep discounts for those who prepay their rooms with last-minute cancellation policies. Several tour operators have cancelled tours through mid-April and offering steep discounts to those who book trips after that date.
The CDC continues to post more specific up-to-date travel advisories to every region of the world. World Health Organization pages maintain the most recent information about the spread of COVID-19, now a global pandemic.
Some travel insurance companies are loosening their criteria for "covered reasons" and extending protection for certain trip cancellations, if you've already booked your trip. If not, contact travel insurance providers about "cancel for any reason" or CFAR policies to protect your vacation investment. Remember that even if your tour operator or cruise company provides a coupon for rebooking your trip at a later date, your family may incur additional costs in rebooking airfares and hotels at that future date. Here's a good financial site with more coronavirus insurance tips and other frequently asked questions.
InsureMyTrip.com is recommending travelers purchase financial default coverage because some travel insurance policies will not insure against COVID-19 now that it has been officially named an epidemic. This coverage protects travelers whose supplier (airlines, cruise company, tour company, resort) stops business operations due to financial reasons and may protect you when other policies fail.
Should my family consider travel?
The decision to travel is a personal one that depends on your circumstances and the health of your extended family. The CDC is recommending against all but essential travel within the U.S. and recommending against international travel to a host of countries with signs of the infection.
Evaluating travel risks associated with the spread of COVID-19 is up to you but preventing the spread of the virus is up to all of us. Before finalizing your travel plans, please refer to these trusted online resources for the latest updates: Centers for Disease Control and the World Health Organization and do the right thing for your family and community.
Of course, we also urge you to carefully screen your information sources and avoid health and travel scams being circulated on social media and online regarding COVID-19.
Dear Reader: This page may contain affiliate links which may earn a commission if you click through and make a purchase. Our independent journalism is not influenced by any advertiser or commercial initiative unless it is clearly marked as sponsored content. As travel products change, please be sure to reconfirm all details and stay up to date with current events to ensure a safe and successful trip.
---