We really don't have a way to make flying safer for you in the age of coronavirus, but it's a big topic as leisure air travel increases with the onset of summer.
Fortunately, contactless check-in, onboard hygiene, passenger cooperation and sanitized public spaces are already being implemented to help contain the spread of COVID-19. The biggest challenge for the airlines, airports and TSA Security checkpoints remains — how to maintain social distancing during the summer vacation rush.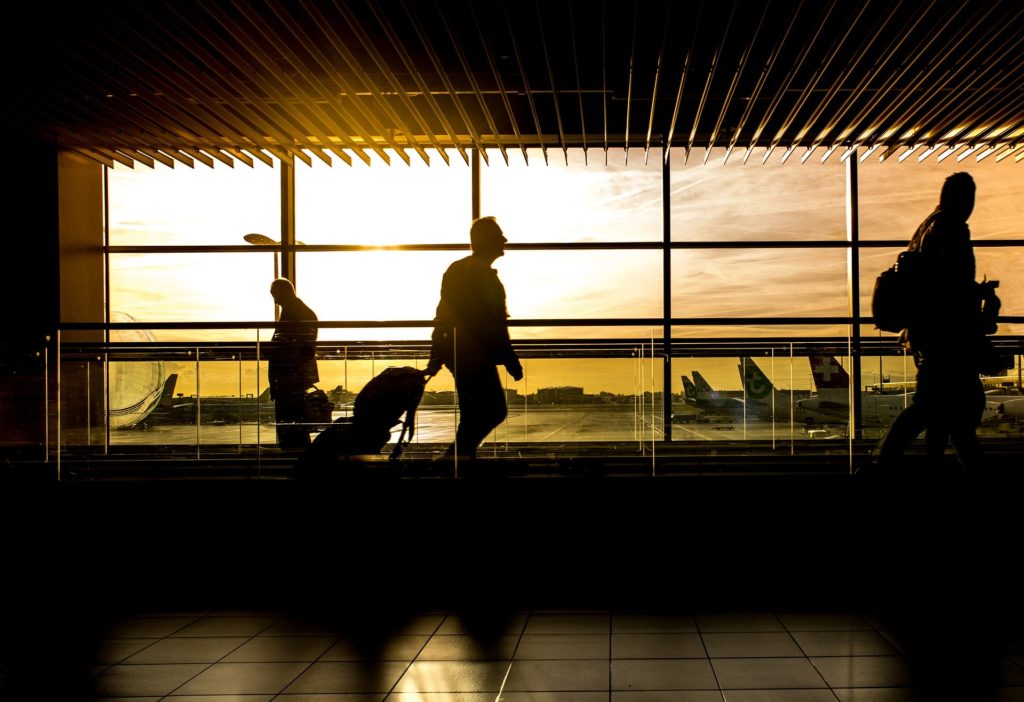 Should You Really Be Flying?
The CDC continues to recommend staying home as the best way to protect yourself and others from getting sick. A lot of travelers are listening, with air traffic levels at about 12% in June (up from 5% in May) compared to last year. Much of the aviation industry is doing all it can to make flying safe without, of course, having all the facts.
In Asia-Pacific, notes Business Insider, airlines are doing COVID blood tests, COVID nasal swabs and other instant testing so that infected passengers don't even board planes. Many believe this is the future for all airlines though the U.S. is nowhere near meeting this standard.
Bottom line: No one knows how safe flying is.
How the Airlines are Trying to Make Flying Safer
Qtrip has a valuable and up-to-date guide on each airline's safety policies and, for most, they're taking a layered approach, similar to what passengers are probably doing at home — touch, scrub, rinse, repeat.
On a May 28, 2020 conference call, JetBlue CEO Robin Hayes told the Washington Post that JetBlue, like other airlines, first focused on encouraging both staff and customers not to fly if they weren't feeling well. Hayes predicted the new, more liberal cancellation and change fees initiated in response to COVID-19 will remain in effect for the future. And that would be a good thing.
What about inflight air recycling? It's changed throughout the airplane about 15 times per hour, typically using HEPA filters to screen finer particulate matter.
Can aircraft air carry the virus? Recent tests have found that passengers sitting near a COVID-19 carrier are much more likely to become infected than those sitting farther away. That's all we know.
Intensified Aircraft Cleaning Protocols
JetBlue is trialing electrostatic fogging machines to achieve a higher level of cleaning -– picture an aerosol sanitizer that can get into corners that airline maintenance personnel cannot reach. Delta is using electrostatic sprayers that electrically charge and disperse liquid disinfectant in a fine mist.
Airbus and Boeing are working with Colorado University at Boulder to determine the movement of the novel coronavirus through aircraft, given that earlier research indicates proximity to sick passengers impacts who becomes ill. They are also testing ultraviolet light as a possible disinfectant. Full scale tests of the new technology are being carried out now in the New York City subway system.
What You Can Do to Keep Yourself Flying Safer: Face Masks
To best ensure your own safety, experts say, wear a face mask. At JetBlue, passengers who won't wear a mask while boarding are not allowed to board and passengers who refuse to wear a mask inflight (except while eating or drinking), says CEO Hayes, risk not being allowed to fly JetBlue again.
In good news from June 17, the Airlines for America industry group has cajoled seven major airlines into enforcing face mask requirements. They are insisting that member airlines make pre-flight announcements clarifying face mask requirements, communicate inflight about requirements and punishment for non-compliance and devise their own punishment — up to and including bans from future flights — for those who don't cooperate. Short of an FAA mandate, this is a big victory for passenger safety.
What You Can Do to Keep Yourself Flying Safer: Hygiene
Dr. Elliot Stein of Pennsylvania Hospital suggests travelers follow the first responders' protocol: wear comfortable leisure wear under your airplane outfit and remove possibly infected clothes after landing. Bag those clothes separately for thorough washing and wash, wash, wash your hands.
There's more you can do.
Before settling in, use wipes to clean all the touchpoints around you: window shade, armrests, seatbelt buckles, seatback trays, screens, overhead call buttons and power outlets. Some experts suggest travelers avoid using the lavatory on any flight and Dr. Stein agrees, saying that waiting in line for airplane toilets can increase exposure risk.
Improve Your Chances of Social Distance
Book a window seat because social distancing is key to avoiding catching a virus from others.
Currently, JetBlue is keeping middle seats free if the passengers are not in the same group and Delta and Southwest are limiting capacity. Other airlines, like American and United which backtracked on prior promises not to sell middle seats, will be offering every seat for sale as of July 1. On small aircraft, some airlines are keeping aisle seats empty to provide more passenger space.
With most airlines' breakeven load factor of 75%-85%, Hayes says, it's not sustainable to block all middle seats or cap passenger loads at 50% forever. And, taking out enough rows to provide six feet between passengers is not a viable economic proposition either. While JetBlue has seen some passengers purchasing extra seats around them to distance from others, he doesn't expect that trend to last.
What Airports are Doing to Make Flying Safer
The FAA, TSA and airlines have been cooperating on devising common sense precautions to prevent the spread of coronavirus, with the goal of not having different rules on every airline. It's actually a good time to fly, because airports are so quiet that social distancing is easy to achieve.
As volume picks up, however, airports and airlines will be working together to spread out customers while they're waiting, eating, shopping and boarding planes. Heat-mapping, video surveillance and other new technologies are identifying areas where customers are not enforcing social distancing so airport personnel can intervene. According to the Airports Council International (ACI), Asian airports are already in the forefront, getting thermal readouts from robots and airport terminal scanners, using UV cleaning techniques, contactless payment systems that display bar codes so passengers can complete checkin and charging items to their own mobile devices.
Passengers may soon need timed passes to board their flights, just as theme park riders do.
Airport Security Changes to Make Flying Safer
The TSA has just implemented revised security protocols to reduce touchpoints for passengers and their staff. To reduce the potential for cross-contamination at security checkpoint, travelers will hold their boarding passes, place them in the TSA provided scanner and hold them up for visual inspection.
Passengers should place their carry-on food items into a clear plastic bag and place that bag into a bin to reduce the need for closer inspection. (TSA Precheck members do not need to remove items from their bags.)
Hand luggage will be cleared with up to 12 oz. bottles of hand sanitizer (it must be removed and submitted for x-ray screening), but any other prohibited items that are found will send you back to square one — outside the security portal — to dispose of them without TSA staff handling your luggage.
Social distancing will be mandatory for passengers and airport employees.
All TSA officers at checkpoints will be wearing masks and gloves and passengers are "encouraged" to wear face masks as well. Don't be surprised to find TSA officers wearing eye protection and clear plastic face shields at some airports.
We Are Not Ready to Assure Safer Flying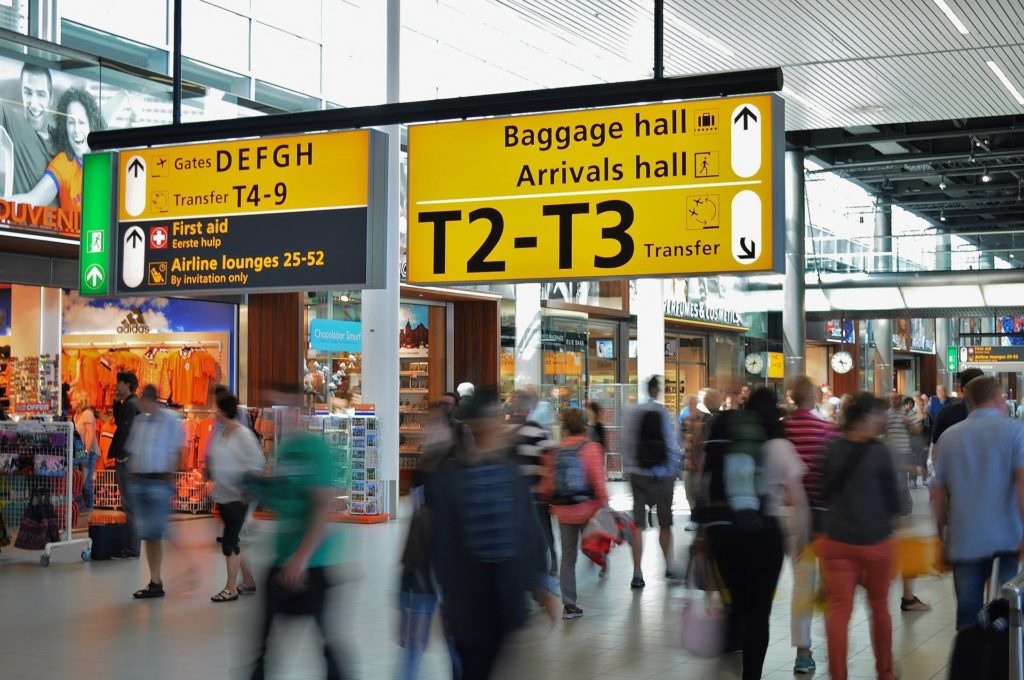 The tourism industry publication Travel Weekly examined aviation's main challenges for the near future – as experts predict airports will be too crowded to maintain social distance between travelers as early as August 2020. It's obvious we are not prepared to make flying safer.
And a note to those considering international travel; U.S. Passport Services are currently only fulfilling emergency requests to issue passports and renewals with few offices open.
Should You Fly in the Age of Coronavirus?
Is there safer flying in the age of coronavirus? Until there's a vaccine for COVID-19, admits Hayes, every passenger will have to decide on their personal level of risk tolerance before flying.
Dear Reader: This page may contain affiliate links which may earn a commission if you click through and make a purchase. Our independent journalism is not influenced by any advertiser or commercial initiative unless it is clearly marked as sponsored content. As travel products change, please be sure to reconfirm all details and stay up to date with current events to ensure a safe and successful trip.
---