Celebrate the legendary freedom seeker, suffragist and abolitionist, Harriet Tubman, in the Finger Lakes region during this year's special Harriet Tubman Bicentennial events.
Ms. Tubman called Auburn, on Owasco Lake, her home for 54 years. It is her final resting place. This sprawling town in central New York's Cayuga County combines the rural beauty of the Finger Lakes with historical attractions for a rich family travel experience.
Born A Freedom Seeker in the South
Tubman was born enslaved as Araminta Ross in March 1822 in Dorchester County, Maryland – location of a National Historical Park in her honor. After escaping from slavery alone at the age of 27, she relocated to Philadelphia and became active in equal rights issues.
Tubman matured into a legendary conductor on the Underground Railroad by helping nearly 70 family members escape from the South during 13 daring trips. The Underground Railroad was a network of brave Americans opposed to slavery who secretly assisted escapees from the South to reach freedom in the North.
During her life, Tubman was a fugitive, celebrity, noted speaker and Union spy. Her work earned her recognition from President Abraham Lincoln, who shared her goals of equality.
Soon she becomes the first woman and the first Black American to appear on currency — the new $20 bill. Many attribute her huge impact to longevity, because she was active almost to her death in 1913.
"If you hear the dogs, keep going. If you see the torches in the woods, keep going. If there's shouting after you, keep going. Don't ever stop. Keep going. If you want a taste of freedom, keep going."
Her achievements, even more remarkable for a woman born enslaved, are well worth revisiting and sharing with our own children.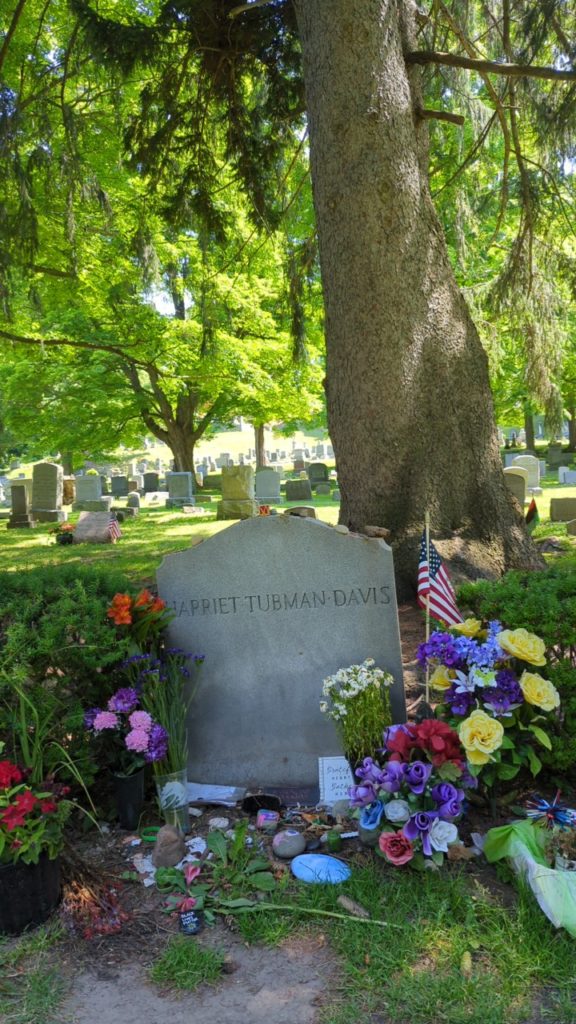 Auburn, Home to Harriet Tubman in the Finger Lakes
Start your education about Harriet Tubman in the Finger Lakes in Auburn. Discover the town's other major players in U.S. history and the many historical events that took place there.
Auburn was a prosperous industrial town in the 1800s, a history best appreciated at the Ward O'Hara Agricultural Museum. Kids really enjoy walking around and inspecting the old tractors, iron ploughs and the first reaper, all manufactured locally. Our wonderful guide Rob explained that Auburn was birthplace to many agricultural inventions which modernized farming and made many local families wealthy.
Meet William H. Seward and his wife, Frances Miller Seward, among the best known of prominent local families. Both were ardent abolitionists who supported the Underground Railroad. They invited the noted Harriet Tubman, then living in freedom in St. Catherines, Ontario, Canada, to relocate to Auburn. Selling a Black woman property was unheard of – and illegal — in 1859. Frances Seward charged the proud Tubman $1,200 for seven acres. She paid $25 down and $10 every quarter.
Equal Rights Spawns a New National Park in the Finger Lakes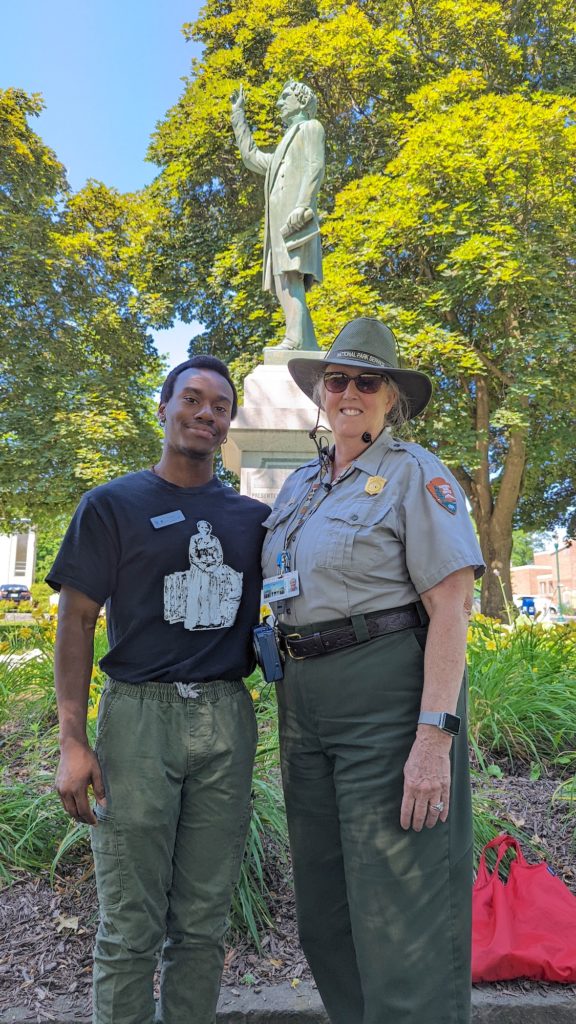 Begin your visit at the New York Equal Rights Heritage Center. The visitor center in the heart of Auburn's historic district features the interactive exhibit "Seeing Equal Rights in NYS." Images and videos showcase luminaries in equal rights, women's suffrage, abolition of slavery and other progressive movements who fought for causes throughout central New York.
Join the free "Walk in Tubman's Footsteps" guided tour given most mornings. National Park Service rangers and interns lead the two-hour (approximately 2 miles) walk around Auburn's historic district.
Outside the grand homes of South Street, hear about the Seward family, the Osbornes, the Howlands and Tubman's other progressive neighbors. An excellent introduction to Tubman's life and times, the tour helps visitors decide which in-depth house tours to take. Make the Seward House Museum and Harriet Tubman House your first stops.
The Progressive Seward Family Meets Harriet Tubman
William Seward's progressive public career included stints as a New York state senator, U.S. senator and governor. "Seward's Folly," the seemingly crazy purchase of the Alaska territory from Russia in 1867, was only one moment in Seward's long career as Secretary of State to Presidents Abraham Lincoln and Andrew Johnson.
Frances Miller Seward, raised a Quaker, was very active in social justice movements sweeping central New York. Tour the Seward House Museum, kitchen and basement that were hidden stops on the Underground Railroad. Knowledgeable guides also introduce the topic of the young Black girl Tubman left in the Seward's care. Although raised in the house, the girl's relationship to Tubman has never been verified.
Harriet Tubman's Neighbors in Central New York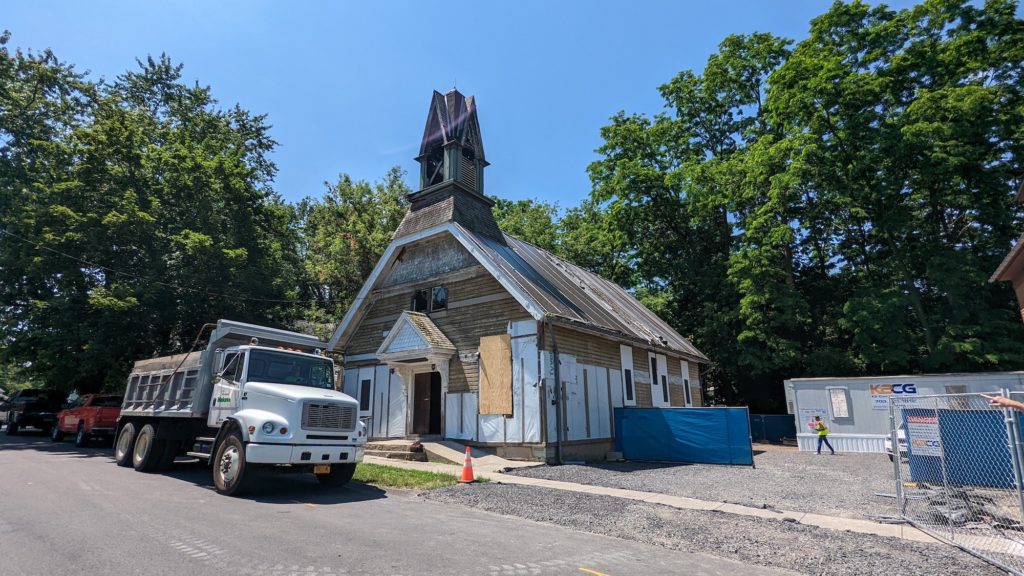 Years before Tubman's arrival, white and Black residents were active in the central New York abolitionist movement. Even after the 1850 Fugitive Slave Act that enabled bounty hunters to capture freedom seekers in any state, they continued to arrive in Auburn via the Underground Railroad.
Many went north to Canada, as Tubman had. Others settled in Auburn living as freedmen, accepting small wood houses built for them by wealthy white families. Use the Tubman's UGRR – Cayuga County App for a self-guided driving tour past several of these houses.
Some of the historic houses are behind Fort Hill Cemetery, where Tubman was buried on the West Lawn, Section C-17. Look for the headstone Harriet Tubman-Davis (Nelson Davis was her last husband) under a towering Norway Spruce. It is engraved "Servant of God, Well Done."
Despite generations of Black families occupying these houses, the city's Black population today is less than 9%. However, Black-owned businesses are still found in Auburn, unusual among Finger Lakes towns. Outside the cemetery's Underwood Gate is the Thompson Memorial AME Zion Church where Tubman was part of the congregation for 22 years. Damaged by lightning in 2019 and now a construction site, the National Park Service plans to reopen it with a visitors center in 2024.
The National Park Service app, Travel with Tubman, is a trip-planning guide to 13 key sites in the U.S. Time permitting, visit other Finger Lakes National Park Service monuments, including the Susan B. Anthony home in Rochester, and the Women's Rights National Historic Park in Seneca Falls, site of the first women's rights convention in 1848.
Visit Harriet Tubman's Historic Home in Central New York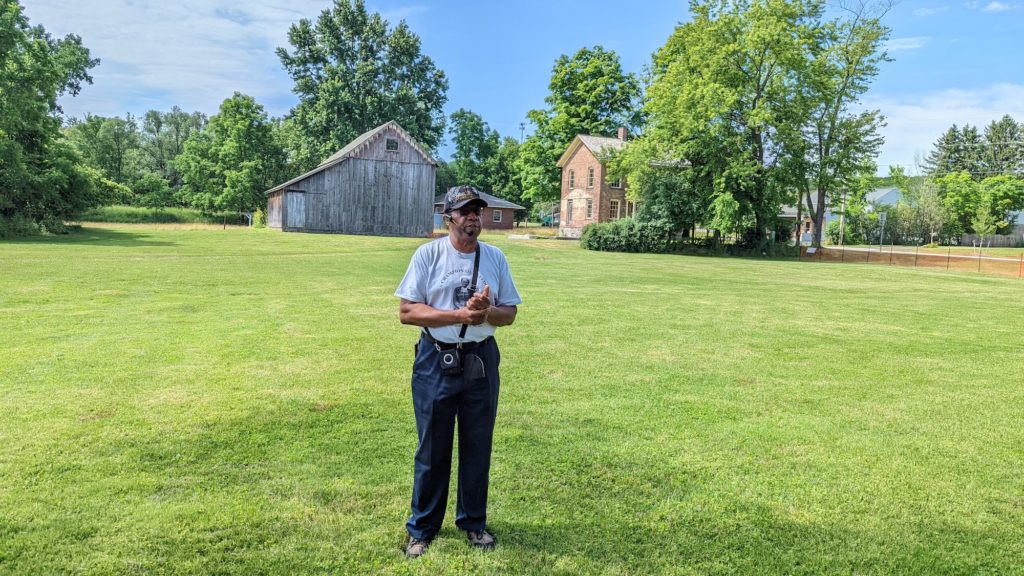 Tour the Harriet Tubman Home and Historic Park and meet Rev. Paul John Carter, steward of the non-profit property for the AME Zion Church. Although it's affiliated with the National Park Service, this is a Black-owned enterprise which Carter says is supported by admission fees and private donations. It is a powerful place.
Start at several informative displays in the visitors center. "Harriet Tubman—The Journey to Freedom," a traveling Tubman Bicentennial show of sculptor Wesley Wofford's work, shows through August.
Walk the verdant land Tubman bought from the Seward family. This is where she raised pigs and baked pies to support emancipated family members and anyone in need from the Underground Railroad. Carter is quick to point out that Harriet Tubman, while known as the "Moses of her people," did not try to save the world. Instead, he says, "She had a vision and a mission to save her family."
See Tubman's Bible in the restored building that the AME Zion Church used to care for indigent African Americans. The church has stabilized the exterior of the second Tubman house; a red brick one that was built on the site after the first was destroyed by fire.
If the kids are into apps, they will enjoy Harriet Tubman's Lantern Trail which provides more context when you snap the QR code on the lantern symbol outside 10 major sites.
Local Arts Institutions Explore Harriet Tubman in the Finger Lakes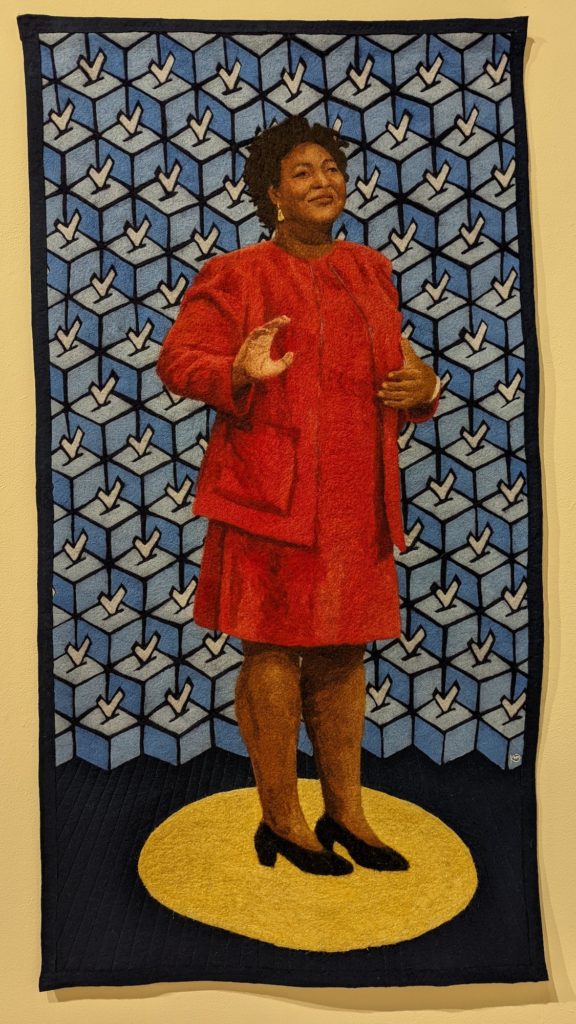 The Cayuga Museum of History & Art is located in the former Theodore W. Case mansion, home to one of the pioneers of sound on film. Mr. Case's laboratory chronicles his invention of the Aeolite glow lamp in 1923. It played sound as well as image on Movietone Newsreels and was later bought by Fox Film. Inside, fiber artist Vanessa Johnson has a small show running through mid-August. "Auburn in Harriet Tubman's Time" is the museum's photo exhibit showing Auburn sitesas they were duringTubman's time in the city.
The Schweinfurth Art Center almost next door invited Black artists to commemorate the Tubman Bicentennial. Alongside work by Quinn Hunter, more of Johnson's quilts and fiber arts explore Tubman's faith – both her inspiration from God and the physical blackouts caused by a childhood head injury – which Tubman credited for always guiding her way.
Did Harriet Tubman ever see the gorgeous Willard Chapel, built between 1892-1894? It features windows, chandeliers, tiles, inlaid oak furnishings and other extremely rare work by Louis C. Tiffany and the Tiffany Glass and Decoration Company. It is the only complete chapel of its kind known to exist and is well worth a visit.
Finger Lakes Fun for Families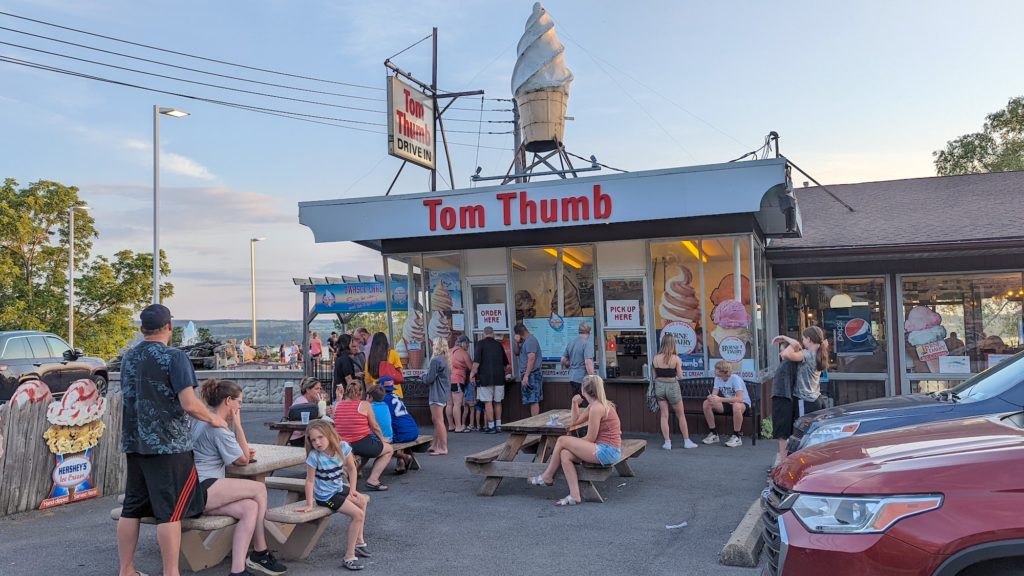 In addition to historical sites, Auburn is a fun town for families to visit. Take advantage of the breezy summer days to enjoy watersports on Lake Owasco, the easternmost of the Finger Lakes. The lake is known for its bass, pike and trout fishing.
Kayak, canoe and standup paddleboard rentals are available from Owasco Paddles on the Fleming town side of Emerson Park. Operating Memorial Day to Labor Day, they provide quick lessons, flotation jackets and even a life preserver for dogs who join you.
Auburn has several small parks scattered throughout the downtown and historic district. The place to truly relax, though, is Emerson Park, which has beach access to swimming in the lake. One of the favorite local haunts, Green Shutters, is at the edge of the park for hot dogs, soft serves and ice cream served at outdoor picnic tables.
Summer entertainment includes the "Summer Series" of free evening music concerts on the grass. Bring a picnic blanket! The many food trucks from local vendors and the Prison City Brewing make this a fun lawn party for all ages.
Another ice cream favorite, Tom Thumb Drive-In & Miniature Golf is on a ridge above Owasco Lake. Go at sundown to appreciate the Finger Lakes' beauty.
Dining in the Finger Lakes
Auburn has several small casual restaurants for a quick bite between the historic sights.
Lavish Lounge and Irie Jamaican Queen are among the Black-owned eateries; both specialize in Jamaican cuisine. Octane Social serves a variety of coffees, teas and lighter bites with a focus on local and vegan treats. Café 108, run by Auburn Public Theater (APT), is a community space with a historic past. It's on the site of the ca. 1803 Bostwick's Tavern and the ca. 1891 Cayuga County Political Equality Club. Find healthy, quickly prepared food and beverages within a 5-minute walk of the historic attractions.
Send your dessert lovers to the Finger Lakes Sweet Treat Trail, which this year is dedicated to Tubman's memory and favorite sweets. Several Auburn businesses are supporting it with themed dishes.
A Classic Finger Lakes Inn on the Underground Railroad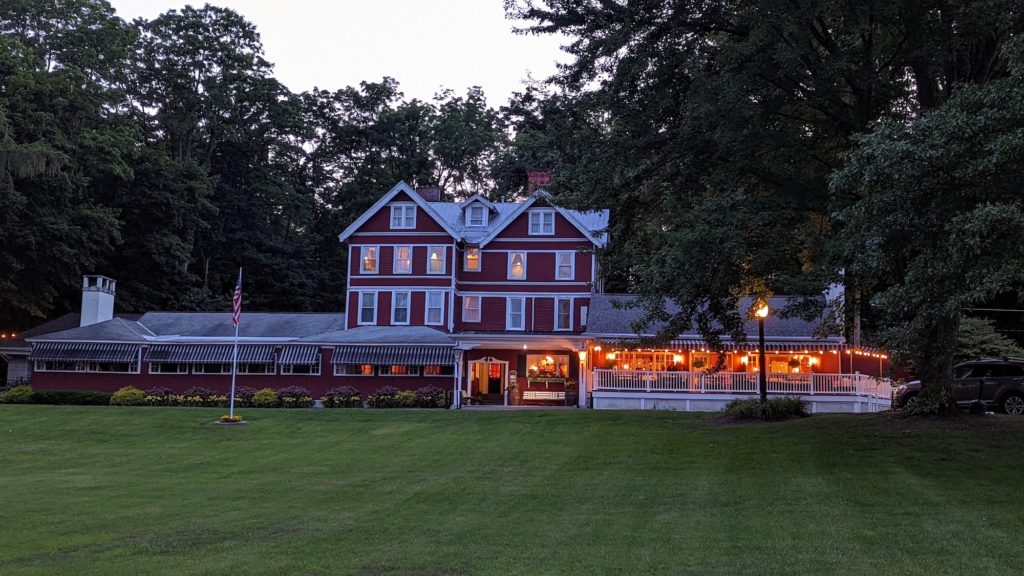 For a special night out, book Oak & Vine, a modern American gastro-pub located in the Springside Inn. Sit out on their wooden deck and enjoy fresh seafood, salads and appetizers whose presentation is as fun to consume as the cuisine. Don't miss the opportunity to sample one of the Finger Lakes wines on their menu.
We stayed at the Springside Inn, a classic B&B, during our visit. The chintz, floral patterns and sloping stairs will remind parents of their grandparents' homes. Inn owners, the Lattimore Family, are trying to authenticate its reputed role as a stop on the Underground Railroad.
When in the Finger Lakes, Go Wine Tasting
Most visitors to Auburn will be curious about the Finger Lakes' reputation as a wine region. Two Cayuga County vineyards are in King Ferry, within 45 minutes' drive of Auburn.
Treleaven Wines is a bigger operation with live music and a small café. Bright Leaf Vineyard is the more scenic choice. The boutique winery has 14 acres planted on a hill overlooking Cayuga Lake.
Beyond Harriet Tubman's Legacy in Central New York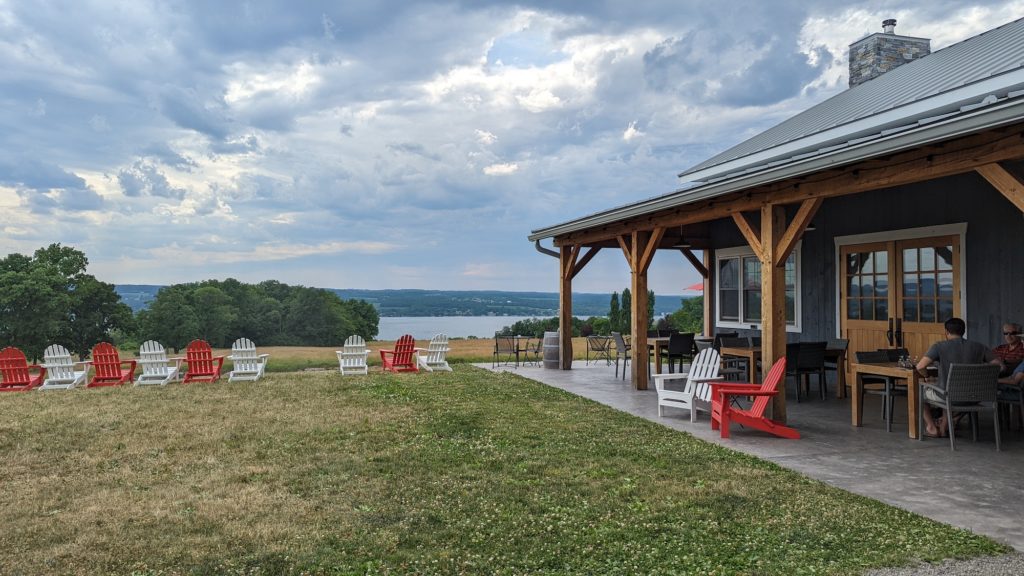 If you have another day, explore progressive activism in the Sherwood Equal Rights Historic District not far from Auburn. The main site for visitors is the Howland Stone Store Museum, a cobblestone general store built in 1837 by the family of suffragist Emily Howland. Read about her contributions as an abolitionist and educator. Upstairs, peruse Ms. Howland's remarkable collection of travel memorabilia and souvenirs from her many international journeys.
The Howlands had several ties to the Underground Railroad – the store itself was a safe haven for those who escaped from the South. Recent research indicates that Emily was also a friend and supporter of Harriet Tubman. The Opendore Project, once a Howland family home, now houses meeting space, women's suffrage posters and other equal rights documents.
After #Tubman200 Keep Going
Make Auburn your base in September, which is International Underground Railroad Month, a great time to explore Auburn and Cayuga County along the Underground Railroad Tour. Look for more Tubman Bicentennial special events planned for 2022, including a Spoken Word performance, "Voices in the Legacy of Tubman."
Of course, we will celebrate Harriet Tubman long past her bicentennial year. Syracuse University has been excavating the Tubman Home and land for decades, uncovering nearly 70,000 artifacts related to her life. Scholars are working to understand their significance.
As researchers contribute to the growing body of knowledge about her, discovering the legacy of Harriet Tubman in the Finger Lakes will become an even more enriching experience.
Go now. Go again. Keep going.
Dear Reader: This page may contain affiliate links which may earn a commission if you click through and make a purchase. Our independent journalism is not influenced by any advertiser or commercial initiative unless it is clearly marked as sponsored content. As travel products change, please be sure to reconfirm all details and stay up to date with current events to ensure a safe and successful trip.
---