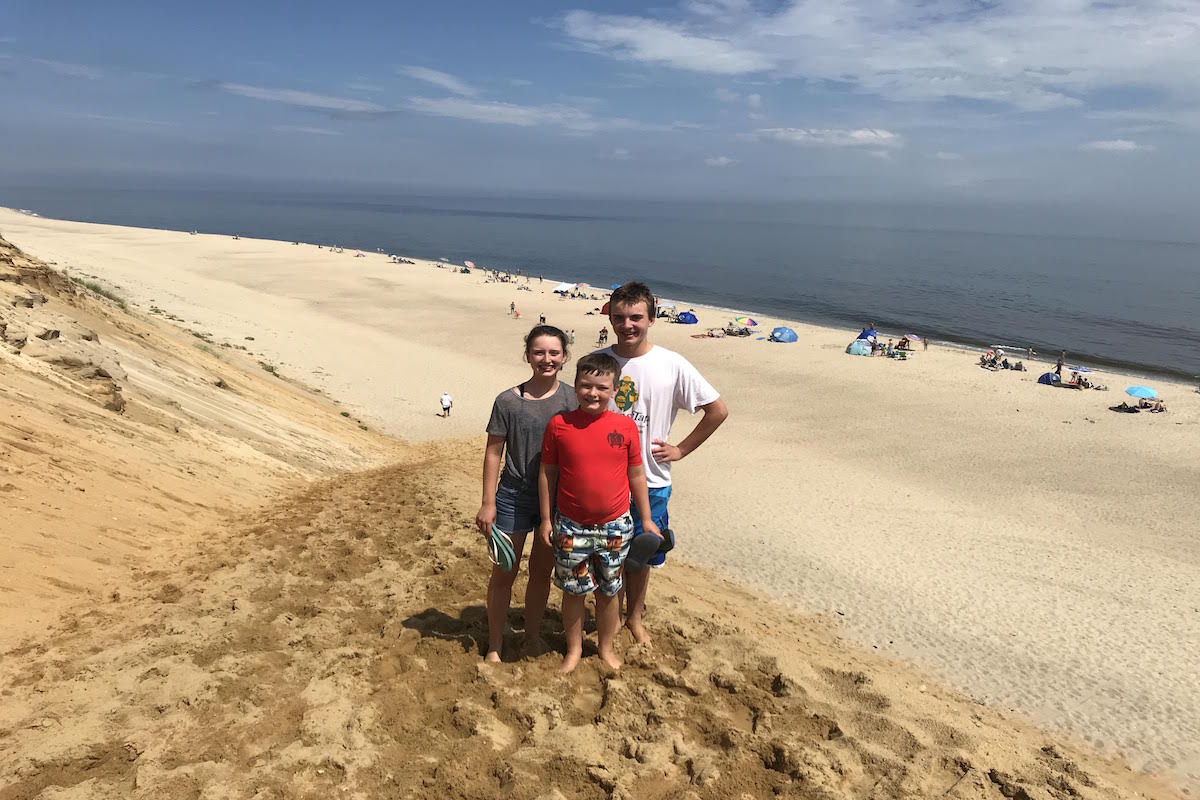 ---
"Country roads, take me home, to the place, I beloonnng, West Virginia, mountain mama, take me home down country roads."
My entire family of five belted out the lyrics to our road tripping anthem. Although we were already 15 days into our month-long adventure touring the East Coast, our "Country Roads" sing-a-long was still a daily occurrence. Maybe the song was a little out of place driving down the beautiful Cape Cod coastline, but it was our tradition! Today we were planning on stopping along the federally protected beaches of the Cape Cod National Seashore, making our way up the peninsula, and ending a well-spent day at the tip in Provincetown.
We drove along the sand dunes in Big Blue, our family's beloved minivan, until finally settling on the perfect beach in Wellfleet, White Crest Beach. But before we began the steep descent down the sandy mountains we noticed an interesting sign. BE SHARK SAFE, it read, do not swim near seals. My naive, Minnesotan family and I just laughed it off. We were convinced seeing a seal was highly unlikely– let alone a shark. In our defense, lakes, with which we are much more familiar, don't have sharks!
We hopped into the icy cold water, a welcome relief from the burning sun. We had only enjoyed the salty waves for a few minutes when my youngest brother shouted out.
"Look!" he said excitedly, "There's something swimming in the water!"
Sure enough, there was a seal gliding along the coast! Remembering the warning sign, we all scrambled out of the water to watch it swim past. It was incredible how close this huge seal was to the shoreline. Throughout the afternoon, we watched many seals pass by, sometimes in groups as large as six! None of us had ever seen anything like it.
At the end of the day, we packed up our beach bags into Big Blue and took off towards Provincetown. We settled down in a cute outdoor restaurant, The Canteen, and continued to talk about our experience with the seals. We had just received our plates of delicious, fresh food when my dad received a news alert on his phone. A man had been attacked by a shark at White Crest Beach– the very beach we had been only hours before! What a crazy coincidence! According to the article, the man had been surrounded by a large group of seals before the shark appeared. We could hardly believe what happened. Luckily, we discovered in the next few days that his injuries were recoverable, and he needed only a few days in the hospital for treatment. But we had been on that beach! It is possible that, if we had not heeded the warnings and stayed away from seals at the beach, the same fate might have been waiting for someone in my family!
That day, although we all scoffed at the shark sign, we did learn a valuable traveling lesson. When you are in an unfamiliar place, listen to the locals! I love to travel and explore the world, but this Midwest girl does not know the first thing about ocean beaches. Finding and adapting to unique culture is one of the most remarkable parts of visiting new places. So– thank you to Cape Cod for the beautiful beach, the yummy dinner, and, most of all, the highly-educational shark warning sign!
Dear Reader: This page may contain affiliate links which may earn a commission if you click through and make a purchase. Our independent journalism is not influenced by any advertiser or commercial initiative unless it is clearly marked as sponsored content. As travel products change, please be sure to reconfirm all details and stay up to date with current events to ensure a safe and successful trip.
---