---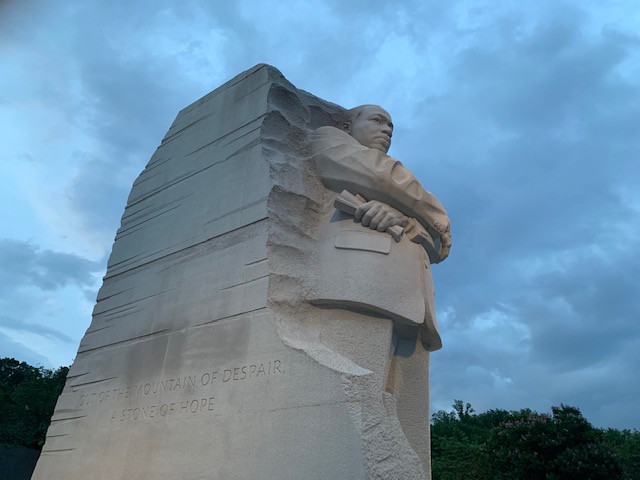 In December of 2018, one of my history teachers recommened me to apply for this program with the University of Nebraska-Omaha where we learn more about political science by going on trips to the State Capital, the Truman Library, and Washington DC. I decided to apply for it, and a month later I received an email saying I was chosen to be apart of the Nebraska Civic Leadership Program. I should mention the entire program was payed for, so the only money I ended up spending was souvenier money.
Fast foward to the beginning of June, it was time to pack for my 5-day trip to Washington DC. I had no idea what to wear because I had never been anywhere east previously. I ended up throwing some athletic leggings, t-shirts, Nike shorts, a dress, sandals, and a pair of Adidas shoes in my suit case. The Adidas went with everything, so I thought at the time they would be the best pair of shoes to wear. DC taught me to never wear those shoes again.
When we arrived in DC, I was shocked at how muchy busier it is than Omaha. We arrived during rush hour, so using the metro system was very stressful at first. I was terrified I would get left behind and lose my group. Fortunately, I didn't get lost or forgotten, but my metro card stopped working at one point, so I was stuck there sharing confusing looks with the teachers I was with.
The second day was touring the city. I wore my Adidas and felt confident when leaving the hotel in the morning. After about 2 hours of walking around, my knees and feet were dying. I thought I had permanent damage to them. Everytime I saw a bench, I sat down and massaged my legs hoping for a quick recovery. I needed sleep and new shoes so badly.
We got back to the hotel and I jumped into my bed and fell straight into a deep sleep. When I woke up 2 hours later, I was dreading having to change into my nicer clothes and walk to dinner in my sandals. My feet and knees were bothering me for the rest of the trip and it was ruining my mood. If I knew my adidas were going to stop supporting me, I would've brought my better shoes.
In summary, DC was beautiful, however, having to walk miles and miles in those horrible Adidas ruined my mood and drained my energy. A tip for all new travelers is to test out your shoes before you go anywhere with them. Test if you can walk five miles without any pain before you pack them into your suitcase. Trust me, shoes can and will ruin your mood if they do not support all of the touring you will be doing. I have definitely learned from this experience, and I have not worn those Adidas since I got back to Omaha. On a positive note, DC is definitely a place unlike any other. It has a ton of museums such as the Holocaust Museum, African American Museum, the Newseum, and many more. It is a great place to tour whether it's for educational purposes or just for fun. I definitelty recommend putting this place on your travel bucket list, just be careful when choosing your tourist shoes.
Dear Reader: This page may contain affiliate links which may earn a commission if you click through and make a purchase. Our independent journalism is not influenced by any advertiser or commercial initiative unless it is clearly marked as sponsored content. As travel products change, please be sure to reconfirm all details and stay up to date with current events to ensure a safe and successful trip.
---