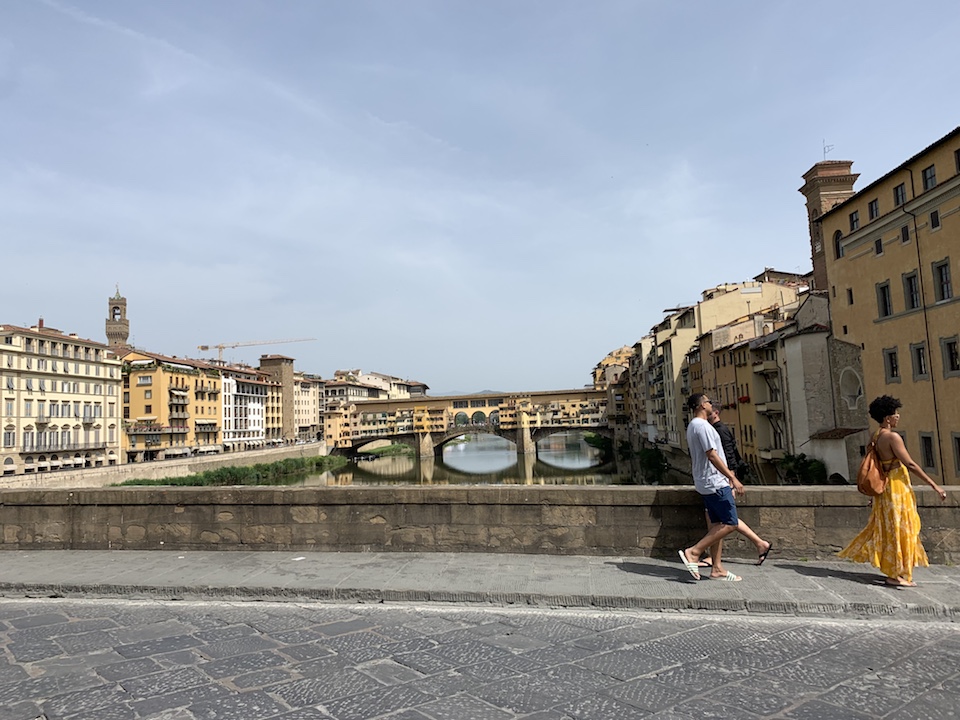 ---
As I reflect on my two-week adventure in Europe with my AP European History class, I struggle to pinpoint the most memorable moment. Was it losing one of my trip-mates in the London Tube? Daring my friend to kiss a random boy at the top of the Eiffel Tower? Or beginning the hike from Riomaggiore to Manarola in La Cinque Terre only to discover it closed due to mudslides? All these experiences were memorable, but the most noteworthy had to be what occurred in Florence.
Yearning to escape the boiling Florence heat, my friends and I said goodbye to the Fontana del Nettuno and left the Piazza Della Signoria in search of shelter from the blazing sun. As the six of us headed down a narrow street barely able to fit two teenage girls side by side, we had no specific place to go; we only knew Iowa weather had not prepared us for the Florence heat, and we needed our beloved AC.
After what seemed like hours of walking, (though my watch insisted it was only ten minutes), goosebumps ran down my arms. This was it, I thought. The heat had finally gotten to me. I was going to faint! I desperately looked at my friends to see if they also were experiencing that "oh-my-gosh-I'm-about-to-face-plant-in-front-of-all-these-people" sensation; but their faces registered more joy than fear. As I stared at them for a second, I finally understood the source of their excitement…Air conditioning. Not checking to see what store it was, we dove into the dimly lit, air-conditioned shop.
The smell hit me first…Not bad, per se, but not pleasing either. As our eyes adjusted, we realized where we were…a leather store. (A faux-leather store, by the looks of it). Deciding a brief rest in air conditioning was worth a few minutes of our time, we proceeded to look around.
Sensing our interest, the salesman creeped out of his hiding spot and began his pitch. "You
are students! I will give you a 30% discount!" "This is genuine leather! See, it says 'Made in Italy' right on the bag!" "That is from a new collection so the deals I'm offering are extremely generous!"
With amused expressions, my friends and I looked at each other: We weren't going to be fooled by the man's "generous" offers! Suddenly, an idea formed in my mind: Our tour guide encouraged us to bargain, but we'd never tried it. My friend also wanted to buy wallets as souvenirs for her brothers. This offered the perfect opportunity to test my bargaining skills!
The owner seemed friendly at first, so I began spitting out prices. After a few minutes of bargaining back and forth, though, the man dropped his act and asked in an annoyed voice, "What do you want to pay?" Taken by surprise, I wondered, "What do I want to pay?!" I didn't even know! After a second's thought, I told him my price.
"Get out!" The man growled.
Completely taken off guard, my eyebrows shot up, and I didn't know how to respond.
"Get out now. All of you!" he screamed, snapping his fingers and yelling at us to hurry up!
My friends and I high-tailed it out and didn't stop running until we reached Via de Tornabuoni, the famous shopping street in Florence. (We knew we wouldn't run into any faux-leather stores here!).
Stepping into a gelateria to catch our breath, we burst out laughing. Who knew six nerdy girls from Iowa would get kicked out of a little shop in Italy?!
Dear Reader: This page may contain affiliate links which may earn a commission if you click through and make a purchase. Our independent journalism is not influenced by any advertiser or commercial initiative unless it is clearly marked as sponsored content. As travel products change, please be sure to reconfirm all details and stay up to date with current events to ensure a safe and successful trip.
---