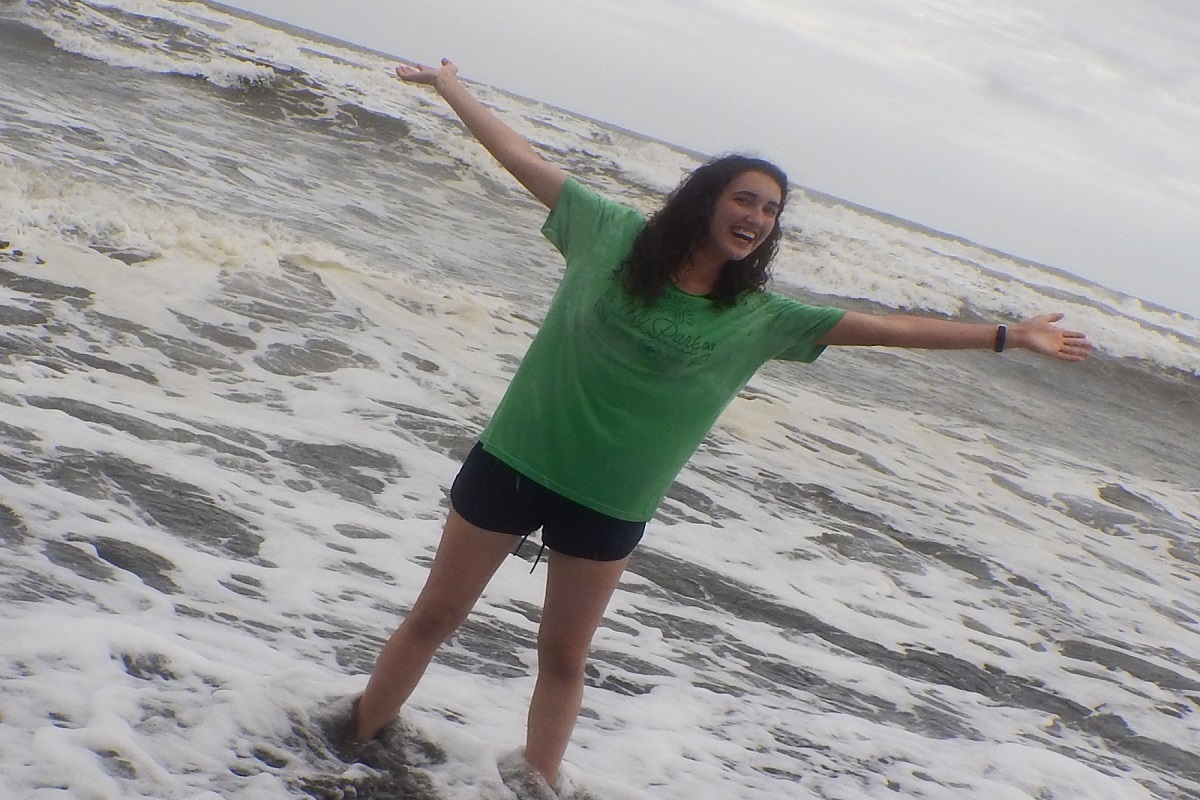 ---
A shrill call from our alarm interrupted the rainforest cicada's song and I fumbled in the dark to turn it off. We were assigned the midnight shift. Mary and Kallie slid out of their bunks, so the other girls wouldn't wake up, and we pulled on our dark census clothes. My shirt clung to my skin and the humid heat wrapped around me like a blanket, but I hardly noticed. We giggled at the excitement of it all and tiptoed out of the screened-in girl's dorm. No one in our school group had ever been to Costa Rica before, some never out of the States, but day three had us all in love with the mystical cloud forests and palm-lined beaches.
I followed the small trail under the shadowy figures of the trees, using a red light so we could avoid snakes. Rainforest snakes are no joke! I'm used to rattlesnakes, but rattlesnake bites can be treated.
We joined the boys and our group leader, Catalina, who briefed us on procedure. We set off, walking single-file between the palm trees and onto the Pacuare Reserve beach. Even without headlamps, we were surrounded by light. The wave crests sparkled in the moonlight while fireflies danced among the trees. The shore was a fairy land.
We traipsed for three hours along the beach until we finally found what we were looking for: a massive trench in the sand. Following it away from the waterline, we stopped at the shadowy figure of an enormous leatherback turtle. I felt my breathing quicken. I could have stretched out on her smooth shell and taken a nap. What strength it must take to drag her heavy body through the sand! We stood in awe of this massive creature, breathing and smiling and taking a snapshot in our minds, since cameras were prohibited.
Bracing herself, Mama Turtle stopped her crawling and started digging with her back flippers. Deeper and deeper she scooped. For half an hour she rocked, back and forth, rhythmically pushing the sand out of her way. Her hole was beautiful, sides smooth, and probably two feet deep. Straining to reach, she widened it at the bottom, making a little room for her babies to come. Then she pulled her back flippers out of the nest and crossed them behind her. "Quickly! Quickly!" Catalina shook open a plastic bag and handed it to Kallie. Demonstrating what to do, Catalina dropped to her stomach and guided Kallie's hands to hold the bag under Mama Turtle's crossed back flippers. Oblivious to our presence, she was committed now and laid her eggs in the bag. I stretched out next to Kallie, my chin in the sand, and reached down and to feel the eggs. They were soft, as if made of paper, and golf-ball sized. Catalina lifted the turtle's back flippers so we could see the process. Mama laid several at a time which dropped into the bag with a little 'thump'. Chicken eggs would have all been broken by now.
We relocated all 105 of these treasured eggs to a hatchery, protecting them from poachers, hungry animals, and rising tides. Watching the birth of a hundred baby turtles, I was overwhelmed with joy at helping protect, in a small way, these beautiful, vanishing giants.
Dear Reader: This page may contain affiliate links which may earn a commission if you click through and make a purchase. Our independent journalism is not influenced by any advertiser or commercial initiative unless it is clearly marked as sponsored content. As travel products change, please be sure to reconfirm all details and stay up to date with current events to ensure a safe and successful trip.
---