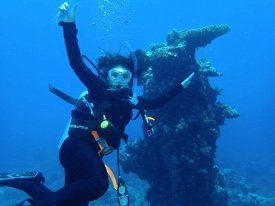 ---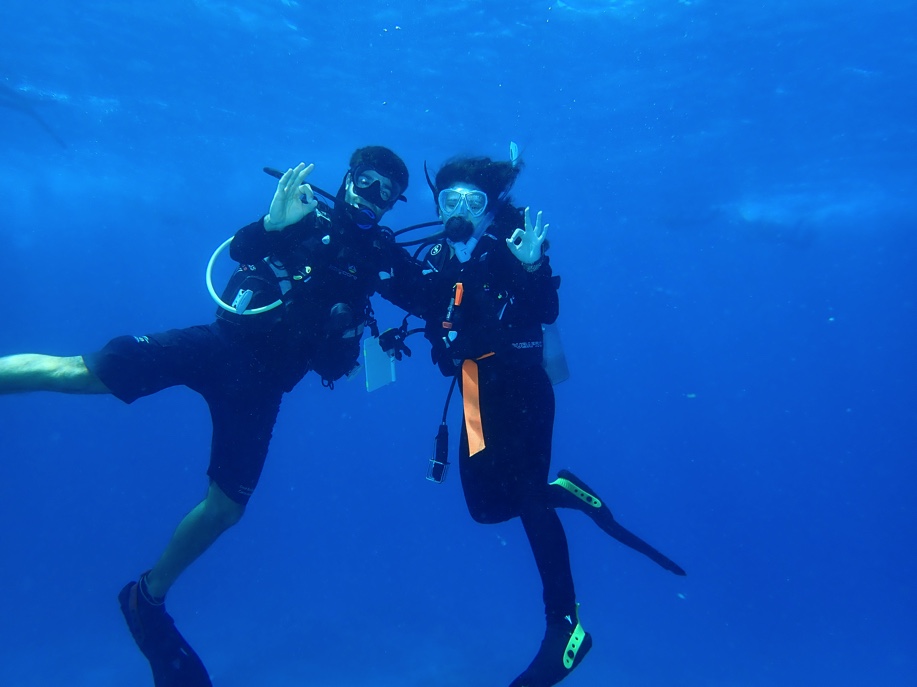 Finally, after about a twenty-four hour plane ride from Brooklyn, New York to Cairns, Australia, my father and I made it. We wobbled off the plane with water retention in our legs, brimming with excitement to begin the next part of our journey. We stepped off of the plane onto an open tarmac surrounded by hundreds of palm trees and mountains. These mountains seemed so high that they met the clouds with a soft touch. The vibrant green palms on the trees briskly moved with the winds originating from the sea.
My mother was not here, yet at the same time she was. I felt her with every passing breeze filled with salt. I heard her voice in the soft humming of the birds. She was in the beautiful colors of the tropical blossomed flowers. My mother's presence penetrated the simplicity of this land.
The next step of this expedition was to earn my Open Water diver certification. My parents dove together since their youthful years. I have always felt that diving would bring me in touch with my mother. I was wrong, diving made me feel as though my mother was right next to me.
I'll admit, I felt very nervous about sinking 60 feet underwater, yet at the same time I was exhilarated. It was my time and I knew deep in my heart that I was ready to do this. So, I entered the water with one leg out and the other pushing off of the boat. I wasn't nervous anymore, as soon as I was submerged in the water all of my fears vanished.
My first impression of this underwater kingdom, ruled by the fish, was complete and utter astonishment. I could not believe that I had finally become a part of this world full of beauty. The colors and creatures were things that I had only seen in books prior to this. The blues and the reds in the coral made it look like a sunset over the ocean. I knew that I had finally found my place in this world.
As the copious schools of fish expeditiously swam past me, I saw the glare of the sunlight on their fins. I went through underwater tunnels and underpasses, which led me to new discoveries awaiting on the other side. It felt as if I was Alice falling into a new rabbit hole with each aperture.
Each tangerine pigmented anemone sheltered families of clownfish. These orange and white colored fish vigorously brushed against the soft anemone that they called a home. Parent fish led their kin, prompting me to recall the joyous memories of my own mother guiding me through life.
Something rooted deeply within me felt different. I never had this feeling during my years on this earth. I could tell that it was my mother. In this mysterious realm that we call the sea, there were no distractions. I didn't have my primary worries and thoughts. I just felt the swift current gently glide through the water. I watched as this current maneuvered through the corals. It was a peaceful and spiritual gift. One that forced me to allow my mother to connect with me.
I was finally here, in one of the world's natural wonders, The Great Barrier Reef. This reef didn't just giving me a diving experience, it gave me much more than that. It gave me an unforgettable connection with my deceased mother. Australia supplied me with a new comprehension and appreciation for life—not only for my life, but for the biotic species around me as well.
Dear Reader: This page may contain affiliate links which may earn a commission if you click through and make a purchase. Our independent journalism is not influenced by any advertiser or commercial initiative unless it is clearly marked as sponsored content. As travel products change, please be sure to reconfirm all details and stay up to date with current events to ensure a safe and successful trip.
---