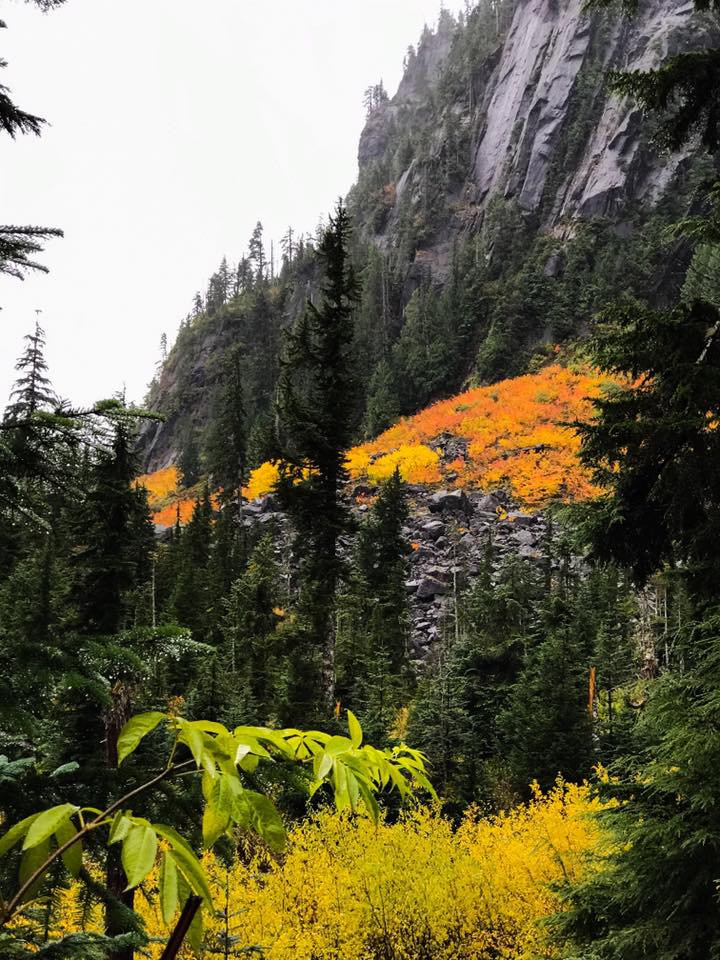 ---
As I rounded the corner I felt my breath escape my lungs with a loud push, my jaw dropping to the ground in awe. What was in front of me was so magnificent in beauty and size I couldn't quite believe it was real. It was the view you only read about in fairy tales or myths. The trees around me helped to spark my imagination of the view in front of me, the feeling of walking into the pages of a fantasy book.
Each hike my mom and I took while in Washington State was captivating in its own aspect. While staying at an alpaca farm called Paca Pride, it was easy for us to find hiking paths for we were constantly surrounded by nature.
The first hike my mom and I went on took us down a hill and into a hidden jewel of a river. It rushed with a fervent urgency that is familiar to every person; the need to push forward and keep going, sometimes not even knowing why. There was an ever present layer of fog laying thickly over the water, almost like a security blanket. Following the water was the bank snaking along with the curves and bumps of the water, an ever present barrier, keeping the water from spreading too far. Around the water were hundreds of trees and bushes, all unique in color. Fall was just beginning to creep into the forest so only some of the trees had started to change to the iconic reds, yellows, oranges, and browns. Wouldn't it be amazing if like trees, every year we could truly start over, shed the unnecessary parts of our life? While this hike was spectacular, with walking into a tunnel canopy of leaves and branches, the most prodigious hike was the next day.
We hiked through a mystic path before making it to the sweet spot. While the hike in was gorgeous, nothing could compare to the view that appeared after rounding a small hill. In front of us large, slanted rocks clumped together to form a mountain. Rushing down the mountain were several waterfalls, acting as the veins of the rocks, some meeting and some more independant. The top of the mountain wasn't visible through the thick fog covering the tip. Spread throughout the mountain were many trees and bushes each unique in color, as if someone had splattered the the mountain with thousands of colors. I was blown away by the view; it was too stunning and perfect to be real. Highlighted in the colors were so many shades of green, yellow, orange, red, and brown, with each plant so unique and different. Nature is so different; no two pine cones alike, no leaves the same. There are always similarities, but ultimately they are never exactly same. However, no part of it is ugly, nor too big or small; just different. Why can't humans understand that and realize it about each other? We are all so different, yet none less deserving of our respect. Why can't we appreciate each other and realize we are unique for a reason? We all play our own role to make our world, each contributing our own part of this community. This appreciation for life and each other is an all important lesson that is sadly often forgotten in our society. Hopefully humankind can work to remind others of the beauty of all life, and keep it present for generations to come.
Dear Reader: This page may contain affiliate links which may earn a commission if you click through and make a purchase. Our independent journalism is not influenced by any advertiser or commercial initiative unless it is clearly marked as sponsored content. As travel products change, please be sure to reconfirm all details and stay up to date with current events to ensure a safe and successful trip.
---