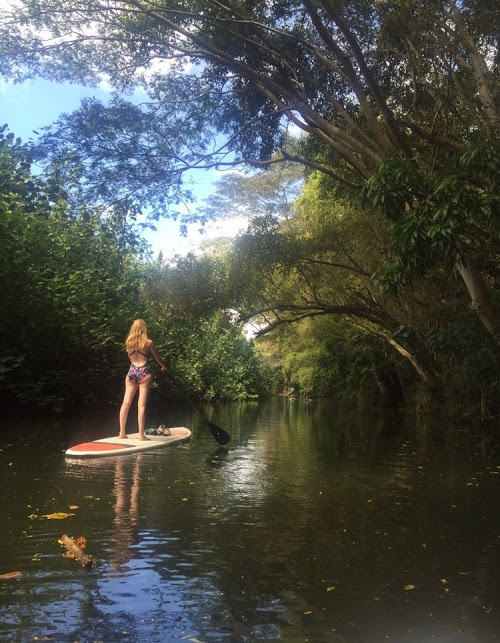 ---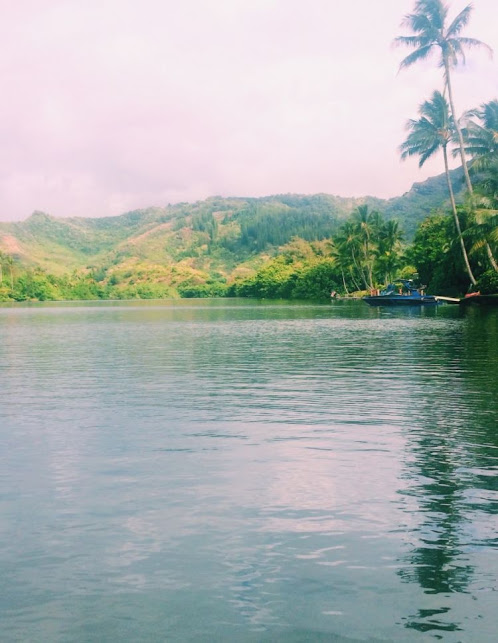 As my family and I drive through the lush green roads of Kauai, I can't help but gasp at what surrounds me. The winding roads cut through meadows of tall grasses that are framed by massive mountains. While my family chatters on, I cannot help but to quietly observe that the mountains seem to protectively tower over the island, much like a father protecting his daughter. Since I grew up in the busy city of Los Angeles, I have never been surrounded by such a mesmerizing place where nature is at its finest. There is a certain purity about nature that I have never realized until now.
As my family pulls into the parking lot on this Sunday afternoon, I am woken out of my awed trance to find that we are at a small shack that boarders the Wailua River. As we step out of the car, a man comes out of the shack to meet us. He flashes us a grin as he begins to unload four paddle boards from a shelf. Five minutes later I tentatively step on the board. Although I wobble for a second or two, I begin to find my balance and my family and I paddle out into the peaceful river.
Now that I am comfortable on my paddle board, I begin to look around. On both sides, I am surrounded by brilliantly green mountains covered with native trees that I have never seen before. The water below me is smooth as I confidently grip my paddle and use it to cut through the glass-like water. As I look down, I think that I see something swimming under me. I look up and I begin to see shiny fish playfully jumping out of the water and splashing gracefully back into the depths. They seem so happy frolicking in the crystal clear water that my sister and I grin and jump into the river too.The crisp water chills my bones for a moment, bringing about an icy clarity as I emerge to the surface.
As we continue down the river, the scenery around us begins to change. As we veer left towards the fern grotto, the native trees seem to creep closer and closer to the edge of the water until we are floating down through a canopy of trees. The massive trees are so close that I can reach above me and graze their soft leaves. They seem to envelop us in a warm and close embrace. We begin to paddle back to the right fork of the river as we float through the tunnel of greenery that sways gently with the wind.
A few minutes pass, and we reach the bank where the river narrows. We pull our paddle boards to shore and immediately recognize the scent of the native plants with fragrant flowers. We begin to trek through the thick plant life, dense with hanging vines, and thirty minutes later we arrive at a clearing.
Looking around, I am standing in a beautiful glade and in front of me sits Secret Falls, a gushing waterfall that stands 120 feet tall and flows into a crystal clear pool of water. My sister and I laugh gleefully as we jump into the pool and admire the view. We eagerly swim under the waterfall and smile as we feel the water pour over us. Paddle boarding on the Wailua River is the only way to discover the tree canopy, the tropical forest and the gorgeous waterfall. We are amazed that one river could lead into the heart of Kauai itself.
Dear Reader: This page may contain affiliate links which may earn a commission if you click through and make a purchase. Our independent journalism is not influenced by any advertiser or commercial initiative unless it is clearly marked as sponsored content. As travel products change, please be sure to reconfirm all details and stay up to date with current events to ensure a safe and successful trip.
---