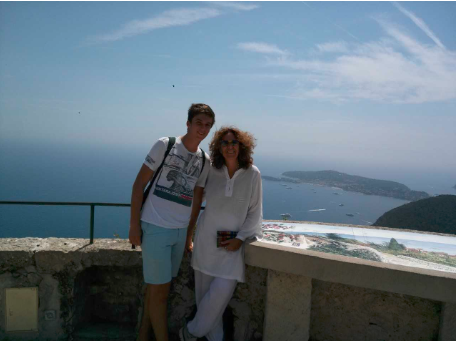 ---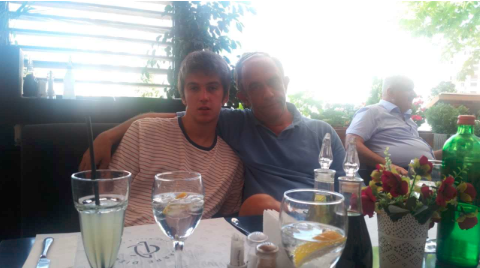 This is a picture of my mother and I, standing atop the famed botanical garden in Eze, France. It was the summer after my sophomore year, and my mom and I were travelling through southwest Europe after leaving Skopje, Macedonia. My mom firmly believes in the value of travelling and learning from different cultures, and this is what brought us to the small rocky village of Eze that summer. You might think rural Macedonia towns and ostentatious Mediterranean villas is a strange combination for a vacation, but I see my life as a series of strange combinations which build off one another to shape the graph of my identity. If I had to illustrate this, I would draw a subway map with many stops and colorful lines. Looking back at these pictures now and recalling the memories within them, I start to realize how different this map would look if it wasn't for my mother's influence. I imagine it would look much straighter, and less colorful as well.
Don't be fooled by the blaring sun in the background or the swooping grape vines on the window panels, as this photo was taken in a small restaurant in downtown Skopje, not a beach cafe on the Monaco pier. It's actually more of a shack than a restaurant, but all Macedonians have the powerful ability to transform any setting, no matter how decrepit, into a homey atmosphere that can put your family dinners to shame. This photo marked exactly two days after our plane landed at Alexander the Great International Airport, and also marked the beginning of my mom and I's four week journey through Europe. In this picture, I'm sitting next to my only uncle on one of the rare occasions where I get to speak with my foreign family in person. These short conversations and the lessons they taught me are the threads which connect me to my uncle, to Macedonian culture itself, and my mother as well.
A week and a half later, my mom and I boarded a small Austrian Airlines flight to Geneva, Switzerland. We spent some time there walking around the pristine Lake Geneva and exploring the suspiciously clean boulevards, but I wasn't really a fan of how sterile this country felt. Everything felt too calculated and under control, and I never felt the excitement of uncertainty which makes life interesting. In Switzerland, I never saw a fight break out at a bar over a political argument, and I never saw man ride a horse down a busy street because he didn't have money for a car, which is a surprisingly common traffic obstacle in Balkan countries. On the other hand, my mom loved Switzerland.
A few scenic days later, we took the Train Rouge from Geneva to Nice, the so-called capital of southern France. I clearly recall the dark green mountains our train winded through, and how starkly these scenes contrasted with Nice's shining harbors. I liked Nice much more. I immediately felt drawn to the excess wealth, and I remember how I felt comparing the boats in the harbors to the imaginary yacht I would buy when I was 35. My mom, meanwhile, was just trying to get me to sit on the ledge for a better picture. With my newfound confidence brought on by images of me parking my yacht in the harbor, I decided to lean halfway on the ledge, trying to find the perfect balance between what would look cool and what would make my mother happy. A literal half-assed attempt. Looking back, I wish I had sat on the ledge.
Dear Reader: This page may contain affiliate links which may earn a commission if you click through and make a purchase. Our independent journalism is not influenced by any advertiser or commercial initiative unless it is clearly marked as sponsored content. As travel products change, please be sure to reconfirm all details and stay up to date with current events to ensure a safe and successful trip.
---