---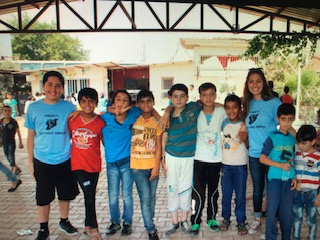 It is mid-June and I am sunburnt from head-to-toe by the scorching desert sun, but as I roam the crowded streets of Istanbul, the Turkish breeze revives me. As the Blue Mosque commences the call to prayer, I tightly close my eyes to soak in the holy words. A sudden rush of memories accumulate in my mind as it reminds me of my childhood summers spent across the border, in Syria: my grandma's busy home, the endless nights with my cousins, and the stray cats and dogs that my siblings and I would foster.
I struggle to choose a kabob, do I want the chicken that drizzles in oil or the well-seasoned beef? As I walk past the thousands of shops and restaurants, barkers lure me in to buy their thousands of goods. Although it becomes difficult at times to walk next to the fish restaurants, the rejuvenating breeze of the salty Black Sea clears the nasty odor.
I leave my hotel room to sneak into a hidden roof-top cafe. As I observe people eat, I notice that everybody is talking and full-heartedly laughing with one another. Just this little observation of the Turkish culture reminds me to be grateful.
After I leave Istanbul, I head down to a border city, Reyhanli: a city now full of Syrian refugees. There are no breezes here to revive me from the 102 degree sun. The Black Sea isn't here to filter the air from all the dust and dirt that keep flying into my eyes. This isn't a city of chanting barkers like Istanbul is; it's just a town the world has ceased to recognize.
I come to Al-Salaam (The Peaceful) School, once a year on a dental relief trip with my family. There are so many people lined up eager to get help that I can barely maneuver. As I leave to grab something, I examine everybody in that line. Every child came in their best attire: the girls in dresses and the boys in tuxedos. These kids were jumping up and down in excitement to have their teeth checked, and even some parents too. Mothers and their children eagerly rush to shake my hand, bombarding me with questions. One mother tells me, "thank you so much for helping us, may God bless you." I nod with a big smile explaining that it is my honor just to be in their presence.
It's too humid so I step outside. I decide to walk to a nearby farm. As I play with the animals, an old, wrinkly man begins talking to me. I ask him, "how is your life here?" He replied that he praises God for being in a safe haven, his accessibility to clean water, and the food in his refrigerator. "That's all I need. That's all anybody needs," he softly voices. I am reminded how blessed I am and to be thankful to live in my amazing country, the United States. I recognize that everybody here just like in Istanbul is thankful and whole-heartedly smiling. They no longer have to worry about the life of their loved ones; they are safe.
As I return home to San Diego, California I step outside the airport and look above me. I finally see the marvelous stripes of the red, white, and blue. I take my first breath of American oxygen and taste the sweet core values of freedom, liberty, and justice. I then lightly exhale, declaring farewell to my Turkish muse. I still have so much to learn from the outside world.
Dear Reader: This page may contain affiliate links which may earn a commission if you click through and make a purchase. Our independent journalism is not influenced by any advertiser or commercial initiative unless it is clearly marked as sponsored content. As travel products change, please be sure to reconfirm all details and stay up to date with current events to ensure a safe and successful trip.
---