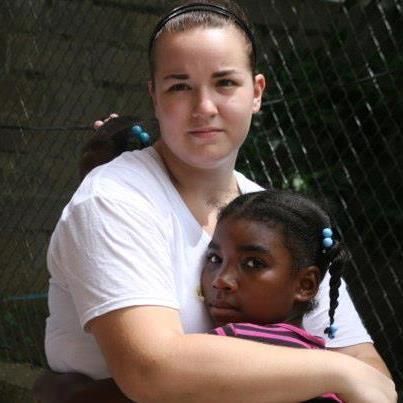 It was my very first time. I had never been out of the country before this, and I had no idea what to expect. I had seen TV commercials of slums in third world countries, but I never assumed I'd see it myself. I smelled the odor, walked the dirty paths, and held the crying children. For the first time, I had experienced true poverty.
I will never forget the first time I went to San Cristobal. The humidity, the mosquitos, the perspective: all things that were brought to my attention as soon as I walked into the city. My goal? To leave an impression. The plan was to help kids who lived in an orphanage and came through a feeding program all week long. It's funny how life works, because it ended up that they helped me.
â–º QUARTER FINALIST 2012 TEEN TRAVEL WRITING SCHOLARSHIP
There is one particular story that I'm certain will never escape my memory. That story belongs to the orphanage's most recent addition, Jahaida. At the age of six, she was found strangled by an iron cord behind her small shack. Her single mother had decided that she could not take care of her any longer and consequentially tried to kill her. By the grace of God, she is alive and well today, with a long scar across her neck from the day her own mother tried to kill her. When the orphanage leaders asked the kids in the surrounding area who this girl was, they told them her name was "piojo" or "lice". Her name was Lice. As she came into the orphanage, they told her that she would never be called Lice again because she is a princess and deserves all the love in the world.
This is a friend's video of pictures and videos from the trip:
Jahaida's story is one of many. Other girls, Santica and Rosamaria, were taken out of prostitution and put into the orphanage. Their mother was the one conducting their sex slavery escapades. Another story is one of an elderly man named Santo. At fifteen, Santo fell out of a tree and was paralyzed for life. At the time of my first trip to the Dominican Republic, he lived in the worst part of the worst area. His entire neighborhood reeked of urine and the small pathways were lined with trash and bony, starving dogs and cats. His mattress was chained to the ground and he laid there with absolutely nothing. He slept in an aluminum shack that was completely empty. His 100-something year old father took care of him every day, but was too weak to fight off anyone who came to steal anything Santo had acquired. One would assume that this man lived a life of sorrow and angst; yet the opposite is true. Santo is the most joyful man I have ever met. He is always smiling and laughing and singing. This man's heart and joy was infectious.
Seemingly so, this trip struck a change in my life. I had stepped outside of my protected little bubble in Kansas City, Missouri. I had seen the images that had once flashed across my TV and held the crying kids who were simply hungry. I had been ruined. I was so ruined, in fact, that I had to do it again. I knew that I had to be there again and hold those children and help those people. Four trips later, I'm planning my visit for next summer.
Dear Reader: This page may contain affiliate links which may earn a commission if you click through and make a purchase. Our independent journalism is not influenced by any advertiser or commercial initiative unless it is clearly marked as sponsored content. As travel products change, please be sure to reconfirm all details and stay up to date with current events to ensure a safe and successful trip.
---