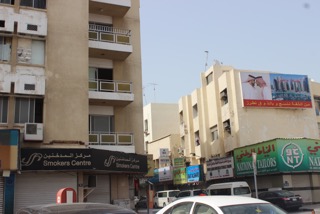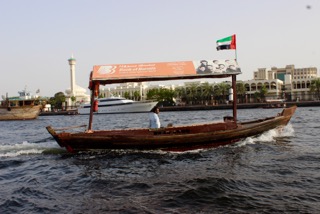 When you think of Dubai what's the first thing that comes to mind?
If the first thing you thought of was money, mansions, or even people with monkeys for pets then you were a lot like me in the months before my trip. It took less than the length of my seven-day trip of a lifetime to eviscerate my stereotypic views of this stupendously spectacular place.
It's Day 3 and I'm standing patiently among a large crowd waiting for another vacant boat to pull up at the dock. The jet lag is finally gone. Although it's nighttime in the States, it's just after breakfast here and my strong espresso coffee of the Arabic origin has just kicked in. Indeed we have arrived at the Gold Souk in Deira known for its native goods at cheap prices. It's apparently also known for pesky thieves.
I'm being tousled from side to side as hagglers push to the front of the line, pining to get to the boats. An annoying smell cascaded over me that could only be described as a mix of rotten eggs and sweet spices. People continued to push around me when I felt a slight tug at my satchel and then was immediately distracted by a man skirting through the crowd away from me. It took more than a few seconds for me to realize that he was a robber escaping with my small, red wallet and luckily only a few pennies and possibly a dime.
Admittedly, there was a little excitement coursing through me, realizing I had an exciting story of crime and intrigue to add to the tales of my Dubai adventure that I was certain to tell upon my return stateside. Yet and still my heart beat outside my chest realizing that I might not be in a safe place after all. It never dawned on me that I would encounter a criminal element in what I believed to be a country of unimaginable luxury, wealth and extravagance.
It was this unnerving and dramatic pick-pocketing saga that serves as the genesis for what is Dubai's "Tale of Two Cities." The stark contrast between the incredibly wealthy and the poor was a sobering surprise for me. Days 1 and 2 had been filled with nothing but images of success and excess – personalized G Class Mercedes at every stoplight, mural lined highways, crystal chandeliers in every store in the largest mall in the world, and the Burj Khalifa. More red bottom shoes than I could count. Indeed, the wealth far exceeds most countries around the world. That is the stereotype.
Behind the stereotype are the people who serve the wealthy, who wash the G class Mercedes, who shine the chandeliers. So day 3 was spent understanding how the working class "Dubaians" live. It's not pretty. They clean mansions in New Dubai but return home to apartments cramped with 10-12 workers. Clotheslines crisscrossed the Old Dubai neighborhoods crowding the already cramped balconies. And broken windows, chipped paint and trash-covered pavements are the norm. There are no pristine mansions and well tended lawns.
But don't think there are no riches in Old Dubai. Don't assume there is no luxury to be found. The jewel of this part of the city is the thriving beating culture, the authentic neighborhoods, the ease and happiness of everyday life.
New Dubai was posh and luxurious and I will absolutely never forget my vacation Days 1 and 2. But Day 3 truly felt real.
Dear Reader: This page may contain affiliate links which may earn a commission if you click through and make a purchase. Our independent journalism is not influenced by any advertiser or commercial initiative unless it is clearly marked as sponsored content. As travel products change, please be sure to reconfirm all details and stay up to date with current events to ensure a safe and successful trip.
---