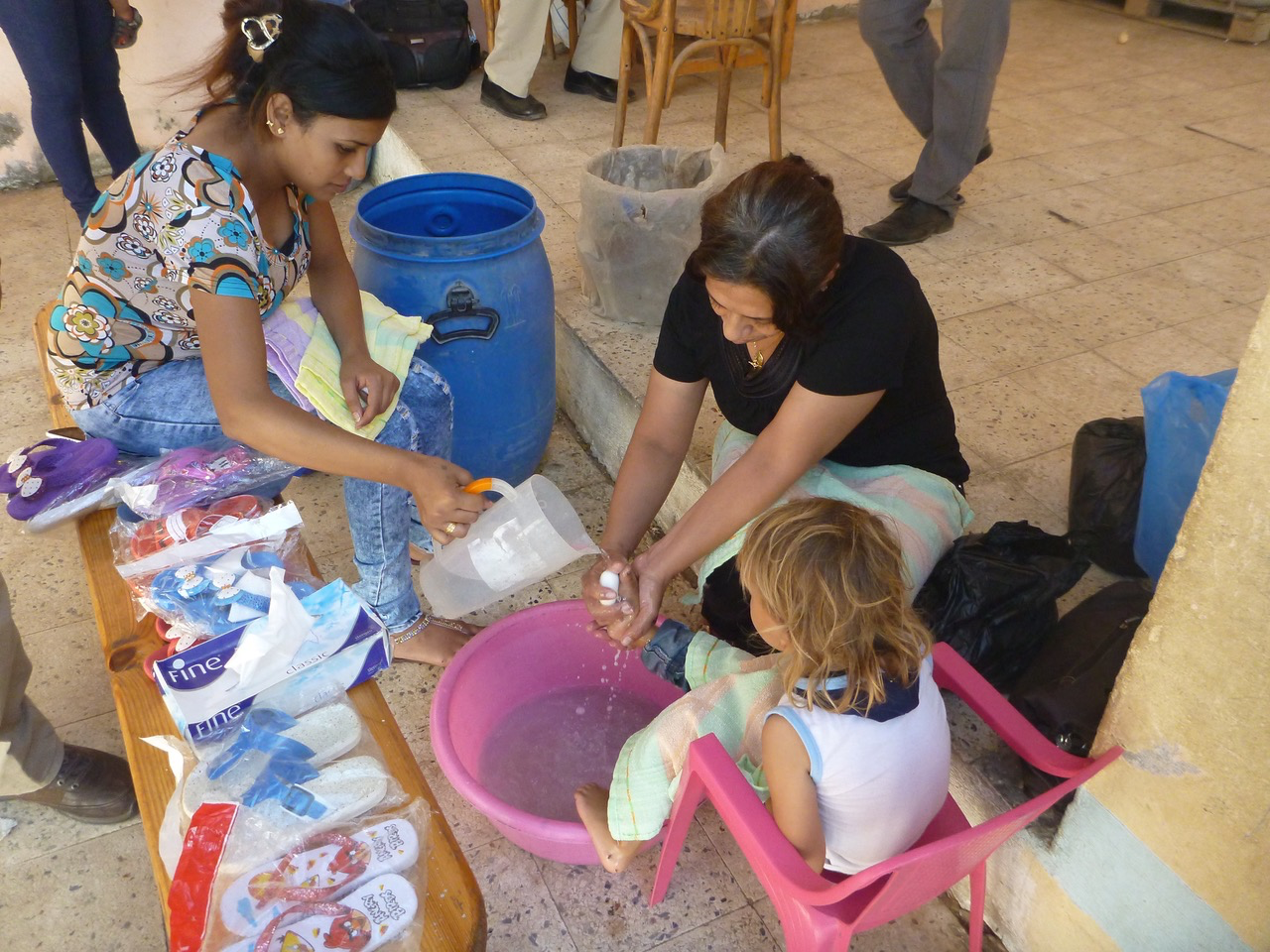 Large innocent eyes stare at me solemnly, faded from hopelessness and caked with the grit which came from years of living in garbage. Underneath the grime, I notice a faint glimmer of hope which has been slowly battling the deep feelings of despair inside the girl. The scorching heat bakes my skin as I continue to step through the filth of the endless garbage dumps on the outskirts of Cairo, Egypt. Children scatter around me, each with the same look of hopelessness in their somber faces, as I witness and listen to the story which would change my life forever.
Curious children stare as the guide explains that their families were persecuted for their Coptic Christian beliefs and were forced to collect garbage for a living. The children live in the dumps on the outskirts of Cairo, and their life is brutal. Each day they are not allowed to go to school but instead are forced to collect garbage. They receive no love or support. Life is treacherous for them, as they are often assaulted by their fathers and abused by their mothers. Small rusty shacks without roofs, filled with sticky garbage waiting to be sorted, are what the children call home. While my eyes witness the truth of these words, my heart is in despair, as I have never experienced this level of poverty and brokenness before.
As we move through the dump, the guide speaks of the only source of hope found in this wicked, filthy place: an organization called Stephen's Children. A middle-aged lady named Mama Maggie gave up her rich upper-class life in Cairo to start this charity which brings love and hope to the unloved children living in the dumps. Her charity has various programs such as home visits, literacy classes, mothers gatherings, schooling, medical services, and vocational training centres which all serve to bring love, hope, and dignity to the poor children and their families.
Despite the gruelling Egyptian heat and repugnant smell, I am immediately captivated with this source of hope. The guide takes my family to visit some of the schools and programs the charity provides. Inside a kindergarten, I watch as a young girl wearing ragged clothes and covered in grime timidly sits on a small plastic stool. A charity worker lovingly pours water over her grubby feet. Instantly, a wide smile of joy shines across her face, as she feels clean feet for the first time in her life. The guide informs me that by washing their feet, the workers give these children a sense of value and importance. They feel loved. Because of this simple act of kindness, many children choose to go back to school, and eventually receive the education they need to leave the garbage dumps and start a new life.
In that moment my life was changed as I realized the huge impact of a simple act of kindness. Washing these children's feet would change their lives, giving them love, value, dignity, and a purpose. My mind raced with all of the information I had learned. These innocent children were raised in the garbage and brought into a world of hopelessness. Mama Maggie gave up her glamorous life to start Stephen's Children, which uses simple acts of love to completely change thousands of Egyptian children's lives. Mama Maggie and her workers love the unloved, giving them hope and a future. My head spinning and my heart full, I realized that I could do the same. By performing simple acts of kindness and loving the unloved, I could make a difference in someone's life.
Dear Reader: This page may contain affiliate links which may earn a commission if you click through and make a purchase. Our independent journalism is not influenced by any advertiser or commercial initiative unless it is clearly marked as sponsored content. As travel products change, please be sure to reconfirm all details and stay up to date with current events to ensure a safe and successful trip.
---