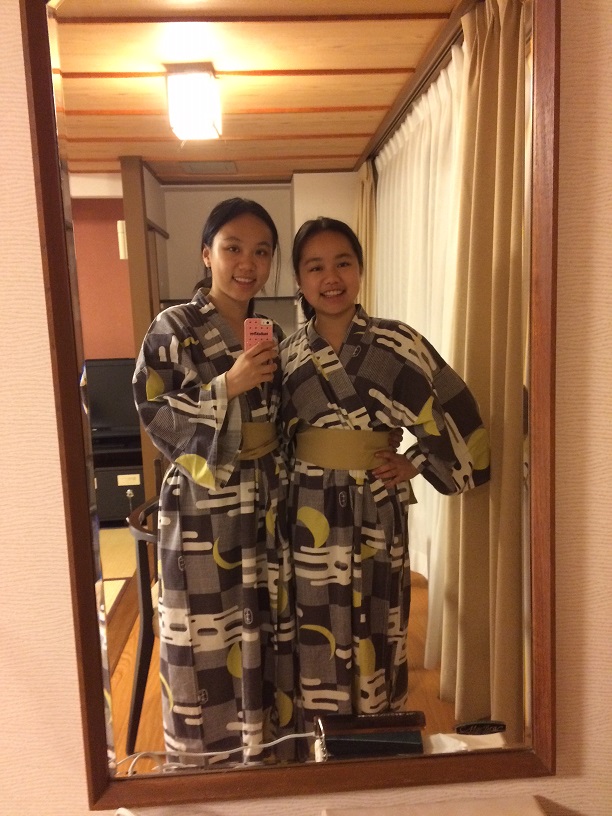 Our loaf-shaped tour bus wove up hilly roads to the New Akao Hotel, located in Atami of Japan's Shizuoka Prefecture. Its snow-white buildings had tucked themselves into leafy pockets on the rocky shores of the Nishikigaura Bay, as if they had sprouted from the forests that cradled them.
After settling into our tatami-floor room, my sister and I shuffled to the ground floor's onsen bath changing room in geta shoes, yukata draped around us and sashes gathered at our backs in perfect bows. Once we undressed, covering our insecurities with small towels, we cautiously stepped through the door to the baths.
A gust of warm air whooshed towards me. There was a large, hot bath to the left and a row of washing stations lining the right wall, with stools, showers, and arsenals of fruit-scented bath products. I made a beeline for a station to shower before entering the onsen. Humid air danced on every square centimeter of me as I lathered shampoo into my hair self-consciously. Everyone could see everything about my body. I would be itching with nervousness wearing a swimsuit at a pool, let alone being stark naked at a public bath.
After ten minutes of scrubbing, I followed my sister down the bath's slippery steps, and I simmered in the water with glowing cheeks. My initial nervousness about being exposed began to melt away; most of my body was submerged in water, and the steaminess was lulling me into a hazy peace.
I spent a good while leaning into the water's serene caresses. Buzzing with fresh euphoria, any reservations I had about being naked dissipated more quickly than smoke. By scrubbing on soaps until I radiated sweetness, I not only cleansed myself, but I also managed to air out the worries cluttering my head like dusty furniture. The truth I had refused somehow had infused itself in the body wash sliding on my arms. I didn't laugh at anyone's stretch marks, and no one snickered at the softness lining my waist. Everyone was simply at the onsen for a little self-care.
My sister and I left the steamy room in a reluctant daze, padding on damp feet back to the changing room to get dressed. When I finally emerged, the yukata was tied around my waist in a messier bow than before, and we giggled our way to the hotel balcony to take a few late-night photos.
She grinned at me as I held up my phone, the photo blurring the twinkling boats gliding across indigo and the lights tracing contours of the sloping hills on the opposite shore. The misty, sea-salt breeze whipped stray hairs across my face, and I gazed at the view. Here, Sagami Bay and Nishikigaura Bay blurred into each other, interlacing waves upon waves until they somehow became one, the Sagami-nada Sea. Did it matter if they didn't know themselves separately here? They were alive together. They never let go of their embrace, even when the Great Kanto earthquake and tsunami rattled their bones, tainted their lungs with radioactivity still found in their blood in faint concentrations. Did that matter, when now, decades later, lights and rejuvenation could waltz on their glistening harmony as they breathed? Did it matter if I didn't know myself, found toxicity in my body's softness, when I could let aquamarine douse my sister and I, together, and wash it all away?
I intertwined my hand with hers, her fingers as soft as sea-foam. Leaning against the balcony railing, I smiled softly as the conjoining bays of the Sagami-nada Sea whispered comfort into my ears.
Dear Reader: This page may contain affiliate links which may earn a commission if you click through and make a purchase. Our independent journalism is not influenced by any advertiser or commercial initiative unless it is clearly marked as sponsored content. As travel products change, please be sure to reconfirm all details and stay up to date with current events to ensure a safe and successful trip.
---